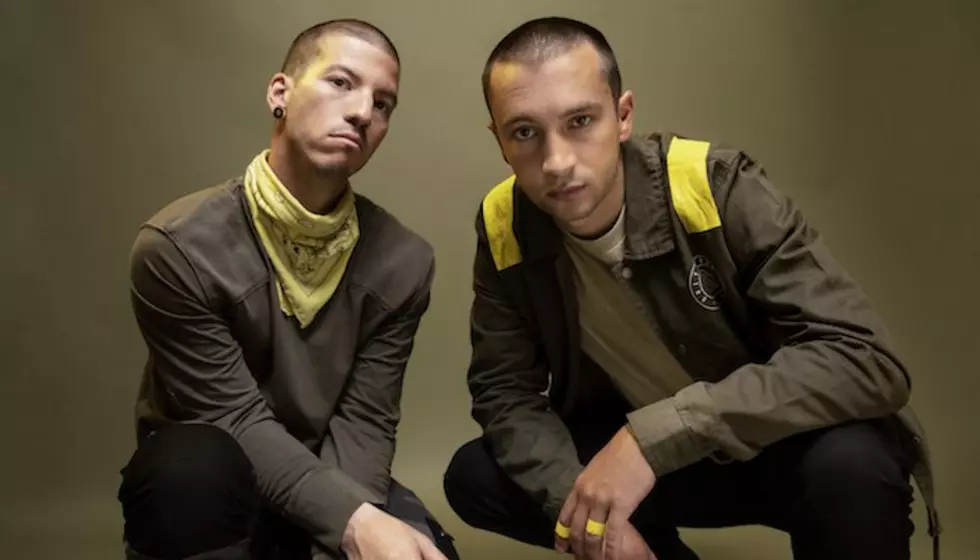 Hear twenty one pilots' first new music since 'Trench'
It's been just over a year and a half since twenty one pilots welcomed us to Trench with their immersive full-length. While the band have dropped off remixed Location Sessions while traveling the world in support of their latest, we haven't had any new music—until now.
Just three days ago, Tyler Joseph took to Twitter to reveal he was working on a new song. After sending (and getting back) the mix from Josh Dun, the band are now delivering "Level Of Concern."
On Monday, Joseph—who just welcomed his first child with wife Jenna—shared that a new song would be arriving sooner than we all expected. Unlike the clue-filled yearlong hiatus between the end of Blurryface and the beginning of Trench, fans didn't even have to wait a week from the first hint.
"Always writing, but this one feels like it should just come out now," Joseph tweeted on Monday. "First song I ever wrote on electric guitar. I think it's simple but hopeful. Give me a few days to finish it up. A good rule of thumb is to never give yourself a deadline, so tweeting about it kind of just added pressure, it's not done yet."
While twenty one pilots are always looking out for their own fans, the band are also donating a portion of proceeds to crew members impacted by the worldwide touring cancelations amid the coronavirus pandemic.
At the beginning of April, Live Nation launched the Crew Nation initiative as a $10 million benefit fund to aid tour crew members. Joseph mentioned this specifically in regard to how the band want to give back.
"I also want a portion of whatever money this song makes to go to this charity I saw called Crew Nation," he continues in a series of tweets. "It provides funding for people who work in the live music industry who don't have a job right now.
"No one knows when live music will get back on its feet," he says. "I've met so many amazing people working venues and touring with bands. Hopefully, we can do something to help some through this song."
On Wednesday night, Joseph revealed the song would be arriving today with the single artwork. In it, there's a USB drive covered in a yellow tape similar to the duct tape utilized throughout the Trench era.
Now, the song is finally here. In addition to some the track's proceeds being donated to Live Nation's fund, the band are also selling a limited run of fundraising Crew Nation hoodies here.
The montaged video features the band with their loved ones including Dun's fiance Debby Ryan, Jenna Joseph and new baby Rosie. It also alludes to Joseph sending the files to Dun as mentioned in their tweets. Check it out here or the Reel Bear Media-directed video below.
twenty one pilots were slated to perform their only home state show of 2020 at Bunbury Music Festival in June, but that has since been canceled due to the pandemic. Currently, the band has a handful of gigs kicking off in May through July, and you can see the full list here.