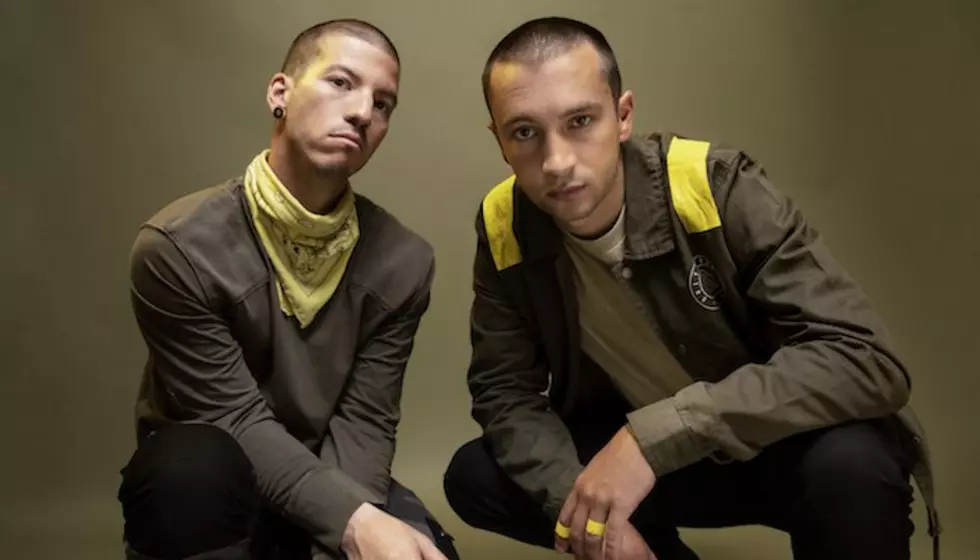 twenty one pilots hid a nod to each album era on the Bandito tour
Josh Dun and Tyler Joseph are the kings of hiding Easter eggs and double meanings in their music and performances. Now, twenty one pilots' lighting director is pointing out a subtle Easter egg that many fans missed on the BANDITØ tour.
The Easter egg is both a nod to the band's logo and their past album eras.
Sometimes, it can be both exhilarating and confusing to be a twenty one pilots fan. Dun and Joseph always have a few tricks up their sleeves that they leave for fans to figure out. Every so often, however, some subtle hints and Easter eggs don't get discovered until weeks, months or even years later.
In particular, fans have been revisiting some of the duo's live sets from over the years and uncovering Easter eggs that went unnoticed until now. Back in August, a video emerged that showed Joseph's hoodie briefly flashing red during one of their performances. The detail hadn't been widely noticed before and fans quickly theorized that the lighting change was a nod to Dema.
Now, another Easter egg from twenty one pilots' live set has been uncovered. The duo's lighting director Tyler Shapard recently revealed to fans one of the many Easter eggs that was hidden during the BANDITØ tour.
During the performance of "Trees," the lighting onstage shifts and resembles twenty one pilots' iconic logo. Then, the lights continuous change from white, red and blue and, finally, yellow. The lighting Easter egg is a nod to twenty one pilots' past album eras - Vessel, Blurryface and Trench.
Shapard says that the lighting was there for quite some time yet fans still seemed to miss its significance. Nevertheless, he thought the lighting Easter egg was a pretty cool moment during the tour.
"In case you missed it, it was really there that long," Shapard says. "I thought it was cool."
TØP lighting director, Tyler Shapard, shares cool Easter egg during "Trees" finale of The BANDITØ Tour from r/twentyonepilots
Along with uncovering even more Easter eggs, twenty one pilots fans have even more reasons to celebrate. Dun and Joseph snagged three nominations at this year's Billboard Music Awards. They are nominated for Top Rock Artist alongside Tool, Tame Impala, Imagine Dragons and Panic! At The Disco.
As well, they are nominated not once, but twice for Top Rock Song. Both "The Hype" and "Chlorine" earned nominations in the category alongside Imagine Dragons' "Bad Liar," Panic! At The Disco's "Hey Look Ma, I Made It" and Machine Gun Kelly, YUNGBLUD and Travis Barker's "I Think I'm OKAY."
twenty one pilots' full performance of "Trees" is available to watch below.
Did you already know about this lighting Easter egg? Let us know in the comments below.