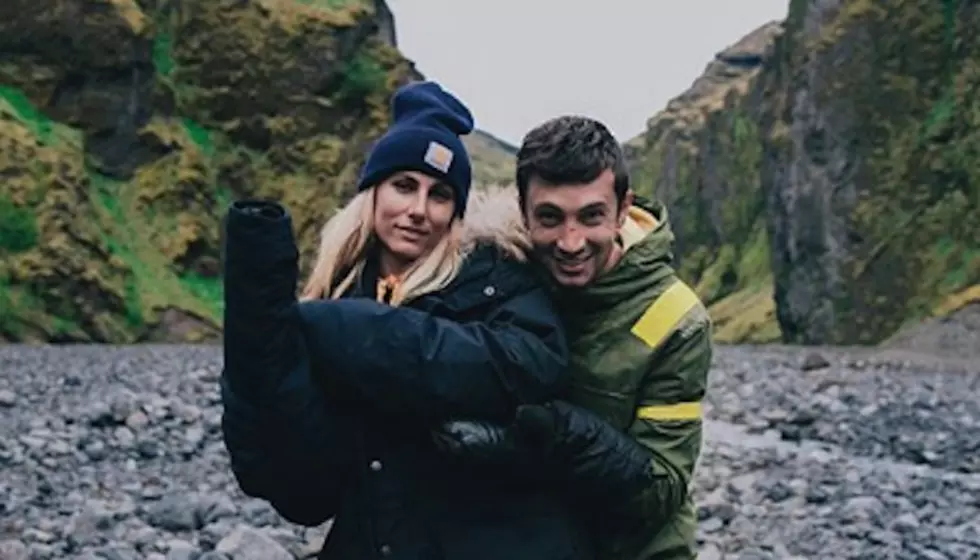 twenty one pilots singer Tyler Joseph welcomes first child with wife Jenna
[Photo via Instagram/jennaajoseph]
twenty one pilots fans have been eagerly anticipating the arrival of vocalist Tyler Joseph and wife Jenna's little bundle of joy since they announced they were expecting. Now, that moment is finally here.
Tyler has been keeping fans in the loop, asking them for help with imagining what their future daughter will look like. He's also pondered band-inspired baby name ideas and given a peek at the nursery.
Jenna announced she was 8 months along in early January, and now the Josephs' baby girl has finally arrived.
The couple shared a short video announcing the birth of Rosie Robert Joseph who arrived Feb. 9. She also mentions the reasoning behind the middle name choice was to match Tyler's.
Jenna continued sharing images of their new baby girl, writing, "Our daughter, Rosie. Ro and I are finding all the sunspots in our house."
"She was born on Sunday, so we celebrated her one week Sunday with sun and cinnamon rolls and Sunday service on TV," Jenna continued in the comments.
She also shared a heartfelt message for her husband, writing, "Tyler, you're a thinker, you're a trooper, you're a fixer, you're a looker still at 6 a.m. with no sleep. You work so hard. You are the most diligent and supportive person, I'm lucky you're my person. Rosie and I love you."
Jenna also shared some additional images and footage of the family on her Instagram story, which you can see below.
[video width="480" height="852" mp4="https://media.altpress.com/uploads/2020/02/joseph-2.mp4"][/video]
More on Jenna and Tyler Joseph
Back in September, Tyler shared with the Lollapalooza Berlin crowd that he was becoming a father. The vocalist brought out his wife Jenna, whom he wed in March 2015, during the band's set to announce the couple are expecting their first baby.
"I know I said I'm bringing a couple of people onstage," Tyler shared with the audience as his wife Jenna showed off her baby bump. "And that's true."
Two days later, the couple revealed their baby's gender with a wholesome Instagram post. Jenna shared some adorable belly photos while revealing that the couple are expecting a baby girl.
"We are pregnant! we're having a girl! Tyler already likes to take pictures with her more than me."
A few months after sharing the news, Tyler joined Josh Dun for some holiday shows in December. Among the gigs, the band played at the Almost Acoustic Christmas in Anaheim, CA and sat down for an interview with KROQ.
The band revealed they wouldn't be "going off the grid" as they have with past releases, and Tyler opened up about becoming a dad.
"I'm nervous," Joseph shares. "My wife is pregnant, but I'm so excited. "My dad is just looking forward to watching me be the dad now."
In regards to what Dun will be referred to as when the baby is born, the drummer already had an idea. "I'm happy to be Uncle Josh," he says. "I'll give my input, but I'm not ready to mess up a kid."
As the year came to a close, Dun was getting marriage advice from The Rock, and Tyler was continuing to prepare for his baby's arrival. The frontman shared another intimate look at dad life, posting a collection of images of Jenna sitting in their baby nursery captioning it, "soundcheck."
Now, Ro is finally here. Congratulations to Tyler and Jenna!
UPDATE: Feb. 22 6:10 P.M. EST
Tyler Joseph is now sharing his own post with baby Ro which you can see below. Jenna has also shared another heartwarming photo of her with their child.
 

View this post on Instagram