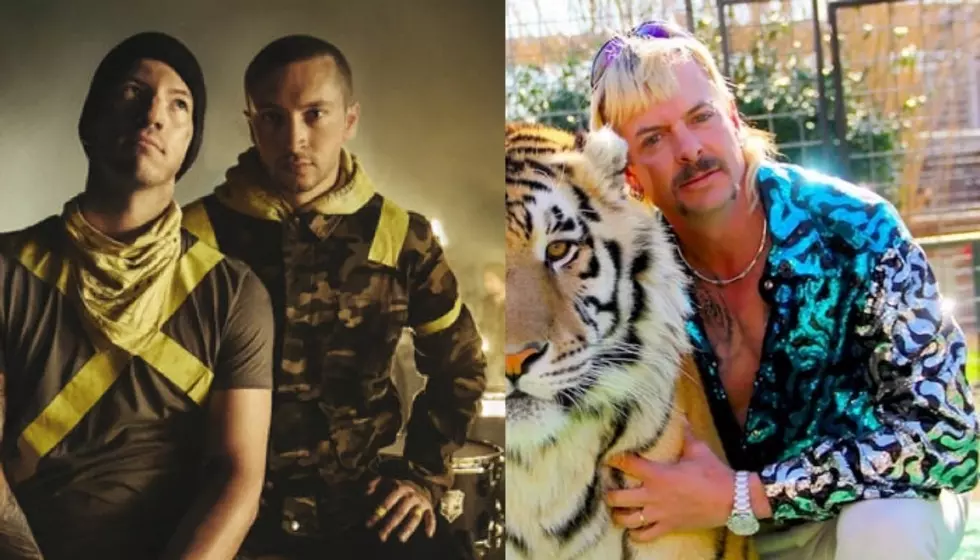 Here's how 'Tiger King' ruined other shows for Tyler Joseph
[Photos via twenty one pilots/Spotify, Joe Exotic/Netflix]
Due to the ongoing COVID-19 pandemic, many people are staying within the comforts of their home and binge-watching a lot of television. Tiger King is the recent Netflix craze to take over and twenty one pilots' Tyler Joseph is one of the latest musicians to weigh in on the docuseries.
Jimmy from the Dave and Jimmy Radio Show conducted a safe social distancing interview with Joseph at his home recently. Along with Tiger King, they talked about Joseph's life as a new dad and more.
For his Celebrity Interview on a Stick series, Jimmy has attached a GoPro onto a long pole and is using the contraption to interview celebrities from a safe distance. For Joseph's interview, he sat comfortably by a second-story window in his house with Jimmy outside in the backyard.
The nausea-inducing interview (Jimmy had a hard time keeping that stick still) included some hard-hitting questions such as what has Joseph been watching lately? The twenty one pilots singer quickly directed the conversation to Tiger King, the show that has caught the attention of blink-182's Travis Barker, Marilyn Mason, the Offspring and more.
"I did watch Tiger King," he says. "Not only did I watch Tiger King, but after I had watched all of it there was actually a couple of days I was flicking through all of the video streaming websites and I just couldn't find anything else to watch."
The confusion as to why Joseph couldn't find anything entertaining to watch after the Netflix series is what ultimately led Joseph to form his opinion on the viral show.
"I've got the world at my fingertips, why can't I land on anything? And I realized that is just how entertaining Tiger King was, everything else just felt dull to me."
Along with this, Joseph gave insight into what his daily life looks like in quarantine and since becoming a dad. His wife Jenna and him welcomed their daughter Rosie Robert Joseph back in February. Jenna and the newborn even make an appearance in the interview.
"My wife Jenna is a real superstar," he says. "I get the easier job which is poopy diapers and fingernails. She's got to stay up with her all night, but it's been fun."
Joseph also gave an update on whether or not his twenty one pilots bandmate Josh Dun is married to longtime girlfriend Debby Ryan. Speculation about the marriage began when both Ryan and Dunn were both seen wearing what appear to be wedding rings in the "Level of Concern" music video.
"He is going to tell people what he is when he wants to tell people what he is," he says.
You can watch the full interview with Tyler Joseph below.
Last week, it was announced that twenty one pilots set a new Spotify streaming record with their 2015 album Blurryface. They also recently dethroned Panic! At The Disco on Billboard's Hot Rock Songs Chart.
What was your favorite part of Tyler Joseph's social distancing interview? Let us know in the comments below!
[envira-gallery id="186695"]