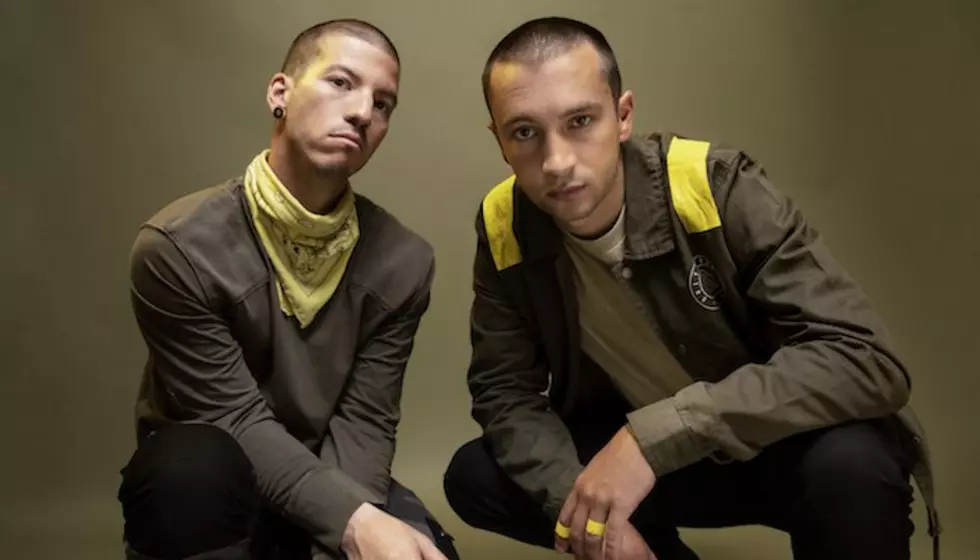 twenty one pilots are the first to achieve this chart feat in two years
twenty one pilots have hit another chart milestone this week with their newest hit "Level Of Concern." The quarantine-themed song has officially hit No. 1 on Billboard's Alternative Songs Chart. 
It took only four weeks to achieve and is the fastest song to hit No. 1 in the past two years. The last song that did it was twenty one pilots' very own "Jumpsuit" from 2018's Trench. It took only two weeks to snag the top spot.
Just a couple of weeks ago, twenty one pilots' "Level Of Concern" officially dethroned Panic! At The Disco for the top spot on Billboard's Hot Rock Songs Chart. That was a feat that no one had done in an astounding 76-straight weeks. P!ATD "High Hopes" and  "Hey Look Ma, I Made It"  had held the spot since November of 2018. 
A few days later, twenty one pilots hit another milestone. They became the first and only musical group to have every song on one album streamed over 100 million times on Spotify. The feat was accomplished by 2015's Blurryface. 
Now, taking just four weeks to hit the top of the Alternative Songs Chart seems like not that big of a deal for a band that has already accomplished that much. But check this out. "Level Of Concern" is now the seventh track by the band to reach No. 1 on the chart. That puts twenty one pilots in seventh place for most songs to reach the top of the chart. Red Hot Chili Peppers hold the top spot with 13 No. 1's. 
So congratulations to twenty one pilots. We can only assume that they'll probably break every streaming and chart record in due time. 
More twenty one pilots
If you've been wondering for over 10 years just what the twenty one pilots song "Johnny Boy" is about, fear no more. Singer Tyler Joseph's father, Chris Joseph has provided the answer we've all been seeking. 
A number of theories have sprouted up over the years about the contents and meaning of the 2009 hit from twenty one pilots' S/T album. At last we finally have what it's actually about. 
Back in 2009, when twenty one pilots released their debut self-titled album, the band and the world were much different. Josh Dun had yet to join the band, Hannah Montana: The Movie has just hit theaters, Jersey Shore and Glee first premiered and Kanye West has just interrupted Taylor Swift's VMA's speech. 
The United States was also attempting to recover from the massive economic crisis of 2007-08. This is where the "Johnny Boy" meaning comes from. 
In a recent The Pop Song Professor interview, Chris Joseph says that "Johnny Boy" is about him. 
"One song, it's called 'Johnny Boy,'" Joseph begins. "It was at a point where I was in a private school. It was when the economy wasn't doing well. I was an admissions director and they needed to, well, I didn't have that position anymore. They said 'Hey, we gotta get rid of this position.' And I was without a job for a while. A lot of people were out of work at that time." 
"He [Tyler] wrote the song 'Johnny Boy.' Like, here's his hero, he puts in the song here's my hero. He talks about being able to fix a chair and do all these things, but 'I'm seeing him in a humble state right now.' I was looking for a position at that time. We weren't starving by any means. It didn't last that long but that song really bothered me," Joseph laughs before reciting the hook "Get up, Johnny Boy." 
"But that song was interesting from his perspective. Looking at his dad." 
There are plenty of theories that have circulated for over a decade about what the song could mean. Some have speculated that it's about a gay man, while others even thought it was about John The Baptist. 
Generalizations about the song dealing with an 'Everyman' and someone down on their luck have come the closest to the songs' true origin. 
"I was Johnny Boy," Chris Joseph adds. "'Get up, Johnny Boy' because you know it was during a time where things were tough because you know we made enough money to get by and I was unemployed for a matter of months. And he felt his dad…he probably felt insecure seeing that I was looking for another job. That might put it in perspective for you."
Watch the interview below. 
What's next for twenty one pilots? Tell us in the comments below!
[envira-gallery id="197607"]