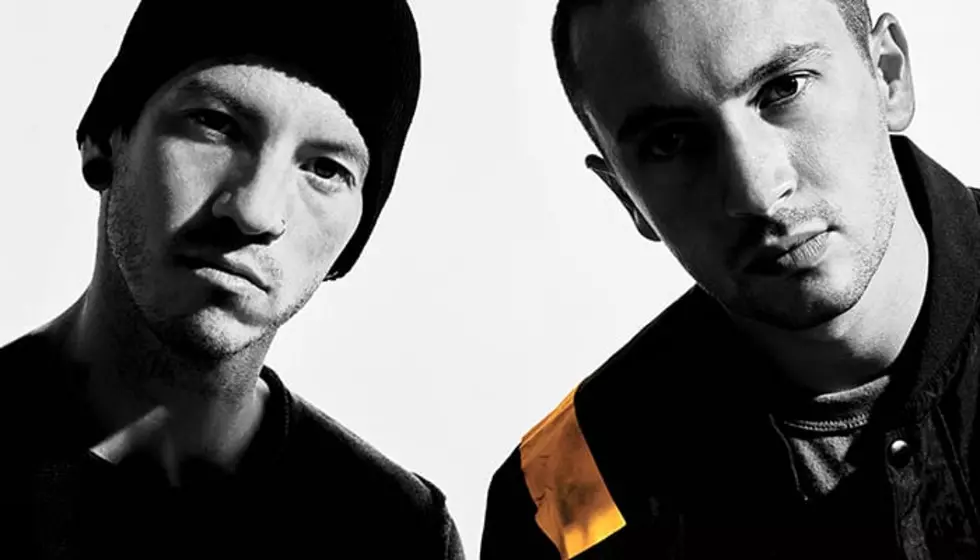 Tyler Joseph initiates wholesome trade with fan for Ned doll to gift to niece
[Photo by: Jonathan Weiner]
twenty one pilots frontman Tyler Joseph spoiled a fan after he asked them to give him their Ned plush doll at a show.
At the Bandito tour gig in San Antonio, Texas on Saturday, Joseph saw a fan in the front row holding the doll and stopped the show.
"Hey, can I have that?" he asked.
Then, the fan handed it over, and Joseph explained why he wanted the doll so badly.
"My little niece - her name is Mia, and she's a little over one year old. Whenever she gets sick or she's tired, all she asks for - I'm not even making this up - all she asks for is Ned. Over and over again," Tyler Joseph said. "So my sister will show her, my little niece, the video of 'Chlorine' and it calms her down right away. And so thank you so much for giving this to me, because I'm going to give her this - she's always wanted her own real Ned."
Then he asked the fan where they got the doll, to which they replied that they made it. He also made sure that the fan would be treated with a ton of TOP merch.
You can see the video of the whole ordeal below.
Tyler saw a Ned plush that a fan had bought and asked to have it for his niece Mia! They ended up giving her a bunch of merch! from r/twentyonepilots
Then, the fan tweeted to let everyone know what she received, which was apparently more than $300 worth of merch.
It was truly the most wholesome exchange ever.
Otherwise, twenty one pilots are gearing up to perform for a free, two-day concert series during MLB All-Star week at the beginning of July with the Killers.
Play Ball Park is an interactive, baseball-themed festival that will run from Friday, July 5 to Tuesday, July 9.
twenty one pilots will kick off the concert series July 5, with Welshly Arms set to open.
The Killers will headline night two, July 6, with White Reaper as the opener.
twenty one pilots are currently on their Bandito tour run. Tickets are on sale here, with remaining dates below.
Dates:
06/25 – Oklahoma City, OK @ Chesapeake Energy
06/26 – Memphis, TN @ FedExForum
06/28 – Indianapolis, IN @ Bankers Life Fieldhouse
06/29 – Columbus, OH @ Nationwide Arena
06/30 – Columbus, OH @ Nationwide Arena
08/09-11 – San Francisco, CA @ Outside Lands Music & Arts Festival*
* festival date
More twenty one pilots news
twenty one pilots have dropped a new version of "Chlorine" to kick off their "Location Sessions" series.
It's unclear what the sessions are, but the acoustic version of "Chlorine" contains coordinates. The particular coordinates for this song point to a square in the middle of Mexico City.
It's unclear if these songs were recording in these locations during the Bandito tour or if it's hinting at something else. You can listen to the new version of "Chlorine" below.
What did you think of Tyler Joseph asking a fan for the doll at a show? Sound off in the comments down below!
[envira-gallery id="186668"]