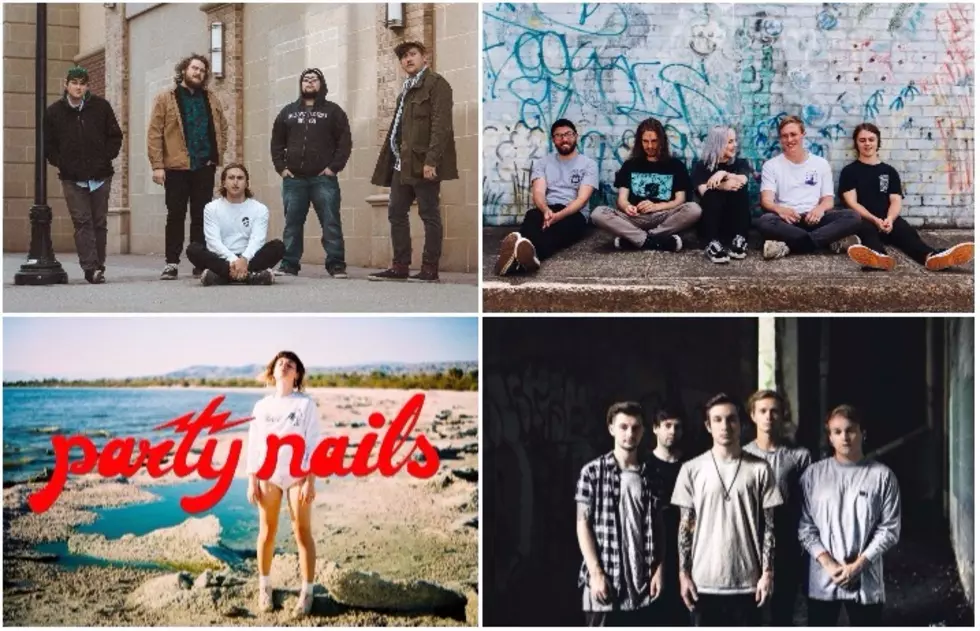 17 underrated bands that deserve your attention
[Photos by: Moral Support/Dave Lisowski, Party Nails/Facebook]
The third Friday in December is set to celebrate the unsung heroes of the world, with National Underdog Day. To celebrate the underrated and sometimes overlooked, we've compiled a list of 17 bands that are more than deserving of your attention. Check out this incredible list of talent you do not want to overlook. 
Read more: 'Lady Bird' and 16 other fantastic films directed by women that deserve your attention
1. Chil


A cohesive blend of punk, alternative, indie, rock and a dash of EDM create a unique sound that Chil have come to call their own. Hard work and determination have the band heading to England at the end of the month to record at Motor Museum in Liverpool. There, they'll be partnering with producer Al Groves, best known for his work on Bring Me The Horizon's That's The Spirit, to create a new EP we're sure everyone will want to get their hands on.
2. Villain Of The Story


Metalcore monsters Villain Of The Story are taking the genre and making it their own. Their killer album, Wrapped In Vines, Covered In Thornes dropped March 3 and is easily one of the most underrated metalcore albums to drop this year. VOTS are the perfect blend of clean and gritty vocals backed by insane instrumentals that set them apart from other cookie-cutter bands in their genre.
3. Nekokat


The Summer Set's Jess Bowen and the Ready Set's Jordan Witzigreuter and Cameron Walker combine to form Nekokat, a supergroup no one should be sleeping on. From their catchy lyrics to their incredible vibes on stage, Nekokat are capable of producing perfect bops and tear-jerking ballads to give you all the right feels in all the best ways.
4. Moral Support


Having shared the stage with incredible acts such as the Color Morale, Emarosa, Picturesque and more, it's easy to say Moral Support have quickly become the total package. Their high energy and meticulously crafted lyrics put them on a whole new level in the world of post-hardcore. The band recently dropped their EP Nowheresville on Dec. 8, and it already has us begging for a full-length album.
5. FRND


Remember iconic pop-punk band the Friday Night Boys? Vocalist and now badass producer Andrew Goldstein has kept himself busy working with artists such as All Time Low, blackbear, Selena Gomez and more, all while creating his side project, FRND (pronounced "friend"). Goldstein has already dropped a very impressive EP, appeared on blackbear's cybersex with his track "anxiety" and collaborated with Said The Sky on a ridiculously catchy track titled "Faded." Is there anything Goldstein can't do?
6. Famous Last Words


Detailed stories told through catchy hooks and intricate lyrics make Famous Last Words an iconic art project in the form of a post-hardcore/metal band. Every track this band releases holds incredible depth with lyrics involving hope, death, love and life. If you're looking for a band that continually raises the bar, then Famous Last Words is right up your alley.
7. Alteras


One of the best kept secrets of metal and hard rock, Alteras produce amazing tracks while using their platform to provide a positive example for their fans, striving to prove that no matter the obstacle you are faced with, you can overcome and learn to love again. Alteras are an incredible inspiration to bands and fans alike, both on and off the stage.
8. Ghost Atlas


Melodic phenomenon Ghost Atlas is the alt-rock persona of none other than Jesse Cash from ERRA, who invested thousands of dollars of his own money to independently drop All Is In Sync, And There Is Nothing Left To Sing About just last month. It's a huge and impressive album that everyone needs to get their hands on.