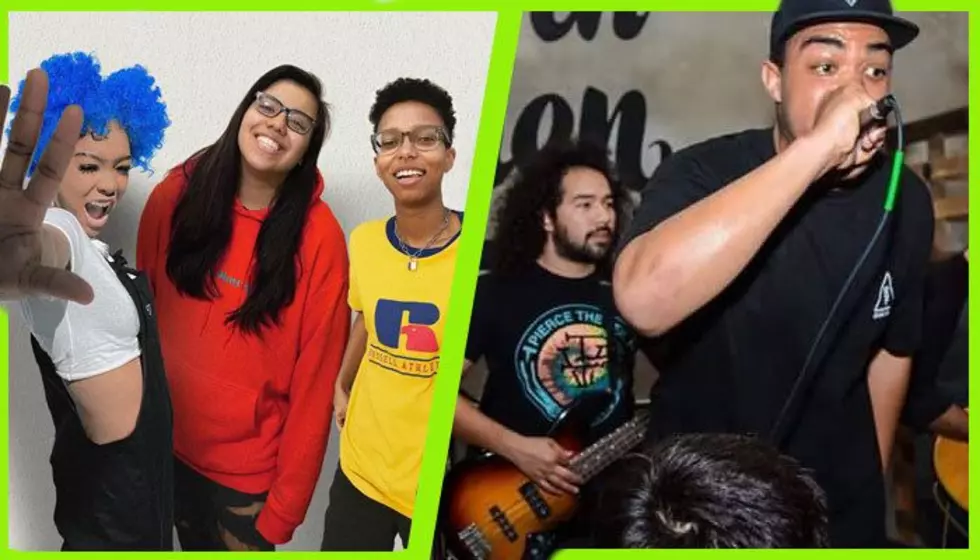 17 rising Black alternative bands who are leading the next generation
[Photos via Meet Me @ The Altar, Burning Years]
Black musicians are at the heart of alternative music's history. Whether it's punk, emo, metal or pop punk, Black people have played an integral role in creating what the music scene is today. However, they're consistently looked over in favor of white musicians, who have a long history of commodifying off the creativity of Black people. With the alternative music community being overwhelmingly white, it creates a false narrative of who actually participates in it. 
In the '70s, punk legends such as Bad Brains ignited the spark of what became Afropunk, which continues to burn bright as each year passes. In 2003, the Afro-Punk documentary exposed the long history of whitewashing punk music as well as the racism artists experienced, and continue to experience, in the scene. By 2005, the Afropunk Festival launched to showcase the talents of Black musicians for the community, by the community. 
As active participants in the alternative music scene, it's important to uplift, promote and support Black voices. Here are 17 rising Black musicians who are crucial additions to any playlist. 
Meet Me @ The Altar
Facebook | Instagram | Spotify
Meet Me @ The Altar are a pop-punk trio composed of drummer Ada Juarez, guitarist/bassist Téa Campbell and lead vocalist Edith Johnson. At their core, Johnson's vocals rival those of Paramore's Hayley Williams. With upbeat tempos, punk rhythms and smart lyrics, Meet Me @ The Altar subvert genre expectations in the best way. Their existence and deconstruction of traditional pop-punk lyrics, which often belittle women, sets them apart in a powerful way. 
Baby Got Back Talk
Facebook | Instagram | Spotify
With overtly political songs such a "Historically White College" and "When They Go Low, We Go Six Feet Under," Baby Got Back Talk ensure their audience recognizes the role that racism plays in various aspects of Black people's experiences in the United States. Their sound is reminiscent of early 2000s emo with a mixture of screams and clean vocals on top of pop-punk tempos that keep the energy high throughout each song's entirety. They're a staple in the New York alternative community, and it's high time they break through into mainstream consciousness. 
Burning Years
Facebook | Instagram | Spotify
There's an enormous amount of undervalued Black-fronted pop-punk and hardcore bands—Burning Years are one of them. Their fast-paced drumming, hardcore vocals and pop-punk lyrics create an exciting musical experience that keeps listeners returning. With songs such as "State Lines" and "Interstates," they provoke the nostalgia of growing up in the scene and going on long drives with friends. 
Five Three Eyes
Facebook | Instagram | Spotify
Chicago's Five Three Eyes take their Midwestern roots to create what can only be described as emo pop. They meld raw vocals and do-it-yourself ethos of the scene and attach them to chords shifting from joyful to questioning. Ultimately, they prove that they're a force to be reckoned with through their creative approach to an array of genres. 
Big Joanie
Facebook | Instagram | Spotify
Big Joanie are a powerful trio of Black women who refuse to be pigeonholed into one specific genre. Their sound is a mixture of synthesizers, heavy basslines and vocals familiar to grunge and experimental music. They're a creative group who are recreating what it means to participate in the scene. They craft songs with unbelievable elements of genres that seemingly don't go together but sound extraordinary.
Pleasure Venom
Facebook | Instagram | Spotify
Fronted by the incredibly talented vocalist Audrey Campbell, Pleasure Venom create seductive rock that resembles early 2000s punk. With strong tonality and killer lyricism, Pleasure Venom don't need intricate instrumentals to get their talents and creativity across. They're an overwhelming undervalued band who deliver an otherworldly experience for their listeners. 
The TxLips Band
Facebook | Instagram | Spotify
The TxLips Band are a group of extraordinary Black women who are politically active and engaged inside and outside of the alternative community. Sonically, they're a mix of punk instrumentation with clean vocals that speak to youth, growing up and their experiences. Oftentimes, their songs can shift over to grunge elements, such as "The Dead Pool," which resembles classic grunge vocals attached to a deep bassline. The TxLips Band are unique and multifaceted who have proven that fact in just one EP and a single. 
Winter Wolf
Facebook | Instagram | Spotify
Winter Wolf are unlike any band on this list. They're in-your-face honest with a traditional punk sound,  including a ska influence, and bring tons of energy to the table. Winter Wolf are an experience all their own. They ensure their audience is aware of their balls-to-the-wall attitude, especially with their single "Dead Body Fuck Party." 
Squid Ink
Facebook | Instagram | Bandcamp
The Black and Brown femme punk band Squid Ink utilize their platform to tackle racism, misogyny, homophobia, transphobia and so much more. In "Poetic Justice," they question if they're able to fit into a world that diminishes their existence. With sharp vocals and heavy instrumentation, Squid Ink remind us that punk is political along with their identities as Black, Brown and femme. Their lyrics and presence alone further emphasize their importance as a band in a whitewashed scene. 
The 1865
Facebook | Instagram | Spotify
Rarely do a band like the 1865 exist who craft their entire existence on a specific event in history. But they do so with such immense importance that it's unbelievable that not more people are paying attention to them. The 1865's songs are told from the perspective of a Black person living in post-Emancipation America, outlining a history and experience that is completely erased from mainstream education. With powerful vocals from Carolyn "Honeychild" Coleman, their punk instrumentation mixes naturally with the subject matter. Listening to the 1865 offers an educational experience along with an important discourse on the erasure of Black history in the United States, with punk stylings to frame it all. 
Ebony Tusks
Facebook | Instagram | Spotify
Fronted by Martinez Hillard, Ebony Tusks are a brutally honest experimental group of politically active artists who utilize elements from rap and punk to create a unique experience for every listener. The lyrics are thought provoking and filled to brim with social commentary on the government, politics and the toxic American culture that perpetuates brutalism toward Black and Brown people. Ebony Tusks are extraordinary for a multitude of reasons, but their ability to weave together rap with punk alongside lyrics that speak to greater issues in the United States is the most remarkable. 
Bodega Dream
Facebook | Instagram | Spotify
Bodega Dream are classic alternative mixed with hip-hop fueled with a political purpose. With songs such as "Don't Shoot," they showcase the severity of police brutality against the Black community. Uniquely placing various chord progressions and mixes throughout their songs, Bodega Dream are an integral part of the history of Black musicians making waves by utilizing their platform. 
Universe Ignore Her
Facebook | Instagram | Spotify
Universe Ignore Her are an unknown gem in the scene. While their career is just beginning, they're already establishing their presence in post-hardcore and alternative with brutally honest lyrics and melodically satisfying vocals. Their political messages may seem covert, but even in "Fuckboi," it's entirely clear that they don't stand for sexism, misogyny or the ignorance of white privilege. 
Mint Green
Facebook | Instagram | Spotify
Mint Green are an essential add for fans of indie and emo. Fronted by Ronnica, their lyrics confront an array of issues that women face, such as sexual assault. Her vocals inject a serious tone to otherwise upbeat instrumentation. They've been compared to Soccer Mommy and Paramore, but Mint Green stand on their own, with an ability to mix emo, indie and alternative rock on nearly every track. 
Proper.
Facebook | Instagram | Spotify
Proper. are on the precipice of becoming a household name. The emo-punk band utilize their Midwest origins and influences to create songs with integral social commentary on the exclusionary feelings of going to concerts, especially in their song "Curtain's Up! It's Showtime." Their sound is all their own, with incredible vocals and heartfelt instrumentation that effortlessly pull the listener in. The group come together to embody the heart of emo and punk with lyrics that outline the importance of a discourse on the intersections of the alternative community with an anti-racist and feminist lens. If that seems unbelievable, "The American Way" proves otherwise.  
Maafa Hardcore
Facebook | Instagram | Spotify
Maafa Hardcore are exactly what they state in their name: hardcore. More importantly, they're an Afropunk band who utilize the sounds of the African diaspora to inject Black culture in every aspect of their lyrics and sound. In "Welfare," Maafa Hardcore call out the racist institution that seeks to perpetuate the false ideology that the system protects Black people. They utilize their platform to embrace Black identity as well as staying true to Afropunk's roots by deconstructing institutions that seek to further disenfranchise Black men and Black women. 
Highnoon
Facebook | Instagram | Spotify
Releasing their debut album, Semi Sweet, in 2019, Highnoon are an indie band with themes familiar to emo music. Their songs are soft, and the vocals are gentle as they gracefully move together in a fluid motion to create one harmonious sound.