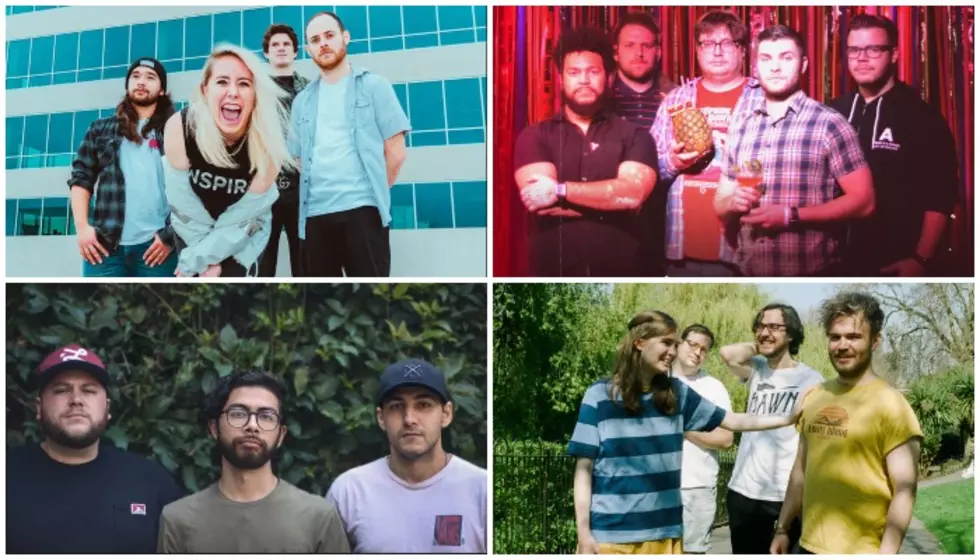 10 pop-punk bands proving the genre is very much alive
[Photos via Spotify]
Forget what the critics say: Pop punk isn't dead. Despite the lack of mainstream love for backward snapbacks on major radio stations, the genre continues to flourish with more unique acts springing up by the minute. If nothing else, this list proves that the genre is wide-reaching and continues to break its own mold.
Here are 10 of our favorite pop-punk acts rising the ranks. 
1. Dollar Signs
HQ: Charlotte, North Carolina
Facebook | Instagram | Spotify
CHECK OUT: "Punk On The Weekend," "The Bar," "I Hope I Don't Fuck This Up"
If you're still upset from a lack of Modern Baseball (like the rest of us), Dollar Signs might be your new go-to. Bringing a similar heart-wrenching voice with just a tad more grit, the band show a talent for emotional lyrics while keeping breakneck pace. Sometimes it's a song about heartbreak, and sometimes it's a song about being a weekend punk, but it's all awesome. 
2. Keep True
HQ: Kansas City, Missouri
Facebook | Spotify
CHECK OUT: "Settle In," "Deal With It," "Crypt"
Looking to resurge the soul of pop-punk's roots? Keep True channel a mix of infectious hooks and belting vocals to hit their target perfectly. Offering some of the poppier tracks from the list, they execute fast-paced guitar and frequent breakdowns to give the pure dose of '90s sound you might be looking for.
3. Goalkeeper 
HQ: Philadelphia, Pennsylvania
Facebook | Instagram | Spotify
CHECK OUT: "Sunshine," "Leftovers," "Lately"
The end of one endeavor sometimes leads to another, and out of the ashes of three band breakups emerged Goalkeeper. Offering a solid mix of 2000's era vocals and weighty breakdowns, the band comes straight from the school of Set Your Goals and Four Year Strong. If you need something a little heavier with a twist of acoustic flair, this is your band. 
4. King Theta
HQ: Sacramento, California
Instagram | Spotify
CHECK OUT: "Getting Over It," "Debt Of My Youth," "Shadow"
Skirting close to the genre line, King Theta's nostalgic vocals and instrumentals still make him a worthwhile mention on this list. What's most fascinating about "Getting Over It" is the change of genre midsong, going from a low-key trap beat to a textbook pop-punk breakdown. While some may scoff at the sentiment, King Theta's versatility makes him an intriguing artist to check out.
5. Stealing Home
HQ: Bay Point, California
Facebook | Spotify
CHECK OUT: "Self-Centered," "Displaced," "Take Care"
Sometimes you don't have to completely reinvent a genre in order to succeed, and Stealing Home are a perfect example. Baring influences on their sleeves, the band simply have everything most pop-punk fans would want. Impressive riffs, piercing vocals and a catchy, upbeat vibe makes for downright good music, plain and simple. 
6. Forever Starts Today
HQ: Austin, Texas
Facebook | Instagram | Spotify
CHECK OUT: "Optimist," "Not This Time," "Last One Standing" (feat. Sherman Taylor)
What began as YouTube covers has blossomed into an impressive start with Forever Starts Today. Exploding from the pack with wild guitar solos behind fiery, decibel-busting vocals, the Austin quartet continue to impress with a recent Senses Fail rework. Don't let the cover fool you, though: The band have a multitude of hard-hitting original tracks that point toward big things in the future. 
7. Gold Bloom
HQ: Liverpool, U.K.
Facebook | Instagram | Spotify
CHECK OUT: "Crosshairs," "I Hate The Sea & Everything In It," "A Damned Shame"
The latest promising act to emerge from across the pond, Gold Bloom make a strong case for your latest U.K. obsession. Melding the new wave of pop punk with tinges of throwback sounds, the group break the mold by balancing their usual fast pace with dynamic breakdowns and sometimes raspy vocals. 
8. Fresh
HQ: London, U.K.
Facebook | Instagram | Spotify
CHECK OUT: "Daytime," "Going To Brighton," "Short Hair, Don't Care"
Carrying a level of beauty within their laid-back chords, Fresh add a twist of folk to their punk-rock souls. It's hard not to feel relaxed when hearing the London quartet's low-key brand of music, but it carries along as a relaxed alternative to the hard-hitting nature of modern pop punk.
9. Sincere Engineer
HQ: Chicago, Illinois
Facebook | Instagram | Spotify
CHECK OUT: "Corn Dog Sonnet No. 7," "Overbite," "Ceramic Tile"
With a voice exploding with emotion, Sincere Engineer may offer the hardest-hitting sounds on this list. Flashing signs of emo and folk, the creative mind behind the moniker, Deanna Belos, seems to fall back on a gritty punk backbone. The result is a satisfying blend of tunes to listen to when you're happy, sad, pissed or whatever weird mix you happen to be feeling in that moment. (It's also perfect when craving corn dogs.)
10. Chief State
HQ: Vancouver, Canada
Facebook | Instagram | Spotify
CHECK OUT: "Spine," "I'll Be A Mess Without You," "Broken Eyes"
Piercing through the fog of monotony with powerful high notes, Chief State deafen with the sound of high-octane pop punk that dominated the 2000s. Showing the ability to also cut deep with acoustic tracks, the band flaunt the versatility to stay fresh even halfway through a long listening session. 
[envira-gallery id="194483"]