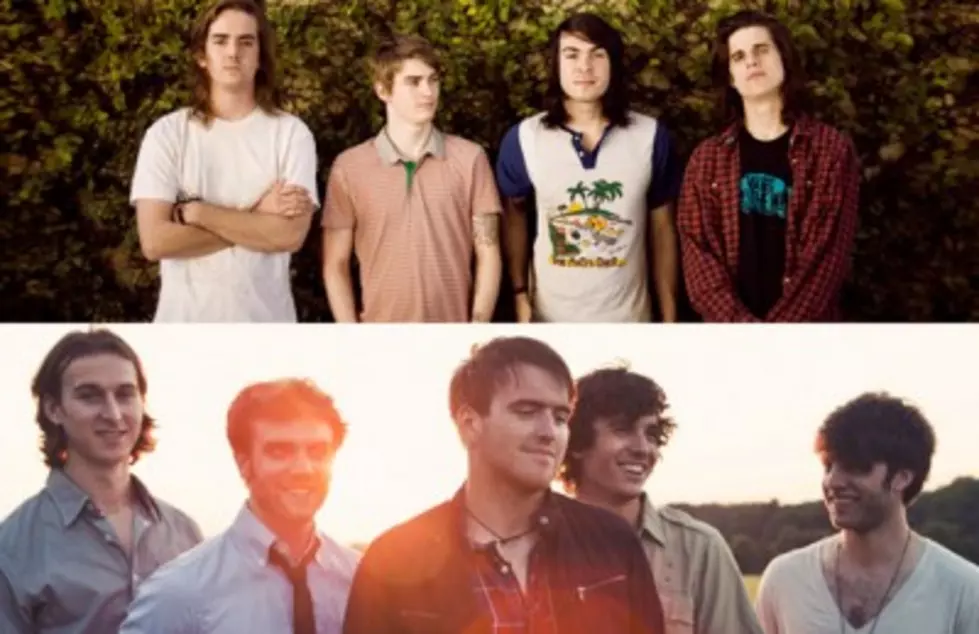 Touring In 2K11: Valencia and Anarbor reveal the gritty realities of the road
Touring's tough business these days—and that's even before taking insane gas prices and increased competition into account. Road warriors Valencia and Anarbor—who are embarking on the "Do America" tour starting July 15 with AP Tour alum Conditions—understand the challenges involved with climbing into the van. On the eve of their co-headlining trek, Valencia guitarist Brendan Walter and Anarbor vocalist/bassist Slade Echeverria checked in with AP and gave us a reality check about touring in 2K11.

Story by: Evan Lucy
What can fans expect from the Do America Tour?

BRENDAN WALTER: Just a great show. We're playing for an hour, and so is Anarbor. Conditions is playing for almost 45 minutes; it's gonna be a big event. We're going to be playing some songs we haven't played before. We'll probably do some onstage collaborations and stuff. It'll be a big friend party. I'm really excited.
SLADE ECHEVERRIA: We've always been stuck with, like, 35-minute sets, so we're really going to let loose. We're playing a ton of songs. I don't think we'll do a ton of crazy stuff, because we can't really afford a big production, but we're going to give the kids a great show regardless.
It seems like a lot of bands recently have taken to the idea of co-headlining. What's the thought process behind that as opposed to a solo headliner?

ECHEVERRIA: Maybe one day you don't really draw well in a certain city. Co-headlining definitely gives you the option of having another band to help bring kids in.
WALTER: It helps everyone out, because you have multiple bands sharing the responsibility. We all got together and named the tour; we all figured out what cities we wanted to go to. We've done promo videos together and figured out VIP ticket options and stuff. It's not all on one band's shoulders. Plus it helps from a fanbase standpoint. You can bring in another band's fans too.
Brendan, Valencia stepped in when original co-headliners You Me At Six dropped off the tour. What were your plans for the summer before you got the call for this tour?

WALTER: We were just going to lay low, honestly. We had plans to work on a new album, but Anarbor hit us up and asked us to do it, and we couldn't pass it up. We love those guys. We just did a tour with them in the spring so we're excited to get back on the road with our new best friends.
There's a trend in this scene where bands rush into headlining without having cultivated the necessary fan base, and they end up playing to empty rooms. Both of your bands slugged it out on support tours and did the opening act thing for a while. Was it important to wait to headline until you were ready?

WALTER: It's definitely tough. Sometimes there just aren't enough tours going out that you can get a spot on, so you're forced to headline. People are scared to tour because… it's expensive, man. Sometimes if you want to keep going, you just have to buckle down and play wherever, no matter if you have to headline or open. We've been lucky to have gotten on some really great tours, but now's the time to see if the support tours have paid off. I think they will. I feel like we've worked pretty hard.
ECHEVERRIA: Definitely. Valencia's been doing this for years. They know how it works. And even though people might see us as a new band, we've been around for seven years at this point, touring our asses off. We're both pretty legitimate bands with enough tours under our belts to make this happen.
Fans' dollars are already stretched thin. How do you give fans value for their money?

ECHEVERRIA: We weren't going to take out bands that had barely toured. We met the Conditions guys on the tour we did with VersaEmerge, so we've known them for a while and we're huge fans of them as a band and as people. We didn't want to make the bill too big and make kids stand through bands they'd never heard of.
WALTER: We're trying to keep the ticket prices low. We've got a stacked lineup. We picked great local bands from each area that hopefully people will be stoked on. I think fans are getting a great night of music overall. It's tough. You want to be able to make enough money to survive, but you also want the kids to come out. I think we've found a happy medium.
Is touring a self-sustaining effort for bands your size?

WALTER: It depends on how you look at it or how deep you want to go. Some of the guys work when they're home to make extra money, and some guys don't. It all depends on how comfortable you want to be. We're not millionaires, and we don't have fancy cars, but we're okay. If you just want to make music, it's definitely viable.
ECHEVERRIA: At a time, we definitely were struggling, and in some senses we still are to this day. We're still spending a lot of money to go out on the road, but it's our job. We try to keep the costs down, though. We don't need to stay in four-star hotels; we're cool with one star. [Laughs.]