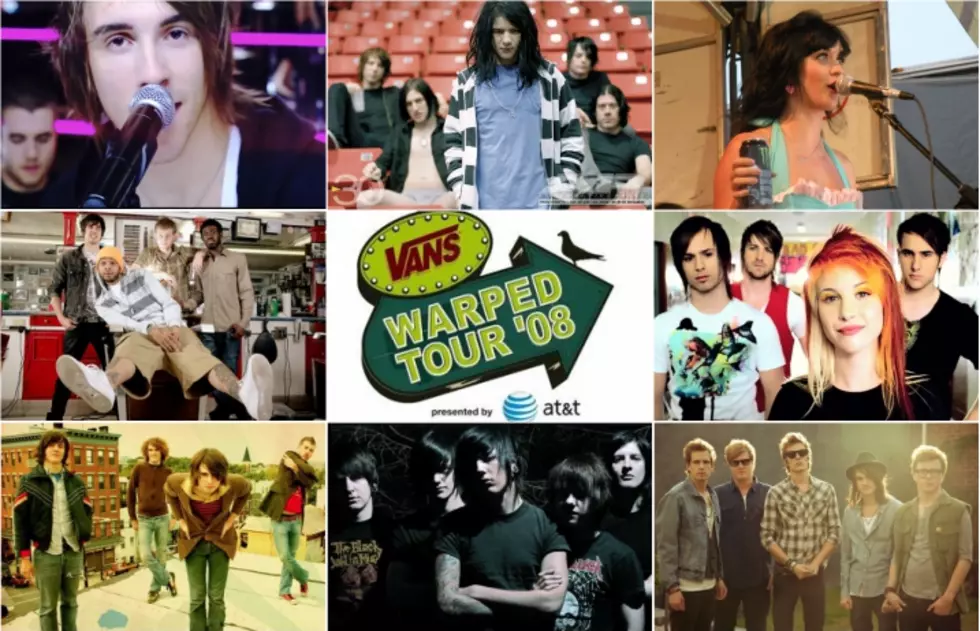 A look back at Warped Tour 2008
[Photo credit: Warped Tour Wiki and Wikimedia Commons]
[Photo credit: Warped Tour Wiki and Wikimedia Commons]
We've dried our eyes and sadly accepted that, after 24 years, 2018 will be the Vans Warped Tour's last year. To aid in everyone's healing process, we're taking a nostalgic look back at the legendary punk-rock festival a decade ago, just shy of the long-awaited final lineup announcement March 1.
However—from Katy Perry to Paramore, from Pierce The Veil to A Day To Remember, and from the Academy Is… to Bring Me The Horizon—Warped Tour 2008's unimaginable lineup may give you another reason to cry. Strap on your seatbelt, and set the dial 10 years back: Here's your time machine ride through a wild year from Warped Tour's past.
READ MORE: Ice Nine Kills sold 10K copies of debut EP on Warped Tour 2008 without actually playing
"OUR ANNUAL GUIDE TO THE ONLY SUMMER TOUR THAT MATTERS"
In 2008, AltPress rightfully deemed Warped Tour 2008 "the only summer tour that matters," scouring the lineup for its most exciting acts and crafting an epic set of August covers. Seriously, they should be framed.
A blue-hued AP 241.1 featured a tied up (literally) Max Bemis from Say Anything, Travie McCoy from Gym Class Heroes (all-hail the Decaydance era), Stephen Christian from Anberlin and Cory Brandon from Norma Jean. Creating a nice color complement, a yellow-hued AP 241.2 featured an up-close Tom DeLonge of Angels & Airwaves, Fred Mascherino of the Color Fred, Patricia Day of HorrorPops, and Matt Thiessen of Relient K. The color palette was completed with a hot pink centerfold.
KICK OFF
Warped 2008 kicked off Friday, June 20, 2008 in Pomona, California at the Pomona Fairgrounds. The 46-date tour rounded out Sunday, Aug. 17, 2008 in Carson, California at the Home Depot Center after traversing the United States and parts of Canada (four cities and dates, to be exact).
READ MORE: 17 Warped Tour facts you probably don't know
STAGES
Up from its usual handful today, Warped Tour 2008's sprawling layout included a whopping 17 stages and tents. Aside from many of the bands already mentioned, main stages Route 66 and Highway 1 featured the likes of Chiodos, Dillinger Escape Plan, From First To Last, Rise Against, Cobra Starship, Jack's Mannequin, Motion City Soundtrack and, if that wasn't already enough, Against Me!.
All Time Low, Jeffree Star, Mayday Parade and We The Kings held down the Hurley Stage while 3OH!3 and Katy Perry took control of the similarly named (but slightly wilder) Hurley.com stage (the internet was still kind-of a new and cool thing back then, so ".com" called for its own stage, we're assuming).
As if we weren't already falling off our chairs, the Smartpunk.com stage saw Juliet Simms' Automatic Loveletter, Forever The Sickest Kids, August Burns Red, Every Avenue, Four Year Strong, the Maine, Set Your Goals and Stick To Your Guns perform.
The madness continues. Warped Tour 2008 also displayed sprawling Ernie Ball Battle of the Bands and Kevin Says… stages, giving the newest of the new a shot at a performance on the game-changing festival. Browsing through these crazy lineups, we find some familiar names: Chelsea Grin (played Ernie Ball Battle of the Bands on June 28 in Salt Lake City, Utah), Go Radio ( Ernie Ball July 13 in Elkton, Florida), Anarbor (played Kevin Says… Aug. 13 and Aug. 15 through 17), the Gaslight Anthem (played Kevin Says… July 9 through July 16) and There For Tomorrow (played Kevin Says… July 31 through Aug. 3).
The East Coast Indie stage introduced A Loss For Words and Motionless In White while M.I.A. and T.S.O.L. took control of the Old Skool stage. Other stages and tents were the regular Ernie Ball stage, Jersey stage, Union stage, Shiragirl stage, Family Clothing stage, Skate Ramp stage, Coda Of Tha Cutz stage, and Skullcandy Mix tent.
READ MORE: A look back at Warped Tour 2007
WARPED DEBUTS
Now certified Warped Tour Veterans, We The Kings (who released their self-titled debut the year prior), Four Year Strong, Pierce The Veil (who released albums the year before) and Bring Me The Horizon (who released their sophomore album Suicide Season that year) all had their first cross-country run on Warped in 2008.
Angels & Airwaves, Cobra Starship, August Burns Red, Automatic Loveletter, Jack's Mannequin, Jeffree Star and Say Anything made their Warped debuts in 2008 as well.
KATY PERRY SPENDS A SUMMER ON WARPED TOUR
As you can see above, Patricia Day, representing her "rockabilly chanteuse" HorrorPops, graced the cover of AP 241.2. However, as revealed in our anniversary "20 things you didn't know about AP" article, many were lobbying for a new, up-and-coming singer to be on the cover in that spot. The singer was Katy Perry (maybe you've heard of her), who, with her debut album and one hit at the time, landed a summer-long gig on Warped Tour. However, one editor-type put his foot down, arguing Perry and her colorful, new-age pop was not punk.
READ MORE: Is Katy Perry's throwback Warped Tour tweet teasing her return to the fest?
Back in 2015, Perry talked to USA Today about her stint on Warped Tour.
"A lot of times, you'd just find me hanging over the crowd," she said. "Stage-diving and throwing myself into the pit.
READ MORE: Katy Perry stage dives, flips at Relient K show—watch
Although times have changed, it seems Perry hasn't let go of her Warped Tour roots.
"I still have a bit of that California punk-rock attitude always with me," she said. "I'm happy that my first tour was Warped Tour. I really got my bearings there."
So much so, when the tour announced that 2018 was its end, the massive superstar posted an Instagram goodbye.