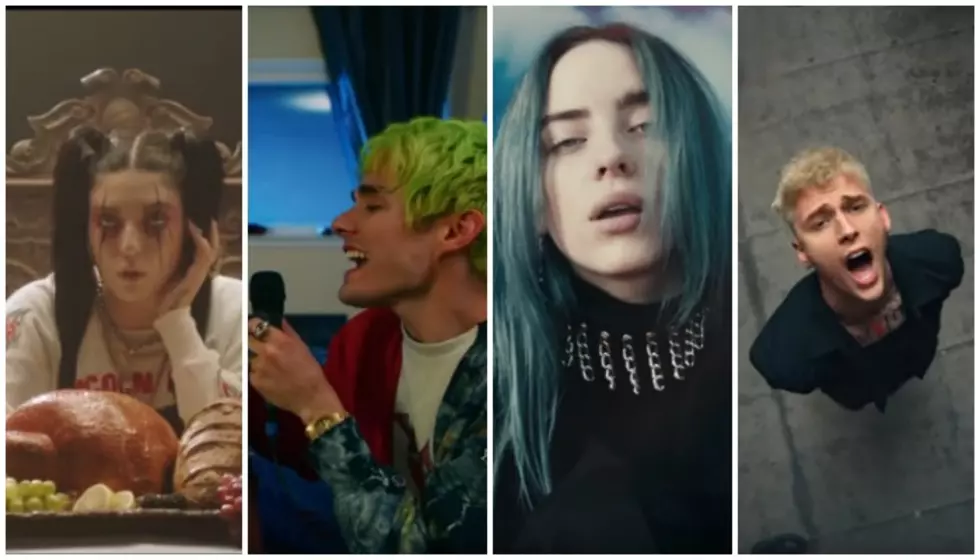 10 alternative songs that went totally viral on TikTok
[Photos via YouTube.]
TikTok isn't just a video social media app. It's morphed itself into a great place for musicians to be discovered. Several dance trends have given rise to fame for underground musicians or brought back old hits. The app certainly has helped alternative, rock and indie musicians get more Spotify streams and shares online. Here are some of our favorites that blew up.
1. Lil Nas X – "Old Town Road"
One of the biggest stars to rise to fame via TikTok is undoubtedly country rapper Lil Nas X. His genre-spanning, chart-topping "Old Town Road" caught both the eyes and ears of the world, allowing him to collaborate with the likes of Billy Ray Cyrus and "Walmart yodeling kid" Mason Ramsey. Ultimately, Lil Nas X's song allowed TikTokers to show off their cowboy side. 
2. Absofacto – "Dissolve"
Absofacto's indie hit "Dissolve" is a peaceful, sweet song that made both viewers and content creators across the app smile. The "Dissolve challenge" involved users creating optical illusions with mirrors to the song. With the help of TikTok, the song hit No. 1 on Billboard's Alternative Songs chart earlier this year. 
3. DeathbyRomy – "Problems"
DeathbyRomy's dreamy track "Problems" is used on over 81 thousand TikToks. Often defined by her dark stage name and goth-inspired makeup, DeathbyRomy expressed to AltPress how happy it makes her to see young women inspired by the art that she's creating. You can read her full interview here.
4. Waterparks – "I Miss Having Sex But At Least I Don't Wanna Die Anymore"
Waterparks made their way through the TikTok universe with their FANDOM track "I Miss Having Sex But At Least I Don't Wanna Die Anymore," and they undoubtedly gained even more traction. Even vocalist Awsten Knight was taken aback by the virality of their song making his own and tweeting, "IT HAS COME TO MY ATTENTION THAT I MISS HAVING SEX BUT AT LEAST I DON'T WANNA DIE ANYMORE HAS GONE VIRAL ON TIKTOK. IRONIC CONSIDERING EVERYONE READING THIS IS A COLOSSAL VIRGIN BUT THANK U FOR THE LOVE I APPRECIATE U."
5. Machine Gun Kelly, YUNGBLUD and Travis Barker – "I Think I'm OKAY"
Machine Gun Kelly, YUNGBLUD and Travis Barker joined forces to create an absolute rock banger last year for MGK's Hotel Diablo, and it just happened to take off on TikTok, too. Users primarily loved getting in their emo feels and singing directly to the camera for this one.
6. Billie Eilish – "bad guy"
Billie Eilish is well-loved inside and outside of TikTok. Her fans spread her music even further through the use of videos involving their own version of being a "bad guy."
7. Vampire Weekend – "A-Punk"

Vampire Weekend's "A-Punk" came out in 2008 but had its big revival via TikTok last year. The bouncy guitar riff that opens the song is the perfect tune to dance to with friends or by yourself.
8. Sub Urban – "Cradles"
This catchy, delightfully dark song caught the attention of music fans on TikTok from all over the world. 20-year-old Sub Urban, aka Danny Maisonneuve, already has more than 89 million views on his creepy, fiery music video. 
9. Tones And I – "Dance Monkey"
Toni Watson, the Australian singer behind Tones And I, can be heard on radio stations across the United States and playlists across the world thanks to "Dance Monkey." The song rose to TikTok fame in 2019, with many app users appropriately making their own moves to the now-hit song.
10. mxmtoon – "prom dress"
Indie-rocker mxmtoon shared her song "prom dress" less than a year ago, and TikTok went crazy over her flowy, effortless vocals. In fact, her song has been used in over 116 thousand dance videos. Many TikTok users also hilariously dubbed in rapper Lil Jon's voice into "prom dress" to create this unforgettable meme.