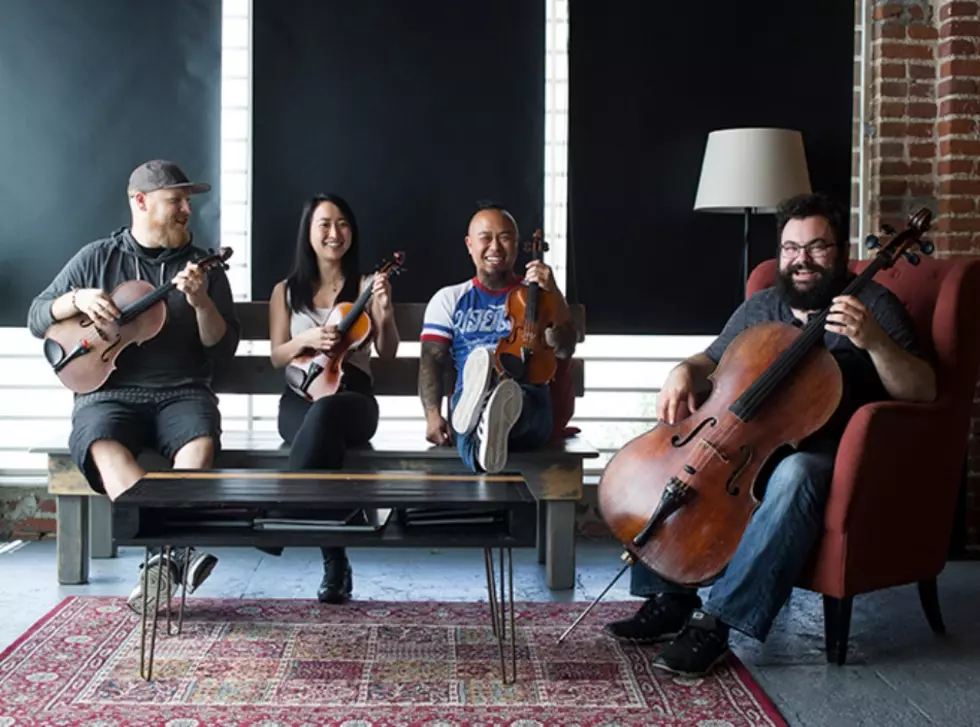 Vitamin String Quartet transform My Chemical Romance's "I'm Not Okay"
[Photo by: Jenna Schoenefeld]
The modern classical music project Vitamin String Quartet performed a rendition of My Chemical Romance's heavy-hitting anthem "I'm Not Okay (I Promise)." The track is from their 2006 LP, Funeral: VSQ Performs My Chemical Romance.
Both MCR fans and modern classic aficionados will be excited to learn the dynamic performance of the emo classic is meant to commemorate a re-release of the covers album on Record Store Day. The song was also accompanied by a new video, taking viewers on a journey into an animated Minecraft-style universe.
The performance features the emotionally tolling track we all know and love. This time, however, Gerard Way's voice is replaced with staccato cellos and masterfully arpeggiated violin parts. The group have intricately reimagined each part for a modern classic taste. Similar to the original song, VSQ's rendition is passionate.
According to their website, VSQ is a "series of string quartet projects developed and produced by CMH Label Group." They first recorded Funeral in 2006 following a Fiona Apple album and a Coheed And Cambria tribute. They were definitely feeling like most of us that year, as other cover albums included the likes of Taking Back Sunday, Panic! At The Disco and Underoath. They are an award-winning music project who have been putting out music for more than two decades. It's refreshing to see they, too, return to their early 2000s emo phase.
The re-release of the early 2000s magnum opus includes all-new album art for an extended vinyl release. Also included in the new version is a colored record, a download card and a brand-new bonus track. This is the first time the album is available on vinyl. Record collectors will be happy to finally get the chance to fill their bookshelves with the timeless classic. You can order your 15th anniversary copy of Funeral: VSQ Performs My Chemical Romance on July 17 on the Record Store Day website.

Anyone who has listened to The Black Parade knows MCR have a special place in their heart for unique instrumentation, including many of the same instruments used by VSQ. With just enough bite to feel like the real MCR but with a more relaxing tonality, Funeral is the perfect album to play around your kids, parents and friends.
The song was also accompanied by an animated video. The visual was created by Doodle Chaos, renowned for their musical Line Rider videos.
The video for "I'm Not Okay (I Promise)" is available to watch below.
More on Vitamin String Quartet
Vitamin String Quartet have been around since 1999. The group have long cemented themselves as one of the most influential contemporary classical projects of all time. Their repertoire of perpetually growing bowstring covers includes a massive catalog of over 400 albums, ranging from electronic giants such as Avicii to grunge lords such as Garbage. 
In recent years, the music act has found their highest streams from covers of Billie Eilish's "bad guy" and Ariana Grande's "thank u, next." The modern hits turned classical ballads provide the perfect amalgamation of cottage-core motifs and a contemporary feel. In addition to creating masterful, multi-genre covers, Vitamin String Quartet also create instructional content and classical wedding soundtracks.
Since the L.A.-based quartet have been included in the soundtrack to the Bridgerton, they've seen their sales jump by almost 350%, according to a report from Variety. The album is available to stream or purchase, with accompanying sheet music also for sale. The newest version of Funeral is just the latest in a long-running series of content creation—and hopefully not the last alternative album to get a vinyl re-release.