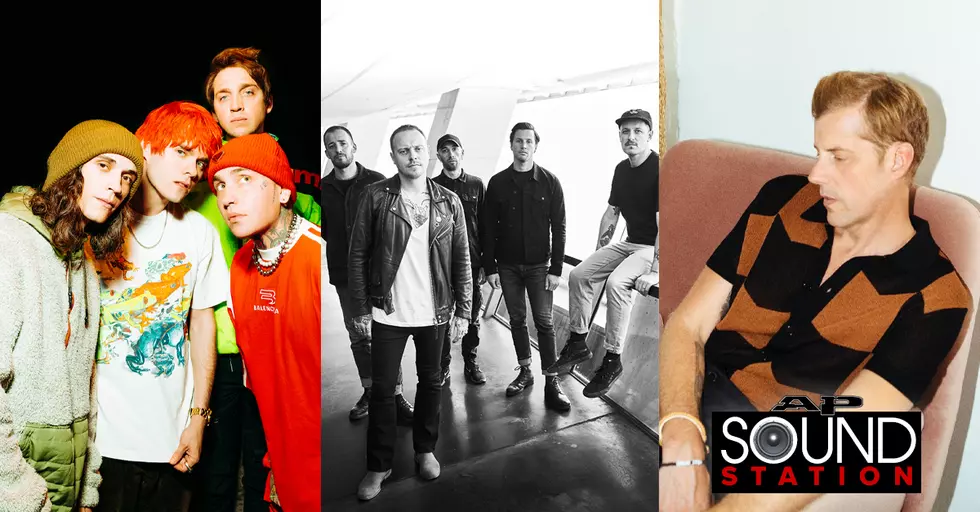 Waterparks, Architects and Andrew McMahon are our tracks of the week
[Waterparks/Jawn Rocha, Architects/Ed Mason, Andrew McMahon/Lindsey Byrnes]
Welcome to Sound Station, where we're highlighting the best new tracks that came out this week. Head into the weekend with songs from Waterparks, Architects and more.
Waterparks and blackbear are a match made in heaven on "FUCK ABOUT IT"
Coming from the high of feral girl summer, "FUCK ABOUT IT" is the revenge-era soundtrack that you will be screaming every word to on the long car rides home. Both Waterparks and blackbear have established themselves by crafting those gut-wrenching breakup tracks that almost feel too accurate, and a collaboration like this is a match made in heaven. —Yasmine Summan
Architects unleash industrial-metal fury with "a new moral low ground"
Architects will continue to be a band that aren't just ahead of the curve — they're the ones paving the way. What would 2010s metalcore be without them? Yet again, we see them defining the next decade of British heavy metal music with this track. There's a unique blend of industrial and glitching sounds that pair nicely with the fast, grating riffs. Sam Carter's vocals once again never fail to amaze. The seamlessness of singing to screaming with added harmonies in the chorus should be highly praised. —Yasmine Summan
Andrew McMahon in the Wilderness' "Skywriting" is an uplifting blast of '80s synth pop
On Andrew McMahon in the Wilderness' new single "Skywriting," the prolific songwriter dives further into his love for '80s synth pop and triumphant lyrics about overcoming obstacles. McMahon admitted onstage that "Skywriting" was inspired by a psychedelic trip, where he began to form the skeleton of the song. Once he had the general idea in place, he enlisted K.Flay to add her signature touch, resulting in playful hooks and a stunning sense of pop sensibility. McMahon, who recently celebrated his 40th birthday with a career-spanning set and the reunion of Something Corporate, is now looking forward to releasing a brand-new studio album due sometime next year. —Alessandro DeCaro
With "Pocket," the world of Poppy remains as thrilling as ever
Poppy's duality has always been an alluring part of her artistry. She's just as ready to console as she is to unleash a torrent of cathartic rage. With "Pocket," a cut off her new Stagger EP, she takes that sentiment to its brink. A skittering electro intro soon gives way to a captivating hook ("I forgot how to stand 'cause I stood for you"), but the track's ending squall is the most fascinating and memorable. —Neville Hardman
The 1975's "About You" is a swelling shoegaze dreamscape 
On "About You," from the 1975's stellar new album Being Funny In A Foreign Language, the British quartet lean into their love of '90s shoegaze (think Slowdive and Ride). Additionally, the band continue to channel the new-wave revival sound they've been developing across the entirety of the new album. With the inclusion of string sections, folk elements and choral arrangements, the 1975 are treading a new path while still retaining the core identity that has made them a universally acclaimed group. Vocalist and chief songwriter Matty Healy has said that "About You" is a continuation of the fan-favorite track "Robbers" off their 2013 self-titled debut album. —Alessandro DeCaro 
Tove Lo is on a new wave of pop
Tove Lo is no stranger to pioneering pop music. A decade since her "Stay High" domination, the singer-songwriter is once again on the next wave of pop's new venture — an electronic, hyperpop, Y2K, space-dance-inspired boiling pot. Boasting some exciting features, the track you shouldn't look over on Dirt Femme is easily "Attention Whore" (feat. Channel Tres). Tove's voice beckons like a modern-day Madonna. If her place as pop royalty hadn't been solidified already, her new album Dirt Femme should do the trick. —Yasmine Summan
Big Joanie Hypnotize With The Spooky "Sainted"
The buzzy Black feminist punk band Big Joanie have shared their latest effort "Sainted," a spooky, spellbinding folk-gothic track that is perfectly timed ahead of Halloween. At its core the sound is ritualistic, with the UK trio chanting steadily over suspenseful synths. "Sainted" has a dark edge, but it's the kind of song that will echo in your head and make you sway for days. We can't wait to hear more from them when Back Home is due Nov. 4. —Ilana Kaplan
MUNA put a delicate new spin on the Taylor Swift classic "August" 
During a trip to the famous Electric Lady Studios, indie-pop trio MUNA recorded several live stripped-down renditions of songs from their recently released self-titled album as part of the Live at Electric Lady EP – available exclusively on Spotify. Additionally, the group performed a delicate cover of Taylor Swift's ballad "August," and the result couldn't be more powerful. You can hear the beautiful acoustics of the recording studio with every lush vocal harmony and guitar pattern that adds a palpable sense of warmth and ambiance that resonates throughout the entirety of the performance. It is without question that Taylor Swift will be very proud when she hears this. —Alessandro DeCaro
The Arcs keep Richard Swift's memory alive with "Keep On Dreamin'"
It's been a long eight years since the Arcs last put out an album. Ever since drummer Richard Swift passed in 2018, many of the band's die-hards guessed they'd be a one-off project. With "Keep On Dreamin'," however, the Arcs put that belief to rest. Their love of crate-digging, psych and '60s soul is on full display, with an epic ending that evokes Pink Floyd grandiosity. It'll no doubt hold you over until their long-awaited second album, Electrophonic Chronic, arrives at the top of next year. —Neville Hardman
Red Hot Chili Peppers confront the anxieties of modern life with "Fake as Fu@k" 
On Red Hot Chili Peppers' new album Dream Canteen, the band hit their stride with "Fake as Fu@k, "a social commentary on modern life and the weight of the world. The song starts out with a gentle guitar riff that's eerily reminiscent of Daft Punk's "Get Lucky," which lends itself nicely to the lyrical laments of vocalist Anthony Kiedis before ripping into a full-on blast of high-intensity funk-rock, with the surprise addition of a horn section. The band, who recently reunited with their longtime guitarist John Frusciante, seem to have restored their musical dynamic without missing a beat, with laser-sharp bass and drum lines, funky guitars and the sheer speed of Kiedis' signature rapping vocal style. —Alessandro DeCaro
BLAKSWAN's "Daddy" is Carefree Wordplay
For BLAKSWAN, "Daddy" is a spitfire lyrical rap play on the term that ranges from something you call a parent to a word you use in the bedroom. It's not meant to be taken too seriously, though: Instead it's a carefree downtempo anthem about letting go and leaning into exploration. It also pairs well with the newcomer's aptly-titled single "Mommy." —Ilana Kaplan