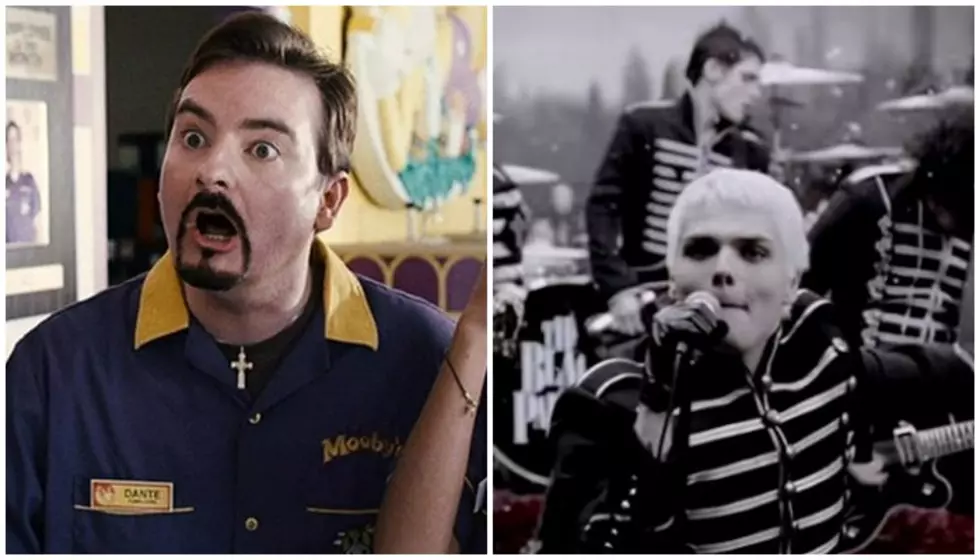 We finally know how Kevin Smith is using this MCR classic in 'Clerks 3′
[Photos via Clerks 3/ View Askew Productions, My Chemical Romance/YouTube]
In case you didn't know, filmmaker Kevin Smith is a massive My Chemical Romance fan. Now, it looks like he is taking his love for the band to the next level in Clerks 3.
This week, Smith unveiled the first page of the script for the new film which includes one of MCR's most iconic songs.
Back in 2019, Kevin Smith announced that Clerks 3 was officially in the works. In a lengthy Instagram statement, he revealed that this upcoming film will be the final installment in the Clerks trilogy.
 

View this post on Instagram

 
Soon after, Smith shared that Clerks 3 will follow the story of Dante (Brian O'Halloran) and Randal (Jeff Anderson).
"Randal has a heart attack, decides that he came so close to death, and his life has meant nothing, there's nobody to memorialize him, he has no family or anything like that. And in the recovery, while under fentanyl, he comes to the conclusion at mid-life, having almost died, having worked in a movie store his whole life and watched other people's movies, he tells Dante, I think we need to make a movie. So Dante and Randal make Clerks. That's the story of Clerks 3."
Then, in October 2019, we learned that Kevin Smith's Clerks world and love for My Chemical Romance were colliding. Smith reportedly revealed that Gerard Way is on board to score Clerks 3.
Shortly after, in March 2020, Smith also shared that My Chemical Romance have influenced Clerks 3 in a big way. As it turns out, Smith is completely creating Clerks 3 around "Welcome To The Black Parade."
"'Welcome To The Black Parade' by My Chemical Romance, MCR," he said. "Such an epic song. I'm building Clerks 3 around that song so this is actually a great question for me right now. Basically, I'm using that as my model."
Now, it looks like the new draft for Clerks 3 is finished and My Chemical Romance fans are going to love the film's opening scene. This week, Smith gave a sneak peek into the new movie by unveiling the first page of his script.
According to the post, Clerks 3 opens up with "Welcome To The Black Parade" as the iconic Quick Stop Groceries building is reintroduced to the audience.
"I started writing CLERKS III on December 28th and just finished the 101 page first draft last night," he shares. "But the writing doesn't begin when you start tapping the keys: I've been stirring this stew in my brain pan for awhile now. So when I sat down to put years of daydreaming into actual words, the typing part of the writing process was pretty brisk."
 

View this post on Instagram

 
For now, Clerks 3 doesn't have a release date. In the meantime, you can stream "Welcome To The Black Parade" below.
What are your reactions to "Welcome To The Black Parade" being in Clerks 3? Let us know in the comments below.