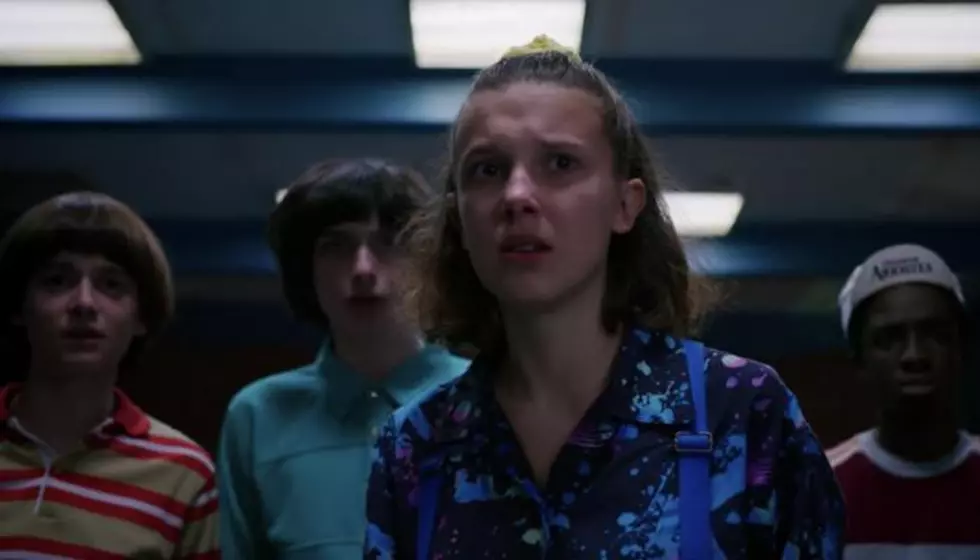 We will see this new gruesome storyline play out in 'Stranger Things 4′
[Photo via YouTube]
It looks like we are finally getting some new details about what season 4 of Stranger Things is about.
This week, Netflix has confirmed some familiar faces are joining the upcoming season while revealing some new secrets about what's in store.
It's been well over a year since we last caught up with the Hawkins crew in Stranger Things 3. Since then, we've all been theorizing about what season 4 may hold. Now, as filming continues after severe delays, Netflix is finally sharing some top-secret details about what's next for the Stranger Things characters.
According to Deadline, a corrupt and gruesome psychiatric hospital will be one of the main settings for season 4. Newcomer Jamie Campbell Bower and recurring star Robert Englund are two of the characters tied to this particular setting.
Bower, who is now a series regular, plays Peter Ballard, "a caring man who works as an orderly at a psychiatric hospital. Tired of the brutality he witnesses day after day, will Peter finally take a stand?"
Meanwhile, Englund plays Victor Creel, "a disturbed and intimidating man who is imprisoned in a psychiatric hospital for a gruesome murder in the 1950s." Joining Bower and Englund in Stranger Things 4 are Eduardo Franco and Joseph Quinn who are now series regulars.
Franco plays Jonathan's (Charlie Heaton) new-found best friend Argyle. He is known as a fun-loving stoner who delivers pizzas for Super Boy Pizza.
Stranger Things
According to Deadline, Quinn's character Eddie Munson reveals what the club is really all about. He is an '80s metalhead who runs the mysterious Hellfire Club, Hawkins High's official Dungeons and Dragons club. Although he is hated by those who don't understand him, and loved by those close to him, Eddie soon finds himself at the terrifying center of the season's ultimate mystery.
Back in February, Stranger Things fans got their first season 4 teaser which revealed Hopper is still alive. Since the character is in Russia, many assume that the majority of season 4 will take place in a Russian work camp.
Two new Russian characters, not played by Russians, are joining the upcoming Stranger Things episodes. German actor Tom Wlaschiha plays Dmitri, a Russian prison guard who becomes friends with Hopper. Dimitri is known for being smart, cunning and charming, but where his loyalty lies is still unknown. Serbian actor Nikola Djuricko plays Yuri, an unpredictable Russian smugger who thrives on cold hard cash, peanut butter and a bad joke from time to time.
Last month, we also got another glimpse of a new potential love interest for Joe Keery's Steve in some exclusive behind-the-scenes set photos.
More on Stranger Things 4:
David Harbour who plays Hopper revealed in a March interview that season 4 is likely to premiere in 2021 due to the unforeseen delays. Shortly following this, Harbour also shared that season 4 will heavily focus on Hopper's backstory. As well, there are a lot of Easter eggs about season 4 in previous episodes that many viewers have missed.
"In season two, Eleven goes into the basement of the cabin and there's five boxes, one of which has Brenner's stuff from Hawkins Lab, one of which says 'Dad,' one of which says 'Vietnam,'" Harbour says. "One says "New York." So there are these three things that we've established in the season that if we don't pay off, it means that they're bad writers. And the Duffer Brothers are very good writers."
Then, in May, after a few months of silence from the Stranger Things cast, The Duffer Brothers revealed some key secrets about what's in store for the Hawkins crew and Hopper.
"Meanwhile, back in the states, a new horror is beginning to surface, something long-buried, something that connects everything," they say. "Season 4 is shaping up to be the biggest and most frightening season yet. And we cannot wait for everyone to see more. In the meantime, pray for the American."
Finally, in June, the Stranger Things writers revealed just how many episodes are in season 4. The writers shared a photo of nine scripts, hinting that nine new episodes are on the way.
Stranger Things
confirmed that filming
What are you most excited to see happen in Stranger Things 4? What are your reactions to the casting news? Let us know your thoughts in the comments below.