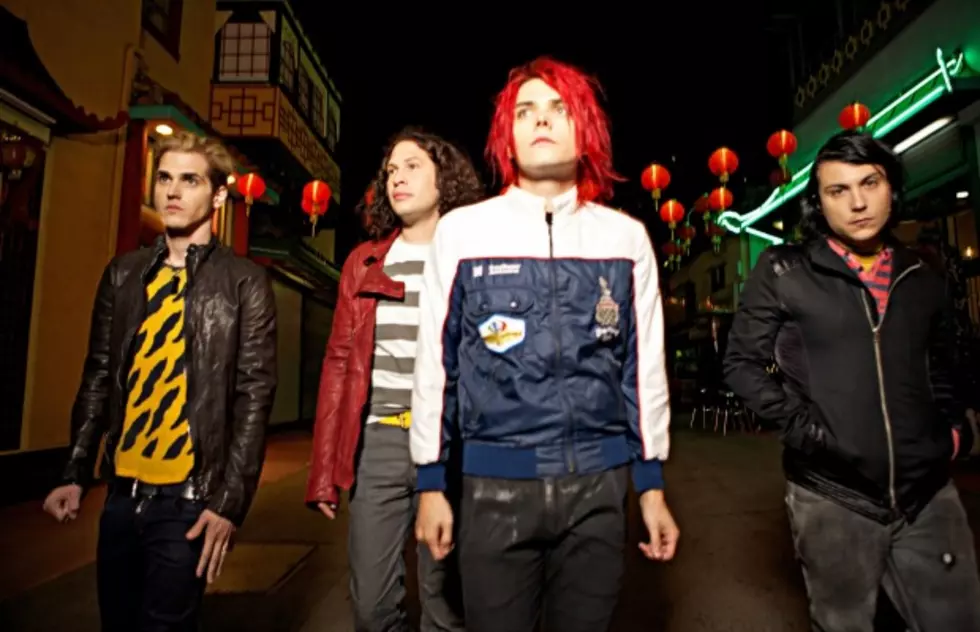 Why MCR's 'Danger Days' is more relevant now than ever
[Photo by Neil Krug]
"Art is the weapon." The slogan that accompanied My Chemical Romance's final studio album, 2010's Danger Days: The True Lives Of The Fabulous Killjoys, is a powerful one. It's a reminder that no matter how upset, disenchanted and pissed off at the world you are, if you channel that feeling in a creative way, a light can shine out at the darkest of times.
Danger Days, a record Gerard Way described as having a "high concept," rather than the narrative-driven style of The Black Parade, is the perfect embodiment of the ability art has to push back against the status quo. Rather than cash in on the huge success of their goth-opera third album and churn out a carbon-copy follow-up, the New Jersey legends ripped up the rulebook, swapping gloom for glow sticks, producing a bombastic, futuristic, technicolour romp. It might not have hit home in the same way Black Parade did, but given the state of current affairs (yeah, we're looking at you, Donald), Danger Days is a surprisingly vital, socially relevant album today.
QUIZ: How well do you know the lyrics to "I'm Not Okay (I Promise)"?
Set in an American dystopia in the year 2019—a vision which, at the time, Way was insistent wouldn't actually come to happen (oh, the irony)—the lead music videos from Danger Days, "Na Na Na" and "SING," as well as Way's The True Lives Of The Fabulous Killjoys comic book, follow the story of a group of young rebels fighting against a totalitarian regime. The nation is divided between the sanctuary of corporate havens like Battery City and the dusty desert wastelands. Weapons are rife (heck, you can even get them from vending machines), freedoms are limited and the ruling Better Living Industries—or BLInd for short (clever, eh?)—plaster the walls of the cities with populist slogans such as "Everything is perfect," "The aftermath is secondary" and "Make America Great Ag—" Wait, maybe that's from something else.
Banished to the desert, we find a colourful band of rebels, artists and DJs facing extermination from the evil Korse and his band of identical, all-white Draculoids. But these rebels, or "Killjoys," don't just sit back back and wait for their vibrant, free lives to be cleaned up and their friends to be squashed like insects. In the video for "SING," our heroes take a stand, diving headfirst into a collision with their oppressive rulers and declaring war between the anarchists and the autocrats.
The lyrics of Danger Days echo the sentiments expressed in the music videos. "Cleaned up, corporation progress/Dying in the process…/People moving sideways/Sell it 'til your last days/Buy yourself the motivation/Generation Nothing," cries Way on the call-to-arms anthem "SING." "Save Yourself, I'll Hold Them Back" has a similar air of defiance: "For all of us who've seen the light/salute the dead and lead the fight/Hail! Hail!/Who gives a damn if we lose the war?/Let the walls come down, let the engines roar."
You voted: Here are the top 10 My Chemical Romance songs of all time
This might all sound a bit political, and in a loose sense it probably is, but Danger Days—and My Chemical Romance's music generally—isn't about making political statements. It's about an artistic affirmation. It's about looking at the world and thinking, "You know what, X, Y and Z are really getting to me, and I'm going to express how I feel about it." And in an era when, for a lot of people in the alternative community, society seems to be going to shit, we desperately need more art like Danger Days to shake things up a bit. We don't necessarily need bands to come out and say, "X politician is a dickhead" (though if they want to, that's cool), but we do need more acts who are willing to be daring and unafraid of what the consequences of their decisions might be.
We've had that in the past. Green Day's American Idiot, Black Veil Brides' Wretched And Divine, Bowie, Queen and the Sex Pistols are all examples of art that is unshackled by expectation and undaunted by staring at society squarely in the face and sticking its middle finger up. Credit where credit's due, there are bands out there doing it: letlive., Creeper, Architects and Against Me! are all examples of bands whose art can never be presumed. But we need more.
Everywhere you look right now there are protests—in the streets, on TV, in governments, at award shows—and it is time for alternative music to make its own statement.
As the lyrics of MCR's "SING" say, it's time to be what tomorrow needs.
After all, art is the weapon.