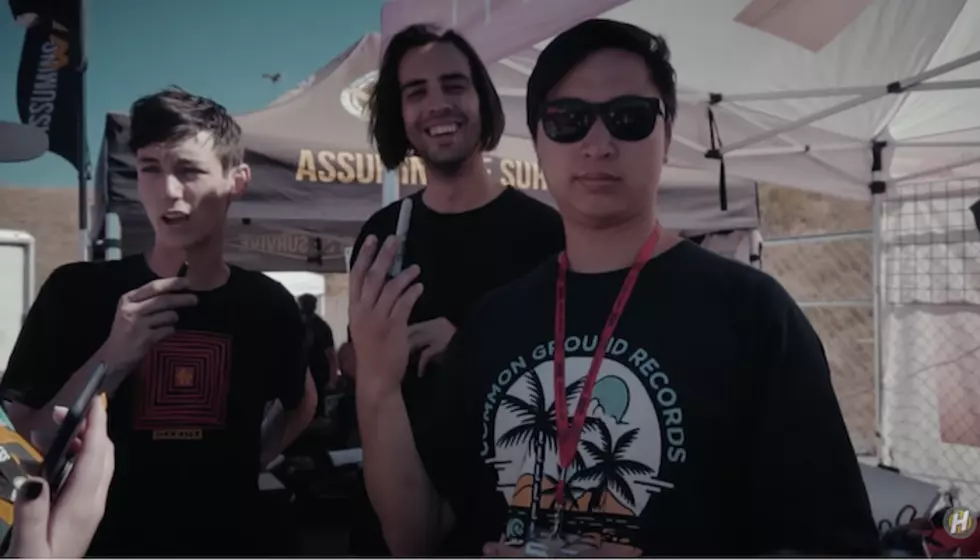 With Confidence drop new song "Jaded" showcasing pop-punk roots
[Photo via YouTube]
Aussie pop-punks With Confidence are releasing "Jaded," the latest track from their upcoming Love And Loathing, and AltPress has the exclusive first listen! We caught up with WithCon frontman Jayden Seeley to chat about the meaning behind the song and their sophomore release.
Equal parts upbeat and reflective, musically "Jaded" is a throwback to the Better Weather era of With Confidence. Seeley says the overall message of the song is about how you're not always going to be the right fit for someone, no matter how much you want to be.
"It's the idea of not being what someone else wants," he shares, "and trying really hard to fit this idea that is never really going to fit, and feeling really down on yourself about it."
Seeley reveals that the song was written about a past relationship. While touring, he says he wasn't able to give the relationship the time and attention necessary. When someone else on the tour pointed out he had been repeatedly missing calls, he says he realized the reality of the situation. "I felt like a really shitty person, and I was just like, 'Why am I doing this to this person? Why am I doing this to myself?'" he says.
After reflecting on how he had tried to ignore the signs, he wrote the song about how he felt in that moment on an off day in a Walmart parking lot. He says people can often get caught up in wishing things were different.
"We just want it to work. We just want something so badly that we're willing to be blinded by what is so obvious," he reflects. "It takes over you a little bit."
Check out the new track with visuals featuring footage of the band on the final cross-country run of Warped Tour below.
The album
Like "Jaded," Love And Loathing as a whole explores themes of self-reflection and self-improvement. "It's about this self-reflective, self-aware idea, and in a way, it is self-loathing; it's the positive side of it," Seeley shares. "It's like, 'Here's what I feel I'm doing wrong. Here's what I think I could be better at. Here's how I think I could be better as a person.'"
While the album focuses a lot on allowing yourself to recognize your personal faults, the frontman says it's more about getting better and not giving up. It's about getting out of your bad habits and being more self-aware.
"It's OK to not be perfect," he posits. "It's OK to hate yourself a little bit sometimes as long as at the end of the day, you're focusing on positivity and you know that it's fine to feel that way but to focus on bettering yourself and being the best version of yourself."
The band's first single, "That Something," was released earlier this summer. Both tracks will be on Love And Loathing, which is out Aug. 10 via Hopeless Records, and you can preorder a copy here.
The band will be doing a limited number of in-store acoustic performances in August. See below for dates and locations, and check out their Twitter for purchase information. You can also catch the band on all remaining dates of the Vans Warped Tour.
Dates on Warped Tour:
07/18 – Cuyahoga Falls, OH @ Blossom Music Center
07/19 – Cincinnati, OH @ Riverbend Music Center
07/20 – Detroit, MI @ Meadow Brook Amphitheatre
07/21 – Chicago, IL @ Hollywood Casino Amphitheater
07/22 – Minneapolis, MN @ Canterbury Park
07/23 – Milwaukee, WI @ Marcus Amphitheatre
07/24 – Noblesville, IN @ Ruoff Home Mortgage Music Center
07/25 – Darien Center, NY @ Darien Lake PAC
07/26 – Scranton, PA @ The Pavilion at Montage Mountain
07/27 – Mansfield, MA @ Xfinity Center
07/28 – Wantagh, NY @ Nikon at Jones Beach Amphitheatre
07/29 – Columbia, MD @ Merriweather Post Pavilion
07/30 – Charlotte, NC @ PNC Music Pavilion
07/31 – Atlanta, GA @ Cellairis Amphitheatre
08/02 – Jacksonville, FL @ The Old Cypress Lot near Met Park
08/03 – Orlando, FL @ Tinker Field
08/04 – Tampa, FL @ MidFlorida Credit Union Amphitheatre
08/05 – West Palm Beach, FL @ Coral Sky Ampitheatre
Dates for in-stores:
08/07 – Raleigh NC @ Schoolkids Records
08/08 – Baltimore MD @ Sound Garden
08/09 – Philadelphia, PA @ FYE
08/10 – Long Island, NY @ Looney Tunes
08/11 – Boston MA @ FYE
08/12 – Fords NJ @ Vintage Vinyl