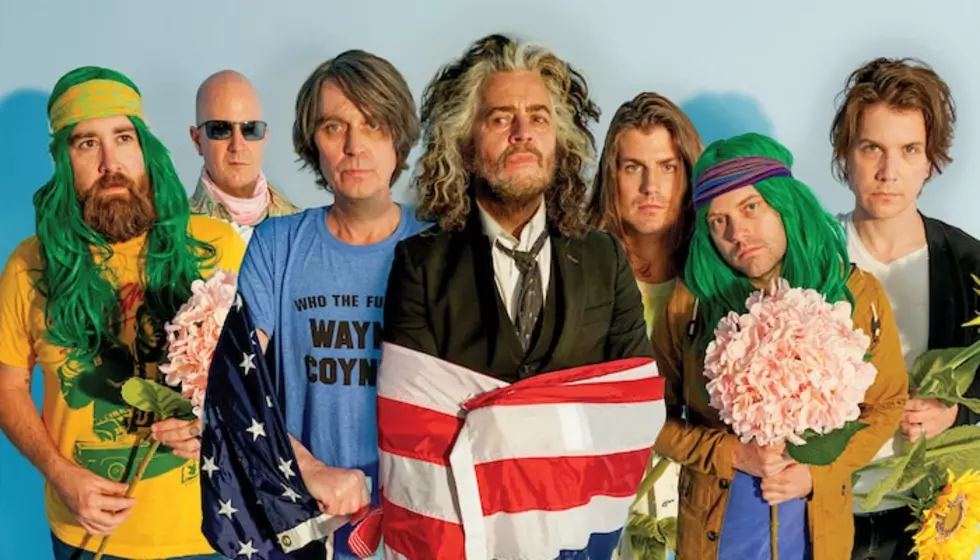 You'll have to wear a plastic bubble to attend the Flaming Lips' next gig
[Photo by George Salisbury via Warner Records]
It looks like the Flaming Lips are taking their space bubbles to the next level.
The band plan to hold their first-ever in-person live concert since the start of the coronavirus pandemic. How do they plan to do this, you ask? Well, let's just say it involves everyone in literal plastic bubbles.
The Flaming Lips frontman Wayne Coyne has been crawling inside of clear plastic bubbles and soaring over audience members at gigs for years. Now, it looks like the Flaming Lips are taking this concept and making it COVID-19 safe for an upcoming performance.
On Dec. 11, the Flaming Lips are hosting the world's first-ever space bubble concert at the Criterion in Oklahoma City. For the event, the venue's capacity has been downsized to just 100 spots to comply with social distancing measures. As well, the band and all of the show's attendees will be given their own plastic bubbles to stay in for the night.
According to Coyne, the bubbles can hold up to three people so members of the same household are able to enjoy the Flaming Lips' gig together.
"Ok... so.. tickets go on sale tomorrow.. for the purchase of one space bubble spot you can have ONE: HuMAN or TWO:HuMANS or ( up to ) THREE HuMANS.. so.. You and one friend or You and Two friends .. or .. can jus be you.. I will be posting ANSWERS to ALL your questions soooooon..."
 

View this post on Instagram

 
Tickets for the Dec. 11 show go on sale at 10:00 A.M. CT on Friday, Nov. 13 and are available to purchase here. The Flaming Lips assure that all health and safety measures will be closely monitored throughout the event.
We first saw the Flaming Lips try out their plastic bubble method during a recent video shoot. They played a few songs for a crowd of fans while they were all safely inside their individual bubbles. The shoot was filmed in the same venue in Oklahoma City and acted as a test run for the upcoming December show.
On Nov. 12, the Flaming Lips dropped a video for "Brother Eye" which shows exactly how the whole shoot went down. The video was directed by Coyne and filmed/edited by Blake Studdard.
Do you think this is the future of live shows? Are you going to try and get tickets for the Flaming Lips' upcoming concert? Let us know your thoughts in the comments below.