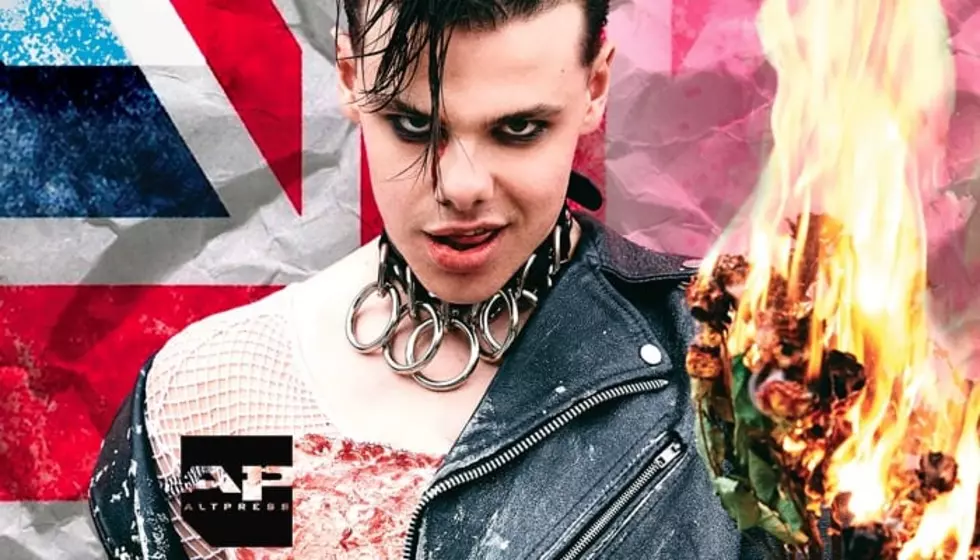 YUNGBLUD wouldn't ask you to do anything he wouldn't do himself
[Photo by: Jonathan Weiner]
What the hell is YUNGBLUD, anyway? Is it a sassy stage name for British-born Dominic Harrison to wave his freak flag and pink socks under? Is it a musical vehicle that has absolutely no allegiance to genre as much as it does to getting the message across? Or is it a school of thought where the world's youth can stand united to hasten the destruction of all the social, political and cultural barriers designed to separate them?
If you said "all of the above," Harrison is ready to give you a big hug, an anthem or three and the empowerment to change the world, one person at a time.  
"This is what I've always wanted to create," Harrison tells writer Jake Richardson in the next issue of AP. "I grew up with ADHD, and because of that, a lot of people misunderstood my intentions. I didn't fit into a box that society was accepting of. If you've ever felt like you're outside of that box, you'll know how awful it is—that feeling of inadequacy permeates your brain.
"I wanted to build something that would defy what was suppressing me, and that's what YUNGBLUD is—it's creating a community of people who are themselves no matter what," he continues. "You are safe to be yourself here: Regardless of what the fuck is going on outside, for the length of the show or the time we're connecting online, you can be you and forget about all the bullshit."
Heralding the recent release of his live album YUNGBLUD (Live In Atlanta), this month's cover story finds Harrison candidly discussing everything from his roots, the darker periods of his life ("If you're depressed, there will be a rope hanging in front of your face somewhere: Don't fucking hang yourself with it. Grab it and climb it"), pissing off old people on British TV and his conviction toward the power of his generation. Because unlike most rockers, Harrison doesn't want you to worship him: He wants to light your inner fuse to do great things.
"I believe in my generation because we're so fucking smart," he announces. "Yeah, we're a bit arrogant, but that's because we've got to be when you look at what's going on around us: Brexit, Trump, war, privatized health care, racism, gender inequality, homophobia. We know the future we want to be a part of, and this isn't it. We're being held back by old ideologies that don't understand us, but we're gonna get that future we want to see."
Discover what Team YUNGBLUD wants to see in the world in the next issue of AP, available right here.
ALSO IN THIS MONTH'S ISSUE
Tatiana Shmailyuk, vocalist from head-swiveling metal outfit JINJER, had to pass several armed guard checkpoints to finally arrive at a computer for her Skype interview with AP. Any band in America bemoaning their purported "struggle" can drink an icy-cold tallboy of STFU right about now.
On their new album Morbid Stuff, Toronto outfit PUP deliver punky pop that's couched in wit, wry observations and more heart than a flipped Hallmark semi-truck packed with Valentine's Day cards. That's why we asked the v. cool JEFF ROSENSTOCK to blow the breeze with the guys before their national television debut. Another round of IPAs and beard oil for the table, please…
NEW YEARS DAY frontwoman Ash Costello is one of the nicest people with an address on Earth. But on NYD'S new album, Unbreakable, she's breaking the floodgates wide open, addressing what people expect from her and what she's going to give them.  
In this month's photo special, we're perusing the portfolio of photographer ASHLEY OSBORN, who you may have seen hard at work capturing the action on one awesome tour or another. Besides picking all the great images (better get an extra copy to hang on the wall), Osborn shared all the stories behind each one—and the pleasure was all ours.
AP ARCHIVES is all about the nü metal this month, with stories revealing who escaped certain death at a DEFTONES shoot; KORN's state of mind during their first magazine cover; and who the most awesome member of LIMP BIZKIT was. (Hint: He doesn't wear a red baseball cap.)
BLACKBEAR told us about all the soul searching and beat-crafting behind the making of his new album in ALBUM ANATOMY. Mikaila Delgado from the wondrous trio YOURS TRULY wasn't going to let illness curtail her from seeing the world and rocking out, and her story is living proof regarding how IT GOT BETTER. Oh, and because we've been rockin' that new YUNGBLUD live album a little too much, we picked 10 ESSENTIAL songs to listen to while you're raising hell and evading law enforcement.
Did we mention awesome photos, inspiring fan art and 12 recommended bands waiting to cozy up to your ear canals? Let's go!