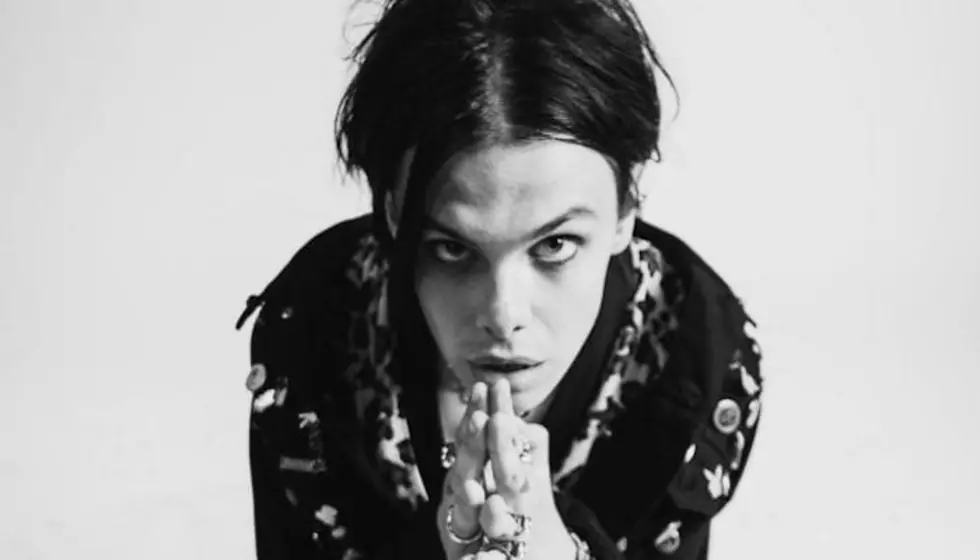 YUNGBLUD announces new album 'Weird!' with a vulnerable single
[Photo by Tom Pallant]
After much anticipation, YUNGBLUD has finally unveiled the album artwork, tracklisting and release date for Weird!, his sophomore album.
As well, he has released the vulnerable new song "god save me, but don't drown me out."
Fans first got a taste of YUNGBLUD's forthcoming LP way back in April when he shared the album's title track along with an entertaining video. YUNGBLUD previously shared that he actually penned "Weird!" following his historic Brixton Academy performance in 2019.
Then, in July, YUNGBLUD returned with his explosive new single "Strawberry Lipstick." The upbeat single features glam-rock influences alongside YUNGBLUD's distinctive snarling vocals and charismatic energy. As well, the single's lyrics greatly spotlight YUNGBLUD's androgynous style.
More recently, he teamed up with Denzel Curry for the genre-bending collab "Lemonade." The single appears on the Madden NFL 21 Soundtrack.
As well, YUNGBLUD joined forces with Bring Me The Horizon for "Obey," which debuted earlier this month. The new collab appears on BMTH's multi-release Post Human. This week, the collab reached No.1 on the Billboard Hot Hard Rock Songs Chart. "Obey" climbed eight spots for the coveted No.1 position, dethroning Five Finger Death Punch's "A Little Bit Off."
Now, YUNGBLUD has finally confirmed that Weird! arrives Nov. 13. The 12-track album is a follow up to the widely successful 21st Century Liability which debuted in 2018. As YUNGBLUD shares, Weird! is heavily inspired by current world events and the obstacles his generation face today.
"It's a story of coming-of-age and self-acceptance and liberation, in terms of sex and gender and drugs and heartbreak and all the other twists and turns we go through in life," he shares.
As well, YUNGBLUD reveals that Weird! is basically an episode of the U.K. teen show Skins, but in album form. Ultimately, he hopes that this LP will offer an escape for listeners who feel out of place in their own lives.
"I hope it makes people feel like it's okay to feel out of place or twisted or weird, because life is weird," he continues. "But that's what beautiful about it. So don't ever try to live it as someone else. Live it as you."
On Thursday, YUNGBLUD took to Instagram to share the Weird! album artwork. He also further elaborates on what he hopes listeners take away from the LP.
"I cannot wait for you to fall into this world with me," he says. "Together let's redefine what it means to be 'different.' Embrace the strange. Never settle for being anything less than 100% who you are, even if that's 15 different people all at the same time. I love each and every one of you for exactly who you are. You saved my fucking life! What does it mean to be weird?"
Along with the album announcement, YUNGBLUD has unveiled his new song "god save me, but don't drown me out." The vulnerable track was co-produced by YUNGBLUD and longtime collaborators Chris Greatti (Poppy, Grimes) and Zakk Cervini (Bishop Briggs, Machine Gun Kelly).
"god save me, but don't drown me out" is a beacon of hope for listeners. Although the song addresses the ongoing pressures YUNGBLUD's generation faces each day, the song is a reminder that better times aren't that far away.
Pre-orders for Weird! are available here. New merchandise has also launched on YUNGBLUD's website.
Weird! tracklisting:
teresa
cotton candy
strawberry lipstick
mars
superdeadfriends
love song
god save me, but don't drown me out
ice cream man
weird!
charity
it's quiet in beverly hills
the freak show
stream "god save me, but don't drown me out" below.
Are you ready to hear YUNGBLUD's new album? Let us know in the comments below.