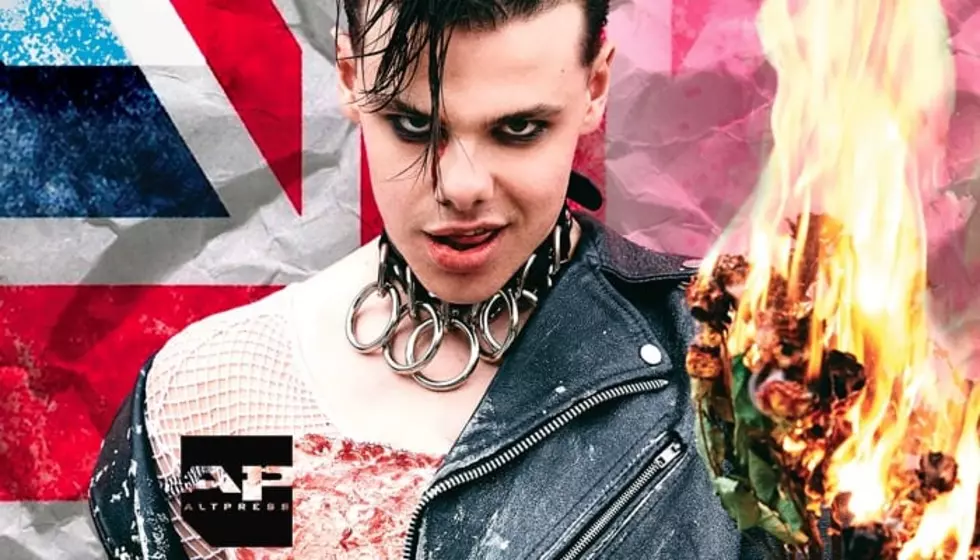 YUNGBLUD says fans' stories inspired his forthcoming album
[Photo by: Jonathan Weiner]
YUNGBLUD has recently shared that his forthcoming second album is inspired by the stories his fans have told him. In an interview with NME, YUNGBLUD says that the next record will shift the focus from himself to the family he has curated while performing music.
Additionally, in the interview, the musician says that he will also be playing with genre. According to NME, it will allegedly incorporate elements of hip-hop and include a gospel song.
"What's different is the first album I had 19 years of my life to absorb all this information and put out what I thought—it was all about me," YUNGBLUD says. "And the more and more the album got digested, the less and less it became about me—the more and more it became about us."
Additionally, the musician elaborated on the point that the stories told on his second full-length are from fans.
"A lot of the new material's about the stories I've heard from them, the things that they have gone through," YUNGBLUD continues.
Recently, YUNGBLUD's collab with Travis Barker and Halsey on "11 Minutes" has taken the world by storm.
"The song tells the story of a perfect tragedy that reflects modern love within our society," YUNGBLUD says of the track. "We are so distracted and focused on what's next, we can fail to see what is actually in front of us. We don't realize how much we need something until it's taken away from us."
You can watch the music video for "11 Minutes" below. 
Additionally, YUNGBLUD is about to embark on his Don't Wanna Be A Loner tour. You can check out a full list of dates below and secure your tickets here.
Dates:
05/03 – Atlanta, GA @ Terminal West
05/04 – Ft. Lauderdale, FL @ Culture Room
05/05 – Jacksonville, FL @ Welcome To Rockville*
05/07 – Houston, TX @ Warehouse Live
05/08 – Austin, TX @ The Parish
05/09 – Dallas, TX @ Club Dada
05/11 – Nashville, TN @ The Cowan
05/12 – Rockingham, NC @ Epicenter Festival*
05/13 – Washington, DC @ U Street Music Hall
05/15 – New York, NY @ The Bowery Ballroom
05/16 – Cambridge, MA @ Sinclair
05/17 – Asbury Park, NJ @ House of Independents
05/19 – Columbus, OH @ Sonic Temple Festival*
06/14 – Vancouver, BC @ Venue
06/15 – Seattle, WA @ Neumos
06/16 – Portland, OR @ Holocene
06/18 – San Francisco, CA @ Great American Music Hall
06/19 – Los Angeles, CA @ The Roxy Theatre
06/21 – Herber City, UT @ Bonanza Campout Music Festival*
06/23 – Dover, DE @ Firefly Music Festival*
07/05 – Ottawa, ON @ Ottawa Blues Festival*
07/09 – Buffalo, NY @ Rec Room
07/10 – Pontiac, MI @ Pike Room
07/13 – Chicago, IL @ Lincoln Hall
07/14 – Louisville, KY @ Forecastle Festival*
*festival date
Additionally, YUNGBLUD is currently the cover star of AltPress issue 369. You can grab a copy of that below.
What are you looking forward to most about YUNGBLUD's next record? Let us know in the comments below.