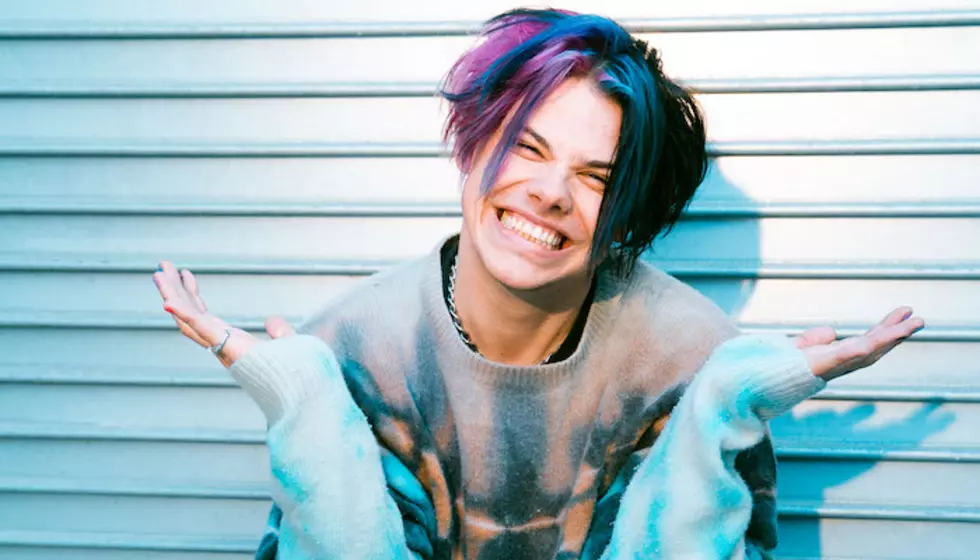 Here's what YUNGBLUD originally planned for his "Weird!" video
[Photo by: Tom Pallant]
YUNGBLUD is revealing how he came up with the original concept for his latest single "Weird!" which was drastically adjusted due to the ongoing coronavirus pandemic.
In an interview with PopBuzz, the musician is revealing how he had a plan for the track's visuals which didn't work out but he's planning on possibly still doing the video once lockdowns are lifted.
After dropping a single titled "Weird!" from his forthcoming sophomore album, YUNGBLUD revealed the music video a few days later.
The lyrics seem to point heavily to feelings of the current pandemic, however, YUNGBLUD actually penned the song after his Brixton Academy performance last year. He described the song and his album to AltPress as being about coming of age. 
"Coming of age doesn't mean growing up to me," YUNGBLUD shared. "You can come of age at 87. That's the whole thing I want to speak about with this album. You are continually [growing] throughout your life. The meaning of life, to me, is to figure out who you are. Maybe that will change many times. I just want this single and this album to amplify that no matter how weird things get, it's all gonna be alright in the end as long as we stay together."
The music video for the track was shot for under $100 while the musician is quarantining.
"Right now, everybody is trapped within four walls trying to figure out what the fuck is going on," YUNGBLUD said. "Currently, I'm trapped in LA with my best friends. We made this for $100 and this might be my favorite video we've ever made. I think you can see the happiness from it coming out of the screen."
Read More: 
Now, YUNGBLUD is revealing what the video was actually supposed to be about. The Doncaster-born artist says he was planning a Notting Hill-inspired film to accompany the track but plans had to change.
"I had this mental one-shot thing that I still want to do. We made this video for a hundred quid at home, so I think we might be able to scrape the barrel, see if we can do a proper one for it."
"Do you remember that scene in Notting Hill when he's walking down Notting Hill High Street and there's a transition of nine months in time to 'Ain't No Sunshine?' Well, I just wanted to do that about the world just being fucking mad."
What do you think of YUNGBLUD's original plan for the "Weird!" video? Let us know your thoughts in the comments below.
[envira-gallery id="217198"]