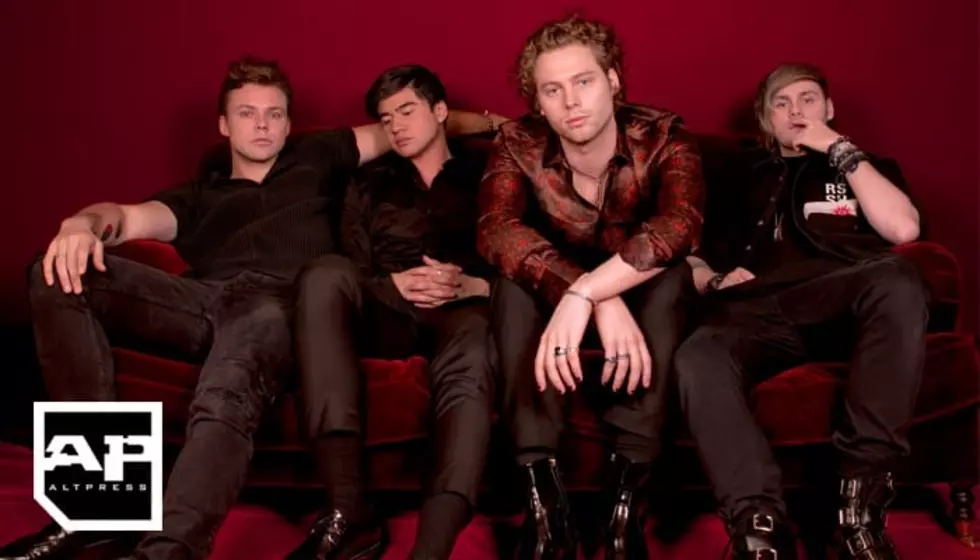 5 Seconds Of Summer honor Freddie Mercury with "Killer Queen" cover
[Photo by: Giselle Dias]
The cover is meant to not only honor the legacy of Queen's frontman, Freddie Mercury but to also celebrate the forthcoming biopic of the band,
Bohemian Rhapsody
.
The group shared their cover of Queen's 1974 hit, "Killer Queen," which is from the group's album Sheer Heart Attack.
Of the cover, 5 Seconds Of Summer shared in a press release that the band have been a "massive influence" on them as a group, and, when the time came for a new cover, they chose "Killer Queen" because they would hear it during the writing of their third album, 2018's Youngblood.
"Queen have been such a massive influence on us as a band. Their unique harmonies, the fluidity to their songwriting and how they each used their own musicality to back each other up have always inspired us. We chose to cover, 'Killer Queen' because we kept hearing it while writing our third album, Youngblood and were so enamored by the production and their early realization of the minimalist approach to the track.
"For us, the exploration of individual vocalists in a band is incredibly important and Queen helped us to see the future of how we want to sing, in addition to how we play our instruments. As a pioneer of individuality, Freddie taught us what it means to embrace the idea of truly being yourself and that's a part of Queen that lives on in their music now, more than ever."
Additionally, the song was recorded as the second installment in a series of three covers that is set to support the Mercury Phoenix Trust (MPT), which was created in order to support the global fight against HIV and AIDS.
Net profits from 5SOS' cover will go to MPT, and in a statement from Queen's manager, Jim Beach,
"Everyone at the Mercury Phoenix Trust is thrilled that 5 Seconds of Summer have joined our global campaign fighting AIDS in celebration of the movie Bohemian Rhapsody. Thank you 5SOS for giving us such an impeccable version of Freddie's classic Killer Queen," Beach said.
Listen to 5SOS' cover of "Killer Queen" below:
The Queen cover isn't the only time 5SOS has taken the time to give another artist's song a try. In Spotify's new Under Cover podcast, the Australian pop-rocker shared how they got their start with doing song covers.
During the podcast, they also shared their version of rapper Post Malone's Beerbongs & Bentleys' track "Stay."
5 Seconds Of Summer still have a few more dates below their summer/fall headlining tour is officially over.
Check out a list of the remaining cities and dates below!
Dates:
10/26 – Manchester @ O2 Apollo*
10/29 – London @ O2 Academy Brixton*
11/01 – Birmingham @ O2 Academy*
11/02 – Sheffield @ O2 Academy*
* Without the Aces