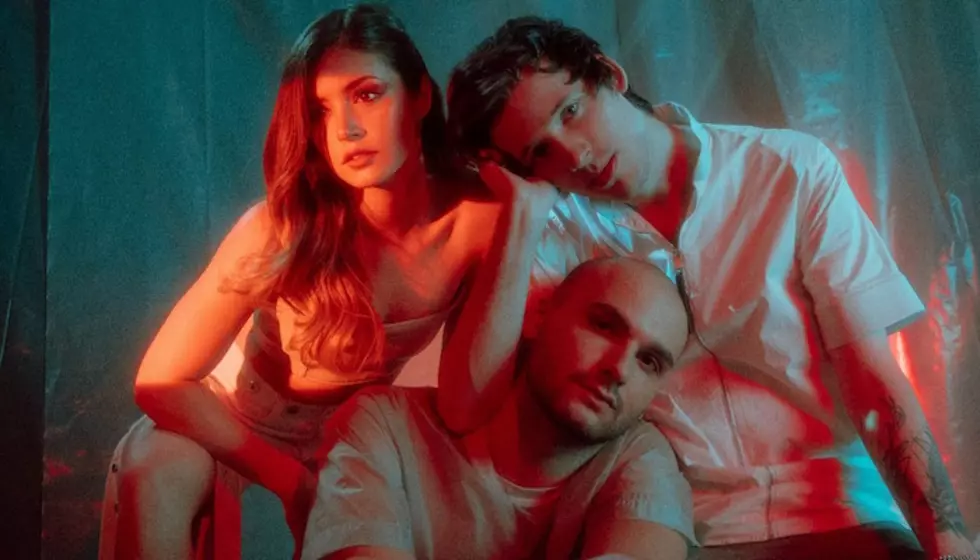 Here's why Against The Current went back to rock on "that won't save us"
[Photo by: Beth Saravo]
After the release of their last LP, Past Lives, in 2018, Against The Current focused their time and energy on touring and performing. After two years, the group returned with "that won't save us" and are teaming up with Alternative Press to debut the performance video for the track.
Composed of vocalist Chrissy Costanza, guitarist Dan Gow and drummer Will Ferri, Against The Current infuse pop melodies with heavy rock beats and rhythms. Over the course of their career, the band have dropped several EPs and two albums, including 2016's In Our Bones and Past Lives. With the release of their last LP, the band thought they would be maintaining a pop-influenced sound. At the conclusion of the album cycle, though, the trio realized they needed to get back to their rock roots.
As the first new single since the group released Past Lives, "that won't save us" dropped Oct. 28 alongside a cinematic music video. Now, they're sharing a performance video of the track to match. See Against The Current's fiery performance and how they shot a video safely in the midst of a pandemic below.
"that won't save us" is a powerful call-out track to those who say they want to help but keep making things worse. What are your influences behind the song? Will you be addressing similar themes in future releases?
CHRISSY COSTANZA: It's definitely a song that's influenced by a lot of different things, both personal and with the band and business. It's [like] waking up to your own complacency. Whether you're in a relationship or a friendship, everything is a two-way street. Any relationship is a two-way street. That's not going to change things—all the passive-aggressive tendencies, all the microaggressions at each other—that's not going to save the sinking ship. So, you wake up and either be proactive about it or walk away and let it die. 
With the exception of a few remixes of "Almost Forgot," "that won't save us" is the first track Against The Current have released since Past Lives in 2018. What was the writing process like? How was it different from the songs you've written in the past?
COSTANZA: Past Lives was like really pop, and we were definitely of that mindset where we were trying to write in a very pop direction. We thought that was the new direction for the band. Toward the end of the era, we realized it's time to go back to our roots. It's time to go back to what made the band what it is in the first place. 
When we started writing "that won't save us" in January, I went down to just outside of Washington, D.C. to write with Matt Squire. It was like, "All right, everybody's frustrated and tired and angry, and there's a lot of all this pent-up emotion. I don't want to write this minimalistic pop song that has some little dinky samples. I want to explode,  [and] I want heavy, [and] I want guitars and drums back." It felt really good to have that feeling again.
WILL FERRI: Touring Past Lives was awesome—it had so many layers to it, very musical, a lot of little intricacies, but I feel like even with Past Lives, we found ourselves trying to make [a] setlist just like we wanted [with] the most energy. It's cool to take things back to where we started with "that won't save us" and everything in the future. 
You also released a music video for "that won't save us" the day the track dropped last month. What was your experience like filming a performance video versus something more cinematic? Is there one you prefer over the other?
COSTANZA: So we filmed them in the same day, which was really interesting because we didn't actually start filming the performance video until almost midnight that night. I think it worked really well because if you see the way that the music video is shot, we didn't shoot the shots in order. The last one where we're in the bigger warehouse space, and it's all red and there's the fire, that was the last shot of the day. That was obviously the higher energy part of the music video. So, then that was like the warm-up to the performance video. 
Then, we go into the performance video to shoot that, and it's like, "All right, let it all rip. Leave it all on the floor." It was so much fun. We haven't played a live show since December. For us, it was the first chance we've had since then to get all of that energy out. It was like playing a mini live show. We were sweating and trying not to sweat too much on camera. Just having that adrenaline rush again was awesome to me. 
FERRI: I feel like the performance video really matches the whole energy and everything about the song, [but] I like them both a lot. We were really surprised with how much we actually love the performance one. It felt like so much more than just us there playing the song. 
Take us through a day of a music video shoot. What are you feeling, what goes through your mind and how do you prepare? 
DAN GOW: This one was weird because it was obviously during the pandemic, and we've never done anything like this. But it was fine. It was a smaller set, pretty contained, and it was cool to do it all in one location.
COSTANZA: Because of COVID, you're trying to limit who's on set and how many people you really need. For the part where they wiped Will's drum kit in like 20 seconds—when the camera pans over to me at the end of the music video, and then it pans back out and the drum kit's gone—we had literally just enough people that weren't manning the cameras that could pull all the drum kits. We were keeping it so small. [We had] the masks, and everyone's trying to watch on the screen to watch back the last take, and we have COVID guy yell to spread out, and we're like, "Yes." You have your first AD and those kinds of people, but now you got the COVID guy. It was really nice just getting to do that again even though it was in the context of COVID. 
"that won't save us" is the band's first release in two years. With 2020 coming to a close, can we expect anything else from the band in regards to releases and livestreams?
COSTANZA: We're definitely working on our next release, [but we] don't have the date set for it. Obviously, we're working on more than just a song. We're writing a lot and starting to tie some things up. Hopefully, [we'll be] doing some other pieces of video content and then maybe a livestream. We were still looking at how to make that work because obviously, so many people are doing amazing livestreams now. We want to make sure that when and if we do one, it's something that we feel holds up to the caliber of our live shows—maybe when we have more new music out so we can play more of it as well.