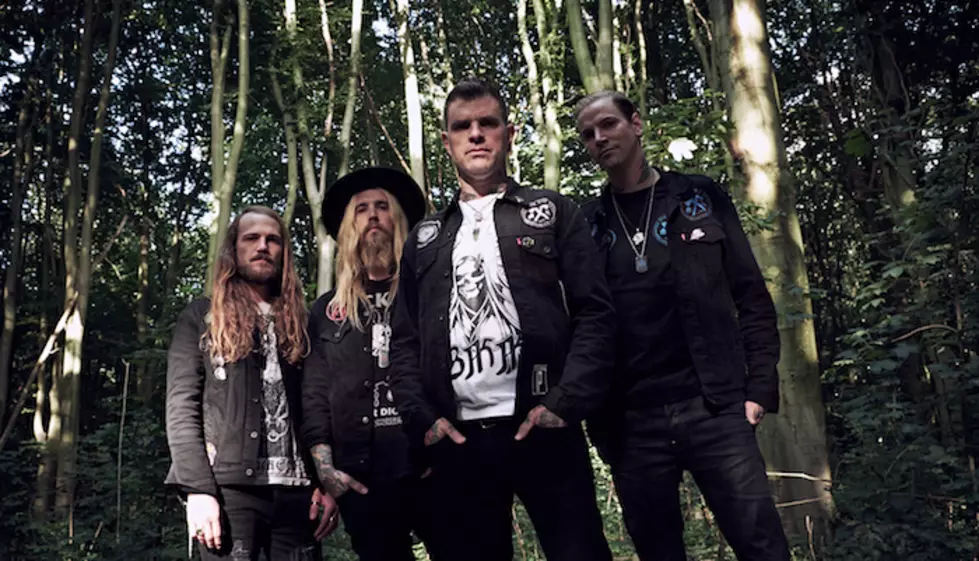 All Hail The Yeti have zero tolerance for bullying on new song
[Photo: Tessa Wiegerinck]
Metal-for-life diehards All Hail The Yeti have a lot to celebrate this year. First and foremost on the list is "Felo De Se," the track whose lyric video AltPress is premiering today.
Translated from its original Latin, the song title means "felon of himself": a person who has died by suicide or has perished after committing a self-destructive act. "The song is about a teenager that is bullied for being different." frontman Connor Garrity says. "When he decides he's had enough, he goes to class, slits his wrists and sprays his blood on his aggressors.
"As a victim of bullying myself, I have zero tolerance for any form of it. With the climate of America's society today, 'Felo De Se' hits the mark, spot on. Kids are tired of not being able to be themselves. Tired of feeling ashamed for being different than the norm [of] America's youth. We say, 'Stand up! Fight back!' Be who you want to be. And none of us should feel any type of persecution for this. This is the flag for freedom of expression. Freedom to be different. Wave it proud!"
All Hail The Yeti have a lot going on for next year and beyond. The band recently added Dave Vanderlinde as their new lead guitarist.
"Dave has an unbelievable talent, and he has joined the mix as if he has been there the whole time," Garrity says. "The writing process has been painless and some of the most fun we've had in a long time." 
In addition, All Hail The Yeti are now being managed by DevilDriver vocalist Dez Fafara and are officially part of his management stable known as the Oracle.
"He is probably the most responsible for my music career starting in California," the singer reveals. "He is driven, smart and no bullshit—exactly what this band need. We are beyond honored to be added among such greats."
Could things line up more perfectly for one band? Indeed, they can. This past Friday the 13th, All Hail The Yeti began recording with acclaimed producer Steve Evetts (Dillinger Escape Plan, Every Time I Die) for a new EP slated for release next year. 
"Sometimes when things need a new fire you have to go to the source of the flame," Garrity opines. "Steve is a genius, and we could not be happier with what is happening over at the Omen Room in Orange County. We have no doubt that this will be some of our best material yet. We are very anxious and ready to unleash this beast on the world, and we can't wait for all our fans to be able to experience this life with us. Hail!"
Check out the video below and hear what All Hail The Yeti's next chapter sounds like.