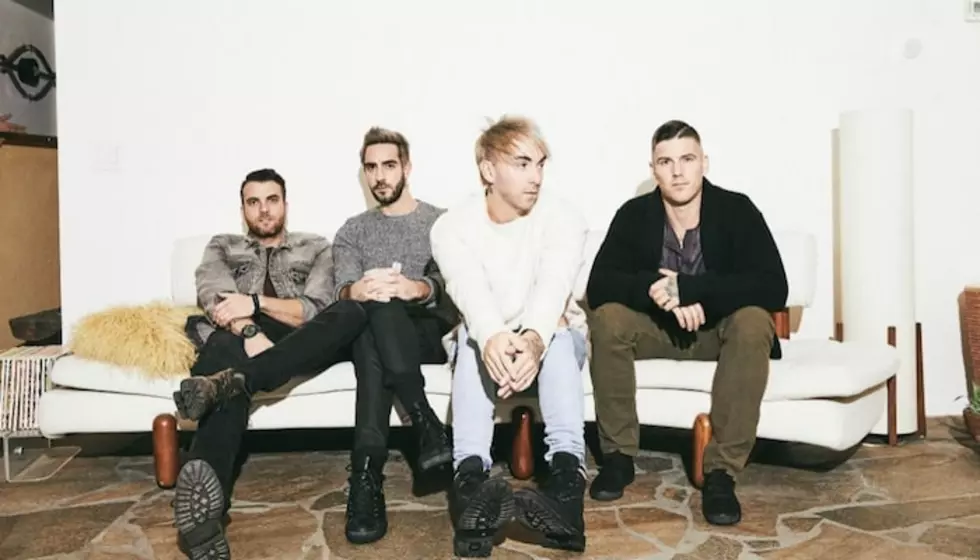 How All Time Low used their break to create 'Wake Up, Sunshine'
Pop-punk stalwarts All Time Low are no strangers to reinvention—they've been doing it for the better part of two decades. With their latest record, Wake Up, Sunshine, the boys are eager for you to hear what they've been keeping secret for far too long.
At the time of this interview, Alex Gaskarth is recovering from the flu. He's at home in Baltimore, coming off a three-day run of underplay shows with the rest of his All Time Low bandmates. "It was the worst fucking timing," he says of the sickness. "It sucked. I was all medicated up and trying to fight through it." 
It's not the first time a lead singer has fallen ill for an important performance, but this is a special set of circumstances. All Time Low were in the midst of promoting their new single, "Some Kind Of Disaster," and—though fans didn't know it at the time—their upcoming album, Wake Up, Sunshine. 
But the band didn't arrive there overnight; their January-long teasing campaign practically drove fans to riot in the streets. The journey to Wake Up, Sunshine took all of 2019—as well as their collective mental and emotional well-being.
 "We weren't feeling super-enthusiastic about making another record when we wrapped up the Last Young Renegade cycle," Gaskarth says. "All Time Low historically haven't taken a ton of breaks, so this came at a great time. It allowed us to step away and explore some things that were unexpected but pleasant surprises."
He's speaking, of course, about the myriad of enterprises All Time Low have taken on in the last year. Jack Barakat, guitarist and jokester foil to Gaskarth, began the emo-pop project WhoHurtYou with frequent All Time Low collaborator Kevin Fisher. Drummer Rian Dawson continued to build up clientele at his recording studio in Nashville. Bassist Zack Merrick currently lives in Hawaii and organizes regular beach cleanups in addition to his musical stylings. And Gaskarth himself teamed up with his childhood hero, blink-182's Mark Hoppus, to create the dream-pop project Simple Creatures.
"Alex had called us all separately and told us he would be doing the project with Mark Hoppus," Barakat says, speaking from his home in Los Angeles. "He was probably surprised to hear my answer of, 'Well, maybe we should take a break.' I was a little burnt out from touring. At some point, you're like, 'Well shit, I just missed my entire 20s.' Well, not missed, but I toured my entire 20s."
For the first time in years, there wasn't a rush to start the next project. Fueled By Ramen hadn't set a deadline to get in the studio, so for the moment, the band let Last Young Renegade sit. It had already been one of their most ambitious projects—a darker, more moody All Time Low than 2015's Future Hearts or 2012's Don't Panic. "To be honest," Barakat says, "at the end of Last Young Renegade, for the first time, it felt like we didn't know what was next for All Time Low. There wasn't a clear path or an obvious answer." 
While the question of the band's future might have been a difficult one, even more mind-boggling was what the members would do with themselves. 
"It's always difficult for me to take a break," Gaskarth says with a sigh. "That's when my mind wanders, and I go to a weird space, mentally." He admits that part of the reason he dove headfirst into Simple Creatures was his eagerness to fill idle hands just as much as it was a new creative outlet. "When you have some time away from [the band], you actually have a bit of an identity crisis," he continues. "'Well, what do I do now? What am I doing with myself? Who am I? What do I mean in this big world—if not the person onstage playing shows for people?'" 
Barakat agrees, adding, "All Time Low are such a big part of our own personal identities; we've been doing it since we were 14 years old. We've been doing All Time Low longer than we haven't been doing All Time Low. So when you take a break from that, you lose yourself a little bit. Or at least, I did." 
Far away from the day in, day out of call sheets and set times, the members of All Time Low floundered a little. The only marks on their calendars were for Slam Dunk in May 2019 and possibly a string of anniversary shows around their 2009 album Nothing Personal. The rest was wide open. Other bands might see this as a chance to drift apart, maybe consider calling it quits for more than just a year. But, according to Dawson, that was never a possibility. 
"What I didn't count on was missing the guys so much," he says. "You're not away from them for more than a couple [of] weeks, maybe a month at a time. That was what I realized the most: 'Wow, I miss these guys when I'm not with them.' Being in this band for 17 years, not everyone can say that. We're very fortunate."
They didn't even have the intentions of writing any real body of work—just getting together and jamming, like they did back in high school. Luckily, Dawson had an all-inclusive recording studio just across the country. In January 2019, Gaskarth, Dawson and a few regular All Time Low collaborators debunked to the honky-tonk capital to start All Time Low: Phase Eight. 
Along for the ride was producer Zakk Cervini (blink-182, Waterparks), with co-writer Andrew Goldstein (blackbear, 5 Seconds Of Summer) joining the Palm Desert sessions, both of whom have rich history with All Time Low. (The former produced Future Hearts, while the latter produced Last Young Renegade.) Thus, it didn't take long for everyone to get writing. 
"The first [complete] song we wrote was 'Some Kind Of Disaster,'" Gaskarth says, speaking of the anthemic lead single that kick-started Wake Up, Sunshine. "That was the moment where we all said, 'Well, this sounds like it could be the next version of what we're going to do.'" It is, simply put, a fantastic All Time Low song. Opening with just Gaskarth's vocals and the strum of a guitar, you can hear the way it'll travel from the walls of underplay clubs to the edges of festival fairgrounds. It rings out the way "Something's Gotta Give" or "Backseat Serenade" do on previous All Time Low albums—an immediate hit that fans grip on to for years to come. 
For a band who had just booked some studio time on a whim, this was a welcome win. There weren't even whispers of putting together an album—at this point, they were lucky to be cranking out songs. But after the success of "Some Kind Of Disaster," they were ready for more.
"By the time Nashville was over, we had a record," Dawson says. "Well," he clarifies, "I mean...we had 15 songs. But we were fortunate to have the time to step back and reassess."
With that, they headed to Coachella. We're kidding. But they did go to Palm Desert, one town over. It's a popular vacation spot for Angelinos, two hours inland (six with traffic), with plenty of fancy Airbnbs and upscale taco spots. All Time Low found a spot to stay in August 2019—the only requirement being a pool—and got to work, this time with the entire band.
While the bones of Wake Up, Sunshine had been formed in Nashville, Palm Desert was where they started to assemble the album. Almost seven months later, they could look at what they had made with fresh eyes. But through it all, they kept the DIY feeling close.
Even if the writing was done, the work wasn't over for All Time Low. After a quick jaunt up to Big Bear Lake, California, to wrap up the last of the production, they finally had a finished record. Then it came time to organize and execute the string of Nothing Personal anniversary shows, still with the secret of Wake Up, Sunshine in their back pocket. Shortly after the release of "Some Kind Of Disaster," they announced a series of underplay gigs, some at venues they hadn't played since their teenage years. 
"We hadn't played shows in so long," Barakat says. "We thought, 'Let's reinvigorate not only the fans, but ourselves.' It was a way to get the die-hard fans super-stoked but also [give] a present to them. Thanks for everything. And thanks for sticking around."
It's a statement that's consistent throughout this camp. Throughout all three interviews, everyone is careful to acknowledge just how long the All Time Low phenomenon has sustained. It's not by accident. The band don't wallow in schmaltz—Barakat is too busy cracking them up with dick jokes—but they know that this is a special thing. On the record, one track stands out to Dawson as the beacon for how far they've come. 
"'Basement Noise' is probably the best closer we've ever put on a record," he says. "We're talking about my parents' basement—it's where we would practice [in high school]. I played it for my mom, and she teared up." All Time Low are known for powerful closers (from "Lullabies" to "Therapy" to "Afterglow"), and "Basement Noise" follows through yet again. The chorus simply repeats "They're just stupid boys making basement noise/In the basement/Noise in the basement" with an acoustic guitar. For all the talk of DIY aesthetics, it zaps you back to the early aughts, with tighter jeans and terrible haircuts, with four teenagers lying on the floor of a basement, dreaming about the future.
"It feels like such a beautiful way to close the record," Dawson continues. "We started in 2003 in ninth grade in my parents' basement. Between marching band practice and me working at Rita's, we'd sneak in our practice." He pauses and takes a breath. "Now we're playing all over the world." 
But right now, it's just a normal Monday morning. Well, what passes for "normal" for All Time Low. And Gaskarth is just at home—not too far from that first basement where he found the chords for their first record. "Now we've been making records our way," he says, reflecting on the process of Wake Up, Sunshine. "Here is the inherent risk: This record is just us, for better or for worse." 
He pauses, then laughs. "Well, I think it's for the better."
This feature originally appeared in AP #380 with cover stars Palaye Royale, which is available here or below.