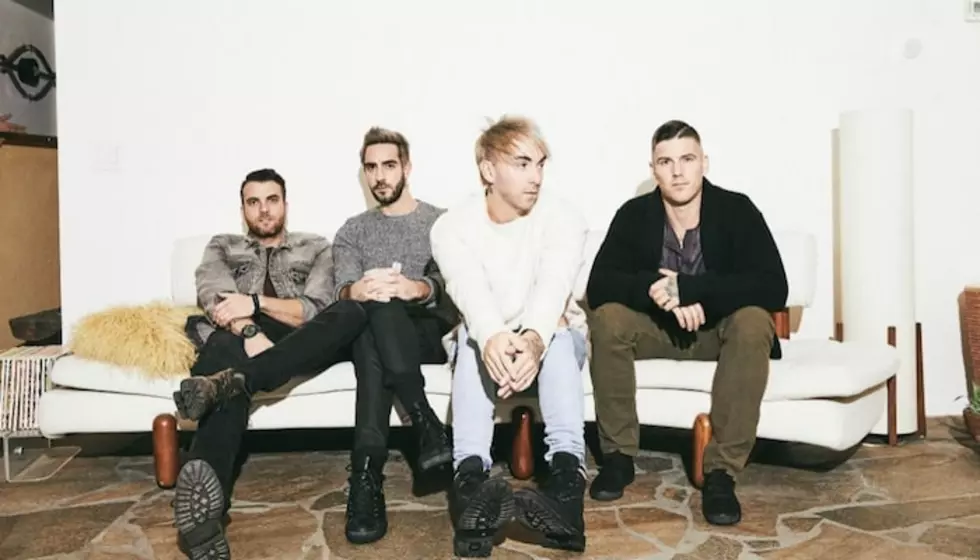 All Time Low detail 'Wake Up, Sunshine' album featuring blackbear, more
All Time Low just announced their first album since 2017's Last Young Renegade. The record will be called Wake Up, Sunshine and is due out on April 3.
All Time Low's newest album comes after a string of teasers that began last month.
It all started in January when All Time Low began a series of cryptic teasers.
On Jan. 8, the band uploaded a mysterious panda-filled video and then deleted it the following day. With blacked-out profile pictures for the band account and each member, they first shared a video of the "Birthday" music video panda setting fire to a Last Young Renegade jacket, suggesting the end of their most recent era started in 2017.
Exactly one week later, the band uploaded a second video that sparked even more theories concerning a possible new era.
Nothing Personal
each member has inked
Future Hearts
Fans began formulating theories of what the video could mean. They took note that the logos are fading to black and began theorizing this could mean a new one with the assumed upcoming era.
Exactly one week later, ATL dropped yet another teaser video much like the last one.
The tweet includes a link that took you to a YouTube video that ended up being All Time Low's first new music in over a year called "Some Kind of Disaster."
Now, Feb. 16, All Time Low took to Instagram to post yet another teaser. This time it came in the form of a hotline that you could call. Upon calling, one is treated to some very mysterious dialogue that doesn't give too much away but talks about sunshine pretty heavily.
Today, Feb. 17, All Time Low officially announced Wake Up, Sunshine.  The record is due out April 3. on Fueled By Ramen. The record includes collaborations with blackbear and the Band CAMINO. Speaking on the record, vocalist Alex Gaskarth says they went back to basics for Wake Up, Sunshine. 
We got back to how we started," Alex said. "It had been a long time since the four of us made a record under one roof. That became a central theme. We've been a band for 17 years. Everybody brought something to the table. A lot of what you're hearing came from those magic moments together."
Jack Barakat then chimed in and agreed. "I think we accomplished something special. By putting our four heads together, we were able to make a classic All Time Low album."
All Time Low will debut the next single titled "Sleeping In" on Scott Mills' BBC Radio 1 show this Thursday, Feb. 20 at 2 p.m. GMT/9 a.m. EST.
On Instagram, the band shared what is believed to be the album artwork and a message about how excited they are.
NEW ALBUM #WAKEUPSUNSHINE APRIL 3. LINK IN BIO TO PRE-ORDER. NEW SINGLE #SLEEPINGIN THURSDAY. IT'S HAPPENING. WE'RE EXCITED
Wake Up, Sunshine is now available for preorder with all of the fun bundles and merchandise here. The full tracklist is below.
Wake Up, Sunshine Tracklist
1. "Some Kind of Disaster"
2. "Sleeping In"
3. "Getaway Green"
4. "Melancholy Kaleidoscope"
5. "Trouble Is"
6. "Wake Up, Sunshine"
7. "Monsters" feat. blackbear
8. "Pretty Venom (Interlude)"
9. "Favorite Place" feat. The Band CAMINO
10. "Safe"
11. "January Gloom (Seasons pt. 1)"
12. "Clumsy"
13. "Glitter & Crimson"
14. "Summer Daze (Seasons pt. 2)"
15. "Basement Noise"
As stated, All Time Low's Wake Up, Sunshine drops on April 3. Until then, enjoy their latest single "Some Kid of Disaster."
You can read All Time Low's first interview on Wake Up Sunshine featured in Issue #380 with cover stars Palaye Royale.
[envira-gallery id="194483"]