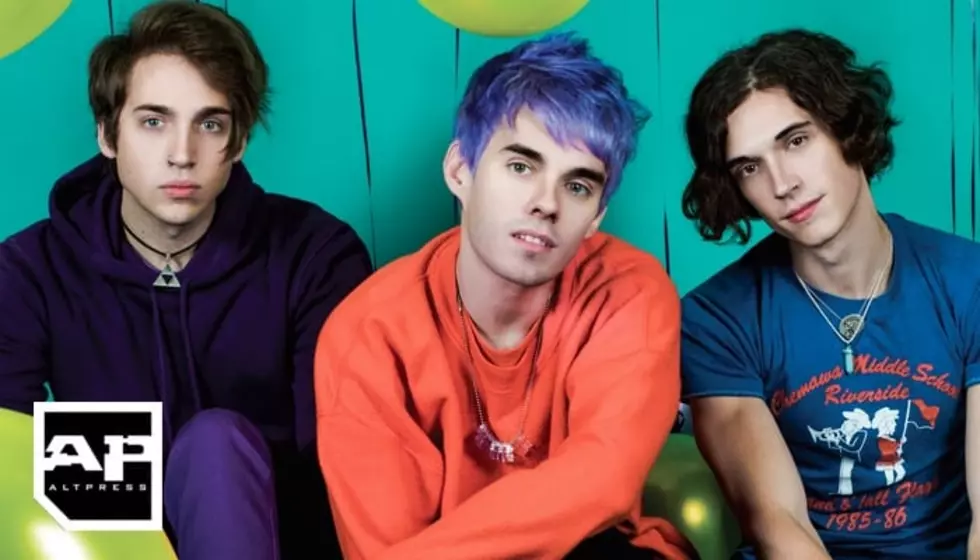 Awsten Knight plays into next Waterparks era speculation with bold move
[Photo by: Giselle Dias]
Just last month, Waterparks released a tour shirt playfully mocking their fans and potentially revealing the name of their forthcoming album. On top of mentioning a few song titles, the shirt also mentioned Awsten Knight dying his hair red. Last night at the band's Los Angeles show, Knight debuted his freshly dyed red locks.
"RED HAIR AWSTEN WILL RISE."
Is this the start of the new Waterparks era?
In case you need a refresher, check out what the shirt says below. We even transcribed it in all caps to emulate frontman Knight's Twitter presence:
"I AM WATERPARKS TRASH. I CAN'T BELIEVE ENTERTAINMENT HAS ONLY BEEN OUT A YEAR, FEELS LIKE IT CAME OUT FOREVER AGO. EITHER WAY I'M SO EXCITED TO HEAR FRIENDLY REMINDER. IT'S PROBABLY GONNA BE ANGRY. IF "NOISE," "LEMONADE" AND "GLITTER TIMES" ARE ON IT I'M GONNA FREAK OUT. UGH. I'M SO CURIOUS TO SEE WHAT COLOR AWSTEN DYES HIS HAIR. RED HAIR AWSTEN WILL RISE. I HOPE GEOFF HAS ANOTHER SOLO.
EITHER WAY AWSTEN IS STILL PROBLEMATIC AND A BIG POSER. I'M JUST HERE FOR OTTOPARKS. MY WIG FLIES FIRST CLASS WITH NO SEATBELT TO VENUS FOR OTTOPARKS. I HOPE THEY PLAY CRAVE. I WONDER IF IT'S GONNA BE OFF THE SET WHEN THE NEW ALBUM COMES OUT. I'LL THROW HANDS IDC. THE TOUR MERCH IS SO CUTE THIS TIME, YAS JUST TAKE MY MONEY. AND YES I AM FULLY PREPARED TO YELL AT THEM FOR ONLY PLAYING 6 SONGS DESPITE THE FACT THAT THEY'RE NOT HEADLINING, DON'T CARE. NOT MY PROBLEM. GEOFF IS CUTE."
Is the next era for Waterparks upon us? Does this mean Geoff is getting another solo? Is Awsten Knight just messing with us all?
We. Need. Answers.
More on Waterparks
In addition to the potential album title, the songs listed on the T-shirt have not yet been officially released. According to a tweet, the song "Noise" was actually leaked in one of Knight's Instagram Lives.
As for "Lemonade" and "Glitter Times," fans speculate that they may appear on the forthcoming album.
However, as much as we would love to believe every word on this shirt, the mockery in question stems from months of fan-made theories. That said, the design is meant to poke fun at the fandom, who have wasted no time coming up with Waterparks-related conspiracies—especially about the forthcoming album.
Do you think we can expect the next era of Waterparks soon, or is Awsten simply teasing fans? Sound off your theories in the comments below!
[envira-gallery id="195007"]