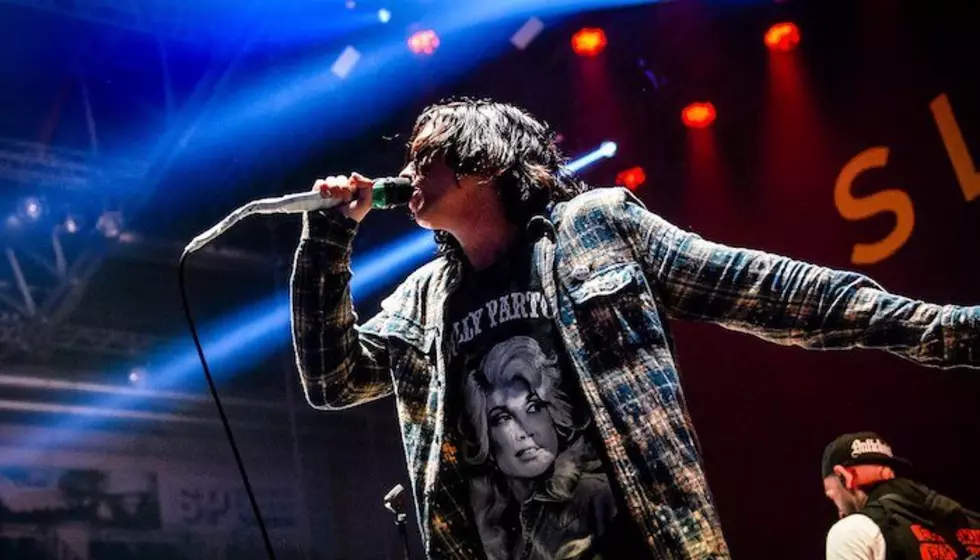 Top 10 Kellin Quinn collabs every Sleeping With Sirens fan needs to hear
[Photo by: Markus Felix/Wikimedia Commons]
Sleeping With Sirens frontman Kellin Quinn is known for his high-pitched singing abilities, and he's no stranger to collaborations. 
From Memphis May Fire to Machine Gun Kelly, Quinn has contributed vocals on many tracks throughout his career. Check out our banger-packed list below featuring 10 of the best Quinn collaborations. 
Palaye Royale – "Ma Chérie"
This Quinn feature can be found on the debut full-length, Boom Boom Room (Side A), by Palaye Royale. Lead vocalist Remington Leith delivers his raspy voice when needed, with a more clear sound blending perfectly with the Sleeping With Sirens frontman's vocals. 
Good Charlotte – "Keep Swingin'"
Good Charlotte took a six-year hiatus between their fifth album, Cardiology, in 2010 and the release of their sixth album, Youth Authority, in 2016. Quinn joined the pop-punk favorites on the latter with the song "Keep Swingin'," which hears the classic Madden brothers sound that captured our hearts all those years ago with a perfect addition in Quinn. 
At The Skylines – "The Amazing Atom"
Quinn joined metalcore band At The Skylines on "The Amazing Atom" from their debut album, The Secrets To Life. The track hears both clean and dirty vocals from Quinn, which mixes perfectly with At The Skylines' sound. 
Machine Gun Kelly – "Swing Life Away"
Shortly after appearing on SWS track "Alone" in 2013, Machine Gun Kelly released a 14-track mixtape titled Black Flag. The release featured Pusha T, Meek Mill, Quinn, French Montana, Wiz Khalifa and Dub-O. Kelly and Quinn teamed up on "Swing Life Away," giving their own spin to the Rise Against-sampling single, with Quinn handling the chorus in between MGK's rap verses.
Time Traveller – "500mL"
"500mL" can be found on 2013's Morla And The Red Balloon and features an incredible guest spot with Quinn. His parts over Time Traveller's heavy drums sound like a throwback to Saosin from the Cove Reber days. 
ONE OK ROCK – "Paper Planes"
Quinn joined ONE OK ROCK on their seventh full-length, 35xxxv for "Paper Planes." The collaboration gives a unique spin to Quinn's vocal talents balanced over the repetitive synthesizer heard throughout the song. 
Pierce The Veil – "King For A Day"
Arguably Quinn's most popular and best collaboration, "King For A Day" sees the Sleeping With Sirens frontman join forces with Pierce The Veil vocalist Vic Fuentes, which ended up going platinum at the end of last year. The duo bleed in and out of each other, delivering screamo harmonies that our ears just can't get enough of. 
Too Close To Touch – "The Chase"
Too Close To Touch recruited Quinn for their track "The Chase" from their debut full-length, Nerve Endings. Lead singer Keaton Pierce delivers a higher voice as well. Blending two high voices at once when Quinn jumps in is basically a Sleeping With Sirens fan's dream. 
Memphis May Fire – "Miles Away"
Metalcore favorites Memphis May Fire pulled Quinn in with their third full-length, Challenger, on the track "Miles Away." The haunting track hears Quinn team up with Memphis May Fire frontman Matty Mullins, gifting us with a beautiful collab that we didn't know we needed. Mullin later returned the favor by appearing on Sleeping With Sirens' Feel for "Congratulations."
Avion Roe – "Into The Rest"
"Into The Rest" can be found on 2016's In Separation from now-defunct Dallas rockers Avion Roe. The song spotlights Quinn, who basically steals the show once he finally comes in halfway through the track. 
What's your favorite Kellin Quinn collaboration? Let us know in the comments below!