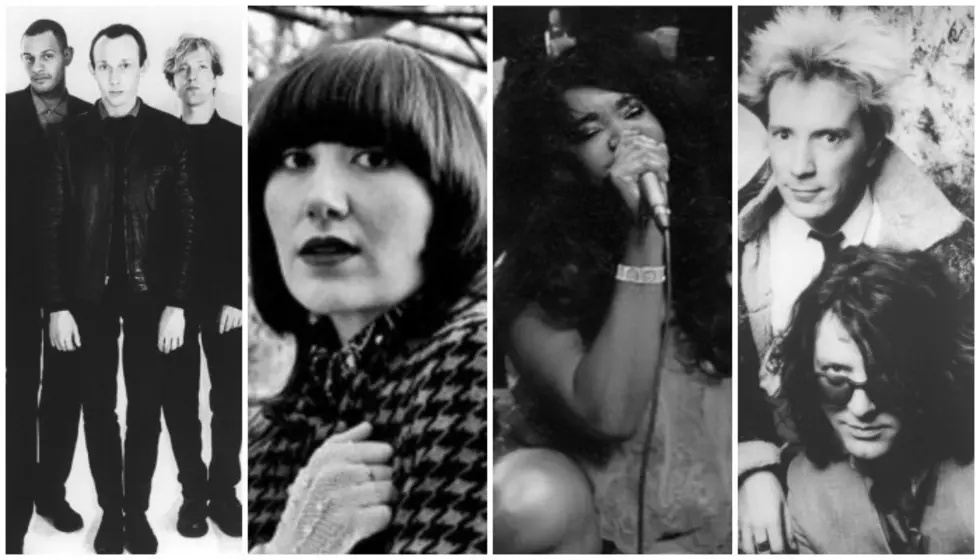 15 essential post-punk bands who represent the evolution of the genre
[Photos via Spotify]
Post-punk had to happen. Punk rock opened all this space for people to make exactly the kind of art or culture that the disenfranchised had been imagining in their heads, and maybe had limited means or skills by which to make it. But what if you didn't want to crank out recharged three-chord rock 'n' roll with modern street poetry for lyrics? What if you wanted to create something a little more free, perhaps more intellectual? What if you wanted to invert the popular slogan of the day, "Fuck art, let's dance"? For that matter, what if you wanted to make artistic dance music?
As the Stooges and New York Dolls were to punk, post-punk had its forebears: Captain Beefheart's avant free-jazz R&B; the untutored, childlike experimentalism of Texas psychedelicists Red Crayola; hard German prog-rock, a la Can, Neu! or Kraftwerk; the deep spaces of echo-saturated dub reggae; Hawkwind's post-psychedelic space rock; David Bowie and Brian Eno's Berlin-based experimentalism; and Chrome's acid-drenched post-Stooges art-punk. Now factor in either angst-ridden, apolitical personal analysis or left-wing politics more rigorous than punk's.
Post-punk's shadow continues to loom large. It echoed through the howling skronk of such mid-'80s noise rockers as Sonic Youth or Big Black. It was the root note of the howling feedback pushing through the narcotic buzz-pop of early Jesus And Mary Chain. It pulses through the harsh electro-industrial grind of Primal Scream's XTRMNTR and even through Ministry's most metallic moments. Nearly 20 years ago, a new wave of young post-punk bands such as Franz Ferdinand and Yeah Yeah Yeahs brought the sound to radio and MTV. Like bratty older brother punk, post-punk reactivates itself every time the world could use a blast of its charms. Here's Alternative Press' pick of history's 15 best post-punk bands, up to the present.
Pere Ubu
The art half of short-lived mid-'70s Cleveland proto-punk outfit Rocket From The Tombs, Pere Ubu have to be history's first post-punk outfit. Punk legends the Dead Boys sprang from Rocket's rock portion and got all of their belligerent snot-bombs a la "Sonic Reducer." But such post-Stooges delights on Ubu's debut full-length, The Modern Dance, as "Non-Alignment Pact" prove them capable rockers themselves. Then you notice David Thomas' post-Beefheart yelp and Allen Ravenstine's synthesizer blowing through like an ill wind. Other tracks such as "Real World" surgically deconstruct the beat. Pere Ubu continue parking in the avant garage to this very day.
Public Image Ltd.
After definitive punk band the Sex Pistols imploded at their 1978 U.S. tour's conclusion, singer Johnny Rotten returned to London, licking his wounds. Reverting to his Christian name John Lydon, he founded definitive post-punk band Public Image Ltd. Following statement-of-purpose debut 45 "Public Image"—the only time he would exercise the old Pistols power chord roar—PiL played anything but rock 'n' roll. Ex-Clash guitarist Keith Levene laid out a barrage of ringing harmonics, while Jah Wobble underpinned proceedings with a bass throb as massive as the best reggae records. Metal Box set standards many still attempt living up to.
Gang Of Four
Post-punk rarely got more visceral and committed than in the vicious dance-floor clang of Gang Of Four. Four Leeds University students practicing a militant funk, Jon King crooned far-left polemics as guitarist Andy Gill made a sound like a man throwing an electric guitar down a staircase. Underpinning all this strident racket was Hugo Burnham's martial drumming, as bassist Dave Allen laid down fat R&B basslines. GO4 tunes such as "Natural's Not In It" and "Damaged Goods" were all about building and releasing tension until it exploded like an overripe pomegranate. New 77-81 box set gathers all of their prime material.
The Pop Group
Best heard on: Y
"We were all teenage Rimbauds, dedicated to creating hell onstage," Pop Group guitarist Gareth Sager told punk historian Jon Savage in his definitive Britpunk chronicle, England's Dreaming. At the least, the Bristol, U.K. quintet created some of the most beautiful and clangorous sounds of the post-punk epoch. If they'd made no record other than 1979 debut single "She Is Beyond Good And Evil," their place in history would be assured. With a pulse like dub master Lee "Scratch" Perry remixing a disco record and guitars alternately seemingly sweet or howlingly psychedelic, singer Mark Stewart warbles a paean to a mystically unattainable woman, somehow weaving Friedrich Nietzsche into the mix. And that was just their debut single.
Bush Tetras
Bush Tetras were as hard and funky as NYC post-punk got in the early '80s. Dee Pop was as hard and inventive a drummer as there was, keeping a steady, propulsive beat that exploded all over the joint, as Laura Kennedy bounced basslines off his kick drum like Super Balls made of flubber. Cynthia Sley intoned her occasionally curdled observations of urban life such as "Too Many Creeps" in a melodic sing-speak. And Pat Place was the Keith Richards of anti-guitar, alternating between a two-chord chank and roaring dissonance. Bush Tetras permanently reactivated in 2005, still a wonder live.
Mission Of Burma
This Boston trio were kinetic enough to drive hardcore audiences into paroxysms of slam dancing and stage diving, as witnessed by the 1983 clip of their signature tune "That's When I Reach For My Revolver." Guitarist Roger Miller, bassist Clint Conley and drummer Peter Prescott all loved the aggression and stripped-down drive of punk and issued some brilliantly off-center punk anthems such as "Academy Fight Song" and "That's How I Escaped My Certain Fate." But Mission Of Burma also indulged a fondness for neck-snapping time signature shifts. The real secret weapon? Martin Swope's tape loops, isolating elements and amplifying them, an instrument unto itself.
Magazine
Led by original Buzzcocks frontman Howard Devoto, who told NME at the time, "I don't like movements. I'm just perverse…Getting involved with punk was a reaction against everything that was in the air at the time. So getting Magazine together was a reaction against punk." Perversely, Magazine's opening shot was one of punk's greatest singles, "Shot By Both Sides," powered by a guitar riff pilfered from old Buzzcocks partner Pete Shelley. Thereafter, they employed punk's wired energy, using it in a surgical deconstruction of pop and rock cliches, as Devoto exercised an uncanny sense of drama bordering on the psychotic.
The Fall
Formed like many Manchester bands in the wake of the Sex Pistols' June 4, 1976 appearance at the Lesser Free Trade Hall, the Fall saw the freedom they glimpsed onstage that night to treat rock 'n' roll like one big, absurdist joke. Repetitious and shambolic almost to the point of annoyance, their myriad lineups bashed out scratchy guitar cockups of rockabilly, garage, soul and other grooves that continually threatened to decompose in the next five minutes. On top, leader Mark E. Smith—the band's one constant from 1976 to his 2018 death—ranted-uh obtuse verse-uh in this-uh accent-uh. It gained them one of the deadliest cults any rock band this side of the Grateful Dead have seen.
Joy Division
It's likely more people own T-shirts bearing Joy Division's debut album Unknown Pleasures' cover art than own copies of Unknown Pleasures. Which isn't good—they will never know the pleasures those grooves contain. The former Warsaw transcended their beginnings aping the Pistols to create music with as much power as punk but with a much wider dynamic range and a keener sense of drama. Who knew, as frontman Ian Curtis crooned such tales of depression and inwardly-directed rage as "She's Lost Control" and epic final single "Love Will Tear Us Apart," that he was writing out of experience?
The Birthday Party
Possibly the most dangerous post-punk band in history, Australian escapees the Birthday Party began as a Roxy Music-damaged punk band called Boys Next Door. Then they went on to perform violent necrophilia upon the corpse of rock 'n' roll. As guitarist Rowland S. Howard brutally dissected rockabilly and garage riffs like an art-rock Johnny Thunders, singer Nick Cave howled repetitious poetry of sin, religion and degradation, over a nimble rhythm section performing alien autopsy soundtracks. Nothing subtle about Dionysian Birthday Party howlers such as "Mr. Clarinet" or "Release The Bats." It certainly contrasts with the more Apollonian approach Cave chose in his solo career with the Bad Seeds.
Yeah Yeah Yeahs
A post-punk revival spun out of garage punk's early 2000s commercial explosion. It also saw its commercial fortunes rise, led by this New York City trio fronted by the dynamic Karen O. A peculiar mix of Chrissie Hynde and Yoko Ono, she delicately intoned her vulnerable, emotional lyrics, full of clever repetitions, on steamy seethers such as big hit "Maps." Covering her with a deconstructionist line of fire, guitarist Nick Zinner and drummer Brian Chase made like an art-rock version of Jack and Meg White. The cumulative effect equaled one of the oddest yet most welcome musical success stories of the early 21st century. 
Franz Ferdinand
One of the most bizarre yet appreciated chart entries of 2004 was these Glaswegians' tangy single "Take Me Out." With its angular pop sense, off-beat guitar work and funky pulse, it jarred delightfully, bringing the innovations of Wire and Gang Of Four into the U.S. Hot 100. Singer Alex Kapranos' sharply tuned sense of irony cut through those slicing guitars and four-on-the-floor rhythms like a hot knife through frozen butter. The following year's "Do You Want To" seemingly indicated that Franz Ferdinand were no fluke, but their ongoing mix of clubland grooves and tangy six strings has taken a lower profile since.
The Horrors
London quintet the Horrors exploded upon the mid-'00s like a more garage-minded take on the Birthday Party, straw-stack hair, black clothing and all. 2007's Strange House LP was delightfully noisy and campy, filled with atonal fuzz-blasts such as "Count In Fives" and "Sheena Is A Parasite," topped by singer Faris Badwan's wounded early Nick Cave yowl. Two years later, the hot-blooded raunch and Addams Family affectations gave way to a more atmospheric post-punk on Primary Colours. The circus rink organ gave way to atmospheric synths, the fuzz to lush guitar textures, a new cold wave sheen permeating the works like Joy Division's the only band that matters.
IDLES
Bristol's IDLES may be the long-awaited logical heirs to their hometown's previous great post-punk hope, the Pop Group, down to their delicate balance of absurdist humor and militancy. Over a rhythm section specializing in a bootboy rendition of disco, guitarists Mark Bowen and Lee Kiernan weave repetitious single note phrases that rarely indulge power chords. Atop it all, Joe Talbot thumps his chest like a boxer or wrestler literate in proletarian theory. IDLES anthems such as "Never Fight A Man With A Perm" might seem obtuse, but they express the rage of modern youth like few others.
Pleasure Venom
Pleasure Venom are a contemporary Austin post-punk band led by charismatic singer Audrey Campbell and the muscular motorik drumming of Thomas Valles, with an ever-shifting support cast. Raging non-standard rockers such as "Hive," "I Can't Find My Black Lipstick" and new single "Fascist" weave off-center, counterpoint guitars and solid bass work around Campbell's furious, deceptively complex critiques of racism, bigotry and homophobia, among other societal ills. Several of Pleasure Venom's tunes have been illustrated with imaginative videos directed by Campbell. '90s alt superstars Garbage even noted the band's power enough to hand-pick them to open a number of shows on their last U.S. tour.