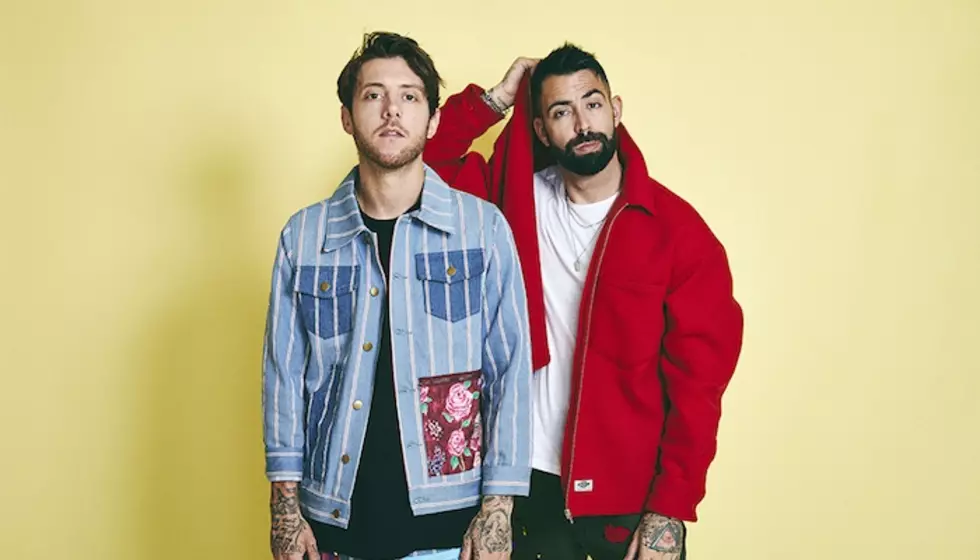 Breathe Carolina give nostalgia a modern twist with "July"—listen
[Photo Big Beat Records]
Breathe Carolina are continuing to build the anticipation for their first full-length in five years, DEADTHEALBUM. Today, the duo are teaming up with AltPress to premiere the next single, "July." 
The nostalgia-tinged track follows the release of three previous singles (and a Smash Mouth-endorsed "All Star" remix) that started dropping in September: "Too Good," "Like This" and "Drive."
Their last album, 2014's Savages, marked their third with Fearless Records and featured fellow scene favorites Tyler Carter ("Chasing Hearts") and Danny Worsnop ("Sellouts") delivering a few verses. This time, armed with a new label in EDM-focused Spinnin' Records, the duo took the collabs behind the scenes.
Earlier this week, Breathe Carolina continued to tease DEADTHEALBUM by sharing a snippet of "In The Dark," a track they revealed was co-written with the Ready Set (aka Jordan Witzigreuter). Having both been entrenched in the scene, this wasn't the first time the acts had crossed paths. Back in 2012, they embarked on a co-headlining Blackout Forever tour, which included Metro Station vocalist Trace Cyrus performing under Ashland High among the support.
Continuing to channel that nostalgic vibe, the duo consisting of David Schmitt and Tommy Cooperman reveal they captured it by teaming up with another old friend. Andrew Goldstein (of current FRND and former scenesters the Friday Night Boys) returned to the producer chair to work alongside the band again following Savages.
"'July' is probably one of the most emotional songs on the album," the band explains. "We wrote it with our good friend Andrew Goldstein. It has a real nostalgic vibe to it with a 2019 twist."
Taking their anthemic beginnings amid a neon pop-punk-soaked scene and melding it with the pop sensibilities they grew into, "July" and the rest of DEADTHEALBUM bring it all together.

"We are super excited to bring this album to the world," the band continues. "It's really a bridge between where we started and where we are now."
DEADTHEALBUM drops Nov. 15 via Big Beat/Spinnin' Records and is available for preorder here. Check out "July" and the album's tracklisting below.
Tracklisting:
1. "Too Good"
2. "Like This"
3. "July"
4. "Better"
5. "Interlude"
6. "Drive"
7. "In the Dark"
8. "Dead"
9. "Find It"
10. "Think About You"
Breathe Carolina are currently on the road for their DEADTHETOUR Phase One. The duo will be announcing more dates soon, and you can grab current tickets here.
Dates:
11/15 – Jinan, CN @ Dr Oscar
11/16 – Xiamen, CN @ Creamfields
11/22 – Cleveland, OH @ Magnolia
11/23 – Atlantic City, NJ @ Premier Nightclub
11/30 – Bydgoszcz, PL @ Harbour of Heaven
12/07 – Portland, OR @ 45 East
12/13 – St. Louis, MO @ Crown Room
12/14 – TBA
12/20 – Cincinnati, OH @ Galla Park
12/21 – New York City, NY @ Lavo
12/27 – Beijing, CN @ One Third
12/28 – TBA
12/31 – Sanya, CN @ ISY Music Festival