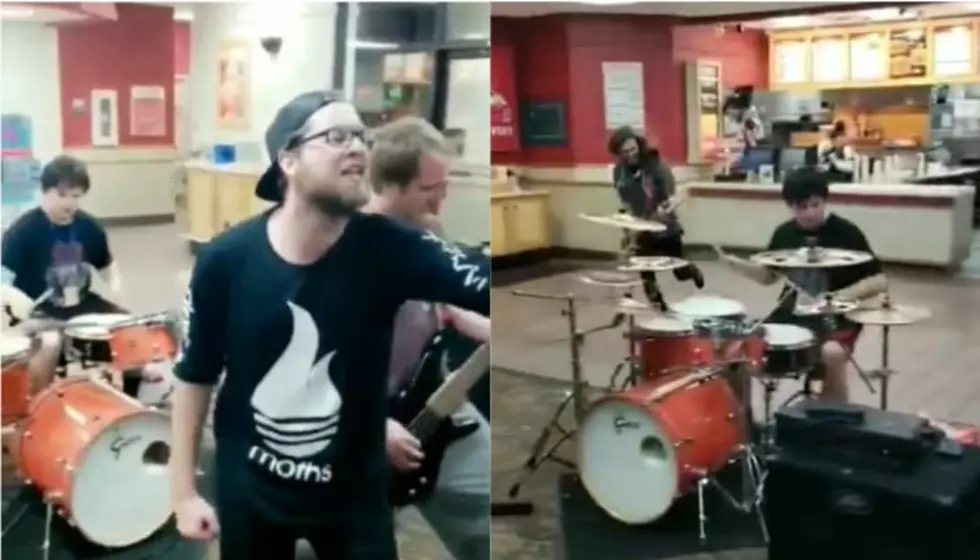 Two bands perform gig inside of a Wendy's—no we're not kidding
[Photos via Twitter]
You may recall just last month when fast-food chain Wendy's went savage on some of our scene favorites. We're convinced a die-hard scene kid is lurking behind that Twitter account but now, after allowing two metalcore bands to throw an impromptu set in the middle of their restaurant, we think the entire Wendy's team may be music lovers at heart.
Metalcore band Capital Vices are currently on their Bring Your Dads tour with pop-punk band Makena.
The bands stopped at a Wendy's in Knoxville, Tennessee during their day off, and what happened next just makes us love Wendy's even more.
"We stopped to use the restroom and just jokingly asked if we could play," Capital Vices tells AP. "And the manager let us because it was her birthday and she wanted us to do it as a birthday present."
This is everything.
Each band played for about ten minutes each, "to spare them an extended amount of trouble for their drive-thru business!"
And in case you were wondering, yes the fast-food hot spot was open when the impromptu set began. You can even see a couple customers in the restaurant during the live-stream videos.
The doors remained opened throughout Makena's set, finally closing them about halfway through Capital Vices set.
Check out the band's fresh never frozen performances below!
And the fan reactions were just as great as the performance.
"It was an eye opening experience especially for our first tour," says Capital Vices. "Not one of us thought we'd ever play inside a Wendy's, let alone a fast food restaurant. It was definitely a humorous experience for us and it's something that we'll remember for the rest of our lives. We're playing in Nashville tonight to continue the Bring Your Dad Tour with Makena."
Makena later shared a short recap of the two bands performing, which you can check out below.
You can catch Capital Vices and Makena on the remaining dates of the Bring Your Dads tour at the cities and dates listed below!
And who knows, maybe they'll be making a special appearance at a Wendy's near you?
Dates:
2/27 - Nashville, Tennessee @ Springwater
2/28 - Memphis, Tennessee @ Growlers
3/2 - Kansas City, Missouri @ Bubba Spins
[envira-gallery id="194483"]