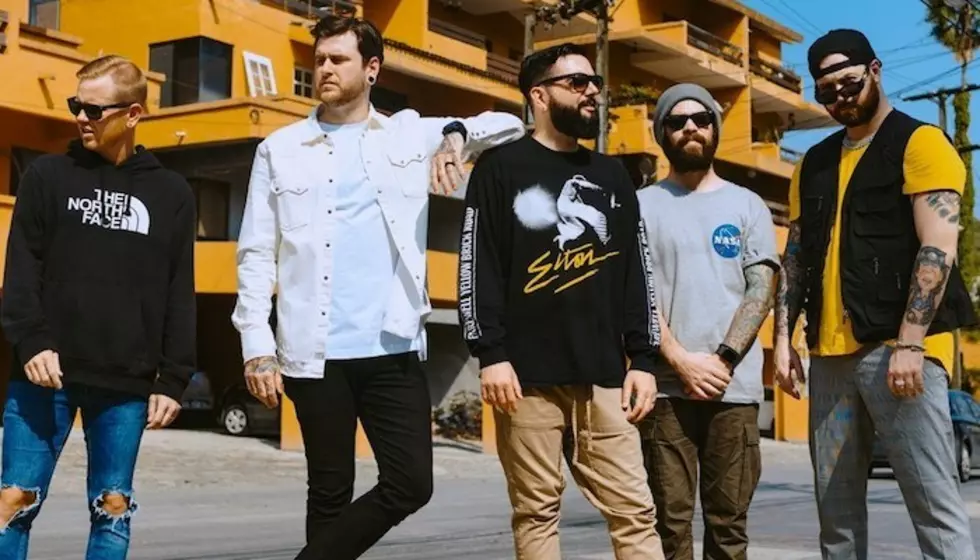 A Day To Remember postpone new album 'You're Welcome' a week out
[Photo via Spotify]
A Day To Remember have kept fans waiting for a new album for three years now. Their last LP was Bad Vibrations in 2016. Unfortunately, it looks like we'll have to wait a bit longer.
After the announcement that their new album You're Welcome would be released Nov. 15, the band took to Instagram today to delay it.
The band's official Instagram account shared the post. It's a handwritten note with the below writing.
A couple months back we announced we'd be releasing our album Nov 15th. It's taken a little longer than expected and we just aren't done with it yet. So we are moving this to early 2020. Rest assured there's a lot of new music coming out very soon and we can't wait to share it with you. Thanks for supporting us all these years and see you out there on The Degenerates Tour!
You're Welcome is now slated to be released in early 2020. Luckily, that's not too much longer of a wait.
A few months ago, the band dropped "Degenerates", their first track in three years besides their collab "Rescue Me" with Marshmello earlier this summer. It was also the first release with their new label, Fueled By Ramen. Check it out below.
Fans are sure to be treated right with A Day To Remember's new album though. Frontman Jeremy McKinnon speaks very highly of it, and the delay is sure to help them get it perfect. McKinnon says it's "happiest record that we've ever written."
"The mood in the camp is positive," he told NME. "I think that shows in the songs too. It kind of feels like the happiest record that we've written in a minute – or ever. It's definitely the happiest record we wrote to date. That's definitely exciting for me. The name of the game this time was collaboration. You know, getting in a room together, getting in a room with people who inspire us, seeing what comes out."
A Day To Remember are currently on the Degenerates Tour with I Prevail and Beartooth.
Grab tickets for the shows here. Check out the list of the remaining dates below.
11/09 — Glen Falls, NY @ Cool Insuring Arena
11/10 — Trenton, NJ @ Cure Insurance Arena
11/12 — Syracuse, NY @ The Oncenter War Memorial Arena
11/14 — Fort Wayne, IN @ Allen County War Memorial Coliseum
11/15 — Cleveland, OH @ Wolstein Center
11/16 — Ypsilanti, MI @ Eastern Michigan University Convocation Center
11/17 — Huntington, WV @ Big Sandy Superstore Arena
11/19 — New York, NY @ Terminal 5
11/21 — Duluth, GA @ Infinite Energy Arena
11/22 — Nashville, TN @ Nashville Municipal Auditorium
11/23 — Fayetteville, NC @ The Crown Theater
Do you think the delay will be worth the wait? Sound off below!
[envira-gallery id="194483"]