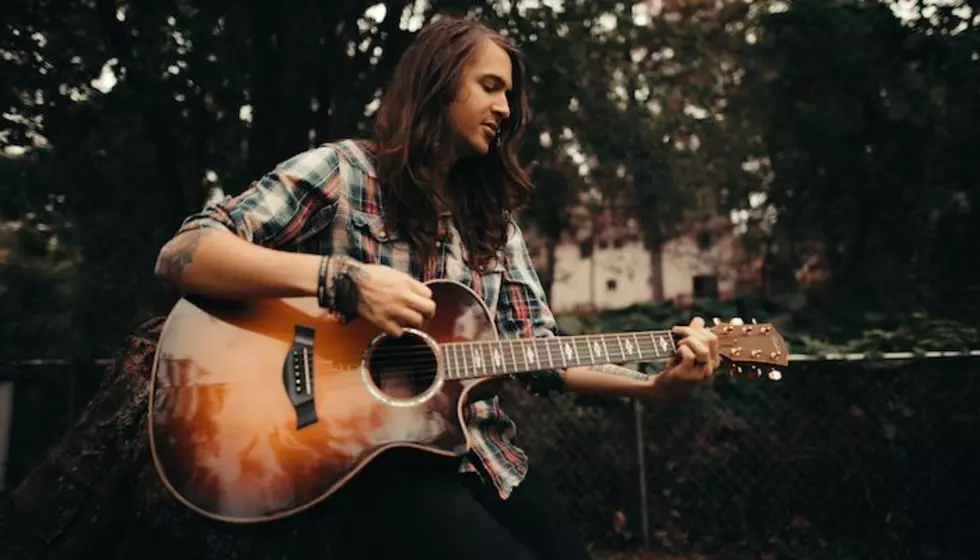 Derek Sanders (Mayday Parade) found time to record acoustic covers EP
[Photo by: Lupe Bustos]
Derek Sanders—best known as the long-locked frontman of Mayday Parade—has a hard time taking it easy. Despite a full songwriting and touring schedule with the pop-punk lifers from Tallahassee, Sanders also found the time to write and record an acoustic covers EP. And at the rate he's going, there's more to look forward to. 
Ironically, the song that inspired the entire EP was never meant to be heard by anyone other than Sanders' wife. For Valentine's Day 2017, Sanders recorded an acoustic version of the song "But Lauren," originally performed by Tallahassee local band Goodbye Love—handy, considering that his wife shares the song's namesake. "When we were teenagers, we both really liked that song," Sanders says. "It's probably 20 years old by now, but we've both loved it for a long time." Before you ask—yes, she loved his rendition. 
The band Goodbye Love were integral to Sanders' early music discovery. GL's frontman Mike Hanson rotated throughout the local Tallahassee scene, and Sanders was always drawn to his songwriting. Thus, it only made sense to reach out once he had the song on tape. "He liked it a lot, and he was actually the one to say, 'You should put this out,'" Sanders says. "And that was the first time I considered letting anyone else hear it!" With that vote of encouragement, Sanders started looking into other covers he could put his own twist on. 
"It was in high school [when] I started listening to emo music," Sanders says, listing off a number of bands, including Jimmy Eat World, Saves The Day and Further Seems Forever. "Those songs all really mean a lot to me and influenced me so much with the music that I make. It seemed like a cool way to go back and celebrate that." Considering the final EP contains covers from both Jimmy Eat World ("A Praise Chorus") and Saves The Day ("Rocks Tonic Juice Magic"), Sanders isn't kidding about his youthful inspiration. "It's also cool because I know there are a handful of folks who may not even know these songs," Sanders adds, "so it's a way to bring it back around and maybe introduce them to it for the first time." 
Don't panic, everyone. For Sanders, this is just another opportunity to write and record music. "It's nice to have another creative outlet," Sanders says."I love the way Mayday Parade operate as a group and its majority vote for everything—that's great, and it's what makes the band work. But it's nice to do something where I can just do what I want, and I have full creative control over everything."
For now, Sanders is sticking to stripped-back covers but acknowledges that he could branch out into his own original music. "Throughout the time I've been in Mayday Parade, there's [been] a lot of songs we've written that we've never used for anything," he says. "I've actually already taken a handful of those songs and recorded them. I don't know exactly what that's all gonna look like, but I felt like I may as well do something with those songs." 
The original intent for Sanders' solo project was to keep it just that—solo. However, thanks to a combination of friendship and happenstance, someone else was able to lend their voice to the famous Jimmy Eat World track. "Daniel is someone I've known for a long time—Jason Lancaster, who used to be in Mayday Parade, is his older brother," Sanders explains. He and the younger Lancaster have played in bands together on and off for years, staying in close contact as they've progressed through the music industry. "At one of my first solo acoustic shows, Daniel was also playing acoustic with his band Stages & Stereos," Sanders says. "We were talking about how we'd both be there and it'd be great to do something together. One of the songs I was playing was 'A Praise Chorus,' the Jimmy Eat World song I'd go on to cover on the EP. Daniel was down to come and sing on that song live—and it was great!" Thus, it only made sense to make sure he'd be on the recorded track, as well.
Album Anatomy featuring Derek Sanders originally appeared in AP #379 with cover star Oliver Tree, which is available here. Sanders' debut solo EP My Rock And Roll Heart is out now via Rise.