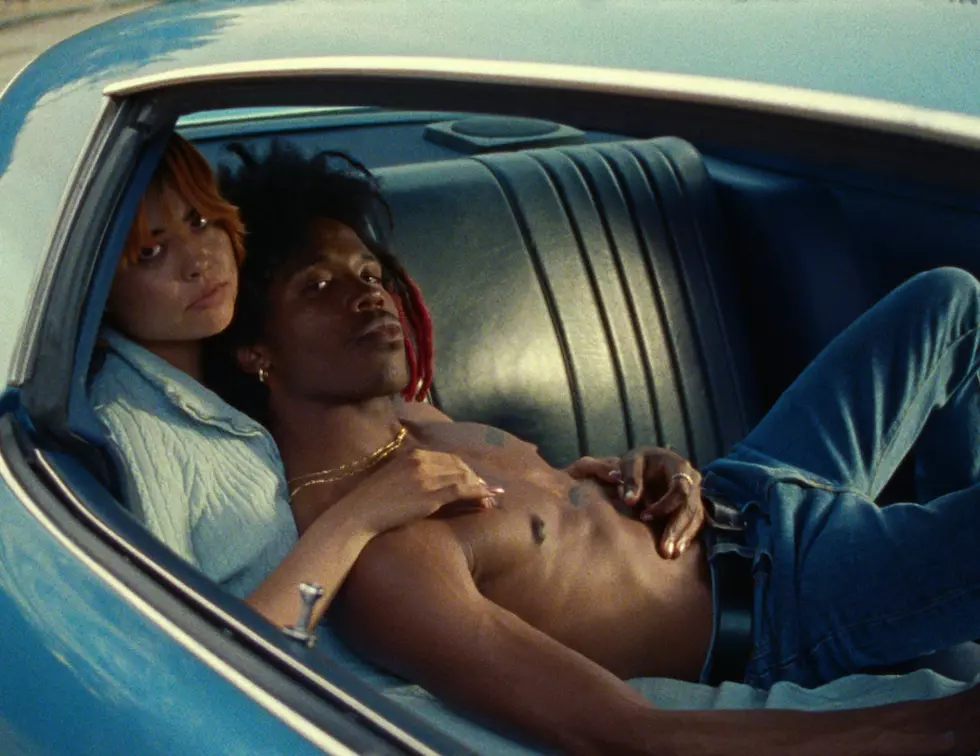 DE'WAYNE drops alluring video for "Super 8" ahead of debut album—watch
[Photo courtesy of DE'WAYNE]
DE'WAYNE is remarkably candid about his intentions in his new music video for "Super 8."
"Super 8" is the latest single off his upcoming album, Stains. The multifaceted, 11-track album serves as DE'WAYNE's debut full-length and showcases his relentless desire and passion as a musician. The record also features Awsten Knight of Waterparks on "Perfume," and is set to drop June 18 via Hopeless Records.
DE'WAYNE is an explosive, genre-bending force of creativity. Everything the artist puts himself into explores different stylistic patterns, from the music he produces to the various looks he creates through his clothing.
"Super 8" is a perfect jumping-on point for anyone looking for an introduction to the breakthrough artist, as it exemplifies just how diverse his talents really are. Additionally, it shows how transparent DE'WAYNE is about his inspirations.
"This is actually a little embarrassing to write, but it says it all in the hook," DE'WAYNE says in a press release. "I was too nervous to come out and ask, so I wrote my girl a song about it, and here we are playing it out in this vid."
The song and video are enthusiastically risque and unbelievably fun. "I wanna film a porno on a Super 8/I wanna take a Molly stay up super late," the chorus repeats. While the nature of the song is relatively suggestive, its undeniably catchy rhythm and playful instrumentation make it a perfect party track fit for any alternative or pop radio station–a goal DE'WAYNE has been forthright about.
"I just hope this isn't silly, but I want songs to start being on the radio," DE'WAYNE exclusively told Alternative Press in an interview. "I want to get into that type of thing. I'm ambitious."
And his ambition is certainly felt and appreciated on "Super 8." The music video features daily actions turned into suggestive themes, such as peeling a banana, boiling tea and making toast. It also features a more direct approach, like scenes of the artist hanging from the ceiling in a room full of chains.
A pastel background and seemingly calm partner juxtapose DE'WAYNE's fishnet shirt and intense singing. The slow movements versus frantic beats add another motif of immediacy. The sense of urgency persists throughout the song and makes one feel that if they're not with that special someone in the next five minutes, they might actually implode. According to DE'WAYNE, that's how every song should feel.
"Every song on this record is urgent because it has to be," DE'WAYNE says in a press release. "I want to put out music that feels like you have to listen to it right now."
The vaguely erotic music video is also aesthetically pleasing. Not only were the color schemes uniquely curated, but the entire video is shot on 16mm film. His video for "Walking To Work" was shot in one take and entirely in black and white, so "Super 8" is par for the course in artistic direction.
But DE'WAYNE finds another way to further cement himself as a remarkably talented musician. The video also features a segment at the 2:20 mark where the artist tears through a satisfying guitar solo while an intense make-out session takes place in the back of a car. After the solo, the video seems to fulfill the artist's wish. The journey concludes with the sound and visual of a rolling Super 8 camera while DE'WAYNE pulls his partner into a loving embrace. 
While the song has more of a pop-punk feel to it, DE'WAYNE says he isn't confined by the limits of genre or the gatekeeping of appearances. "I think some of the people who are making the better music right now are the people who look a little different," he told AltPress. "I really want to be here for a long time with this alternative music, rock, punk, whatever it's going to be called." 
DE'WAYNE has the artistic direction and musical talent to push himself to the forefront of alternative stardom, and "Super 8" is the latest single to prove it. 
Give it a listen and check out the lyrics for "Super 8" below!
Lyrics for "Super 8"
I wanna film a porno on a Super 8
I wanna take a Molly, stay up super late
You and me were going through a wreckage, babe
I wanna film a porno on a Super 8, Super 8, Super 8
I wanna be your slave, baby
Have you called my name lately
Yo legs around my waist
Been driving state to state
So I just need it baby
I tell my shrink I need you
Trading wardrobes I wanna be you
Don't wanna be alone
We're making movies while I'm talking
Business on the phone
Ooooooh I wanna feel it
I wanna film a porno on a Super 8
I wanna take a Molly, stay up super late
You and me were going through a wreckage, babe
I wanna film a porno on a Super 8, Super 8, Super 8
We're doing it at home, baby
On your kitchen floor, baby
We got the bottles open
Big smoking
And let's keep the figure 8 in motion
Ya body got me finding
Pour you up I'm leaning
You say it's not a race
But when I'm on the internet
They make it last all day
Ooooooh I wanna see it
I wanna film a porno on a Super 8
I wanna take a Molly, stay up super late
You and me were going through a wreckage, babe
I wanna film a porno on a Super 8, Super 8, Super 8