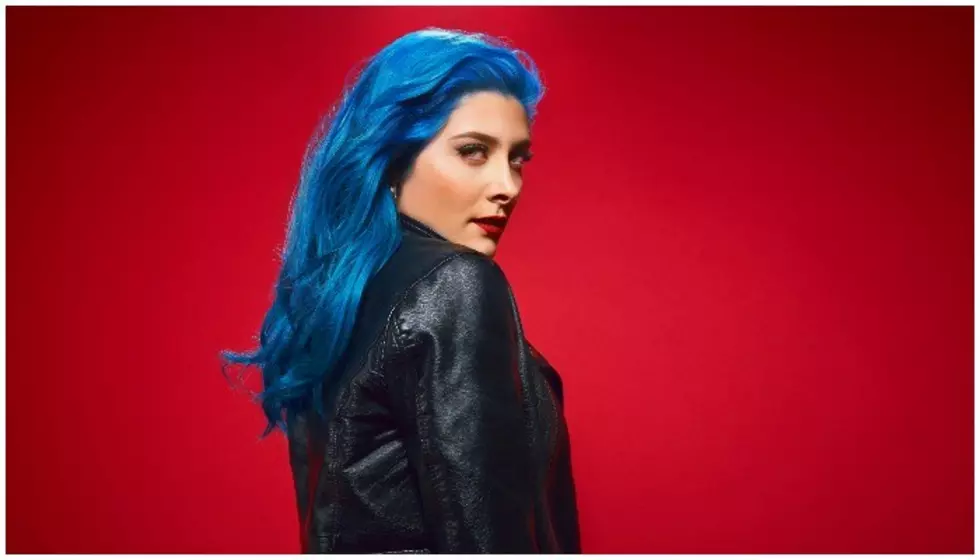 DIAMANTE wants you to face your insecurities head-on in "Ghost Myself"
[Photo via Diamante]
Blue-haired powerhouse rocker DIAMANTE wants you to stop being ashamed that you have emotions in the video for "Ghost Myself." 
Though she initially released the song last May, DIAMANTE has now shared a relatable girl-power-infused video about accepting everything about yourself, even the things you're taught to hide.
The smoky, grunge-filled visuals of "Ghost Myself" combined with the song's angsty undertones give the video an ultra-independent vibe. Fully infused with notes of female empowerment, it shows a group of women sitting in a gritty warehouse discussing their problems before cutting to them lifting weights, fighting each other and taking back their power. Inspired by the movie Fight Club, the physicality of the fights mirrors DIAMANTE's internal emotional struggle.
Recently, DIAMANTE has been teasing the release of her next album this May on social media. The "Ghost Myself" video is only the first taste of all the good music to come in her new era.
Ever since her first song "Bite Your Kiss" in 2014, DIAMANTE has released banger after banger, including popular tracks "Serves You Right" and "Haunted." 2018 saw the release of her debut album, Coming In Hot, produced by Grammy Award winner Howard Benson (My Chemical Romance, Kelly Clarkson). 
Then in 2019, DIAMANTE joined Three Days Grace, Chevelle and Dorothy to support Breaking Benjamin on their North American tour. Later that year, she also went on her first headlining tour, the Blue Balls Holiday tour.
The fierce and empowering "Ghost Myself" isn't the only independent thing about DIAMANTE, as early 2020 saw the singer announce her departure from Better Noise Music and rebrand as a completely independent artist. To celebrate, she released "Obvious," as well as an acoustic version of the single.
Soon after releasing "Ghost Myself" last May, DIAMANTE teamed up with Breaking Benjamin's frontman Benjamin Burnley for a cover of the Goo Goo Dolls' 1998 song "Iris."
You also might recognize her from her feature on Bad Wolves' track "Hear Me Now" off their 2018 debut album, Disobey. Or maybe DIAMANTE's voice sounds familiar from her backing vocals on All That Remains' hard-rock cover of Garth Brooks' 1990 song "The Thunder Rolls" from their 2017 album, Madness. 
However, one of the most notable things about the Mexican-Italian-American singer, whose name is the Spanish word for "diamond," is her shocking blue hair. "My middle name Azzura means 'blue' in Italian," she explains to Alternative Press. "If I was a color, I would be blue. I love it because it's bold, ethereal and everything I am."
Pulling inspiration from artists such as P!nk and Guns N' Roses, DIAMANTE is a unique and refreshing figure in the scene who hopes to follow other certifiably iconic women such as Joan Jett, Stevie Nicks and Debbie Harry.
You can watch the video for "Ghost Myself" as well as take an exclusive look behind DIAMANTE's inspiration for the video and hopes for the future below.
When you first started working on the creative process for this song, what were you hoping to achieve, and now with it out, do you think you achieved it?
When I first started writing "Ghost Myself," I wanted to brutally and honestly expose my struggles with being my own worst critic, hating aspects of myself and even wishing that I could escape myself. I wrote it with the intent of taking this difficult material and turning it into a hard-hitting and empowering anthem. I wanted a Rob Zombie/Nine Inch Nails feel to it, sonically. Now that it's out, I think the song really did achieve that cool juxtaposition, where the music is energetic and almost dance-like, while the lyrics are super dark and cynical. 
Where did you pull inspiration from for the setting and aesthetic of the video as it relates to the awesome female empowerment message of the song?
The inspiration for the video came from me wanting to physically depict my internal battle with myself in kicks and punches. Cinematically, the video is definitely inspired by the film Fight Club. I knew I wanted the energy of the video to match that same gritty energy of the song. The idea to have a female fight club came from my own bad habit of suppressing my anger and keeping my emotions bottled in. Anger and physical aggression in women isn't really encouraged. We are taught to deny and hide these feelings that are actually pretty natural. When we do show aggression, we're taught to feel shame or guilt. I loved the idea of doing a female fight club because it gave us an avenue to release any bottled-up aggression we had in a healthy but badass way.
You have said before that you hope to be someone people growing up can relate to. How does "Ghost Myself" fit in with that mentality in your mind?
I think the relatability lies in that the internal struggle I face in "Ghost Myself" isn't just my struggle alone. Everyone at one point in time has experienced some form of self-hate. My intention with this song is to give people an outlet to fully feel and then release any negative thoughts they have about themselves. It's easy, especially as a songwriter, to come off like you're 100% confident all the time. It's a lot harder to really show your vulnerabilities to the world. But by showing these vulnerabilities, my goal is to normalize them and make them easier to talk about. 
What's the one thing you hope listeners learn from this song, and is there any advice you would give to those who relate to the lyrics?
I hope when people hear "Ghost Myself," they're able to acknowledge their fears and insecurities without any shame. I've realized that true empowerment is accepting the good, the bad and the ugly, and I hope this song will help others come to that realization, too. 
You're an independent artist and releasing a new album in May. What should people take away from "Ghost Myself" regarding what to expect next from DIAMANTE?
I think "Ghost Myself" is a perfect indicator of the level of honesty and vulnerability you're going to hear from me on this new album. I really put myself out there in ways I never thought I would. The entire album is autobiographical and gives complete and total insight into who I am as a person.