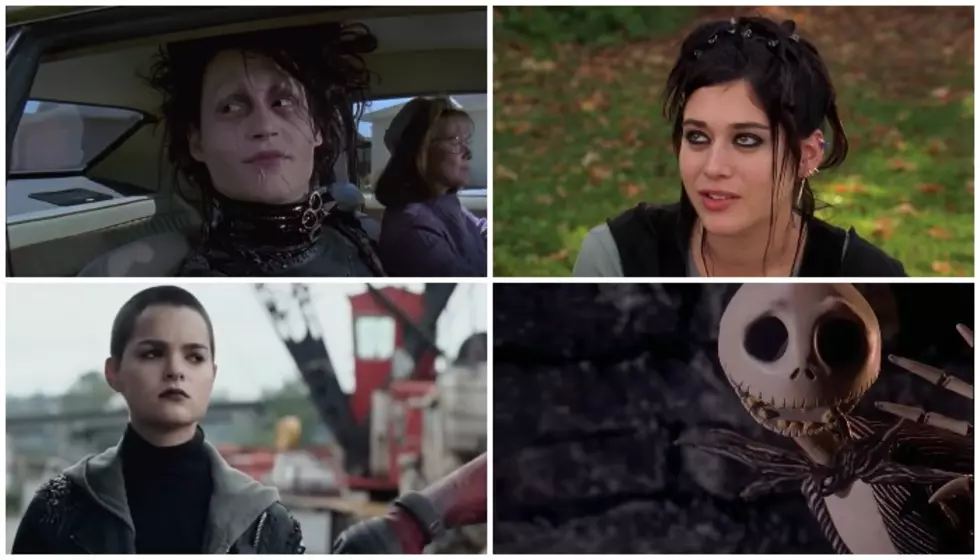 The 25 most emo movie characters
[Photos via YouTube]
Whether they're channeling excellent music taste or embracing the mantra of all-black everything, sometimes emo makes it to the big screen. From Janis Ian of Mean Girls to Wednesday Addams, here are movie characters who are so emo, they'll have you saying, "SAME."
Charlie (The Perks Of Being A Wallflower)
Charlie deals with some pretty traumatic stuff, and he copes the only way a true emo knows how by making and listening to mixtapes, eventually forming a special attachment to "Asleep" by the Smiths.
Batman
No matter who your actor of choice is, the many different versions of the caped crusader have been full-blown emo. The guy truly gives a whole new meaning to the word sulking.
Janis Ian (Mean Girls)
Janis is super in touch with her emotions and therefore the art of not caring. Plus, she totally crowdsurfed at that mandatory assembly in true emo fashion.
Kat Stratford (10 Things I Hate About You)
She expresses her true feelings through tear-filled poetry, which is pretty much the most emo thing ever.
Negasonic Teenage Warhead (Deadpool series)
The side-eye she serves is next level.
Lydia Deetz (Beetlejuice)
Lydia feels alone and ignored, so she befriends the strange and unusual in a totally emo move.
Allison Reynolds (The Breakfast Club)
When they're dishing out stereotypes, she gets the basket case. We rest our case.
Norah (Nick & Norah's Infinite Playlist)
Norah's idea of a great date is setting out on a search for a secret show by her favorite band, which only a true music lover would dig.
Eeyore (Winnie The Pooh series)
No one can compare to the melancholy that is Eeyore.
Ramona Flowers (Scott Pilgrim Vs. The World)
Ramona has a lot of emotional baggage given her seven evil exes. Plus, her constantly color-changing hair is totally enviable.
Wednesday Addams (The Addams Family)
Wednesday's all-black aesthetic speaks to our souls.
Nancy Downs (The Craft)
Nancy is peak emo with her anti-social tendencies and all-black outfit choices.
Sid (Toy Story)
Sid kept to himself as he tortured toys, which is probably for the best, but his overall demeanor is totally in line with the emos of the world.
Moaning Myrtle (Harry Potter series)
She spends her free time bawling her eyes out in the bathroom—enough said.
Beverly Marsh (It)
Beverly kept to herself before joining the Losers Club, and while New Kids On The Block aren't exactly emo, we'll forgive her because her punk-rock attitude totally makes her one of us.
Donnie Darko (Donnie Darko)
Donnie is already sort of an outcast, and befriending a creepy bunny certainly didn't help.
Andrew Largeman (Garden State)
Andrew has a lot to deal with when returning home to visit his family, so it's a good thing he runs into a girl with rad music taste to help him cope.
Lloyd Dobler (Say Anything…)
He professes his love by camping out in the yard of his love interest and holding a boombox over his head—enough said.
Edward Scissorhands (Edward Scissorhands)
Edward's whole existence is attempting to fit in but not knowing how to pull it off, which makes him totally relatable. As an added bonus, he sparked an epic Warped Tour meme.
Tom Hansen (500 Days Of Summer)
Tom supports his emo-ness by listening to the Smiths and browsing vinyl while wearing a Joy Division shirt. His tastes aren't totally a surprise, however, given this was Marc Webb's feature film debut after years of directing music videos for artists such as My Chemical Romance, Green Day, the All-American Rejects and Yellowcard—just to name a few.
Emily (Corpse Bride)
She's dead on the inside (and the outside).
Dwayne (Little Miss Sunshine)
Dwayne is just trying to mope in peace, but his family has other ideas as he's dragged along to his little sister's beauty pageant.
Kylo Ren (Star Wars series)
There is a whole Twitter account devoted to just how emo Kylo Ren really is, My Chem references and all.
Jack and Sally (A Nightmare Before Christmas)
This is what an emo power couple looks like.
Edward Cullen (Twilight series)
He's an ancient vampire who was forced to move around and relive high school over and over again. We'd be emo, too.