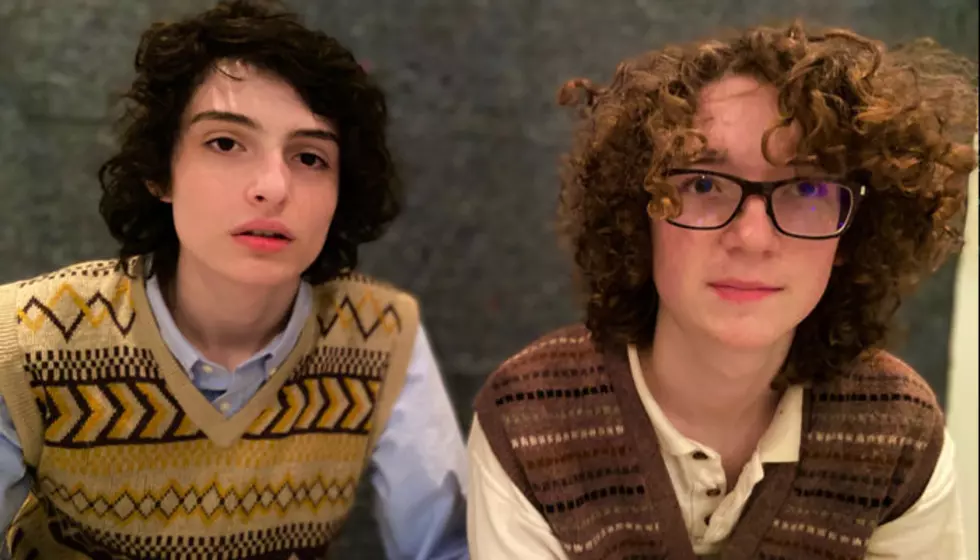 Finn Wolfhard on his new group the Aubreys, the end of Calpurnia, more
[Photo via Spotify]
Finn Wolfhard is a crafty one. As one-half of the indie-pop duo the Aubreys, he's making some stripped-down tracks that are both sweet and noisy. So the title of his band's new three-song EP, Soda And Pie, foretells what it sounds like. Right? Then you're reminded it's a reference to Beastie Boys' classic video of "Fight For Your Right."
"We were just doing this for fun," Wolfhard says about the visual. "These songs are all demos that we didn't think we'd release. We realized we wanted to put [it] out into the public and tell people that we're still making music." 
Wolfhard and drummer Malcolm Craig have been friends since they were 11. That chemistry alone is ample evidence of how the Aubreys work—both musically and psychically. Wolfhard and Craig's previous band Calpurnia were significantly hyped, but they did deliver the goods on their 2018 EP, Scout. The band made a run for it that year, but by November 2019, they had announced their breakup.
Wolfhard cites a few factors contributing to Calpurnia's demise. There was the democratic process that included guitarist Ayla Tesler-Mabe and bassist Jack Anderson. "There were more people in Calpurnia, so it took longer to do a song," Wolfhard says. "You had to get everyone's approval." The biggest reason they resigned was that Wolfhard couldn't commit to the level of touring that the band's label demanded.
"Part of the reason why Calpurnia began to become a chore instead of [making] fun music is that we had to tour in order to make the label money," he continues. "Obviously, that's how they make money, and they need to survive. But I can't always tour because I act, and that is first and foremost and the reason why people give me the opportunities. [Touring] became really hard to do. 
"Calpurnia just moved way too fast. Our first show was a huge charity event at the Fonda Theater in front of a thousand people. It might have been more, actually. It was amazing, and I valued it so much. But it was an odd way to start. For a teenage band to start like that, it's much harder."
Once Wolfhard and Craig resigned from the band, they reconvened in Craig's basement and started jamming. And then they had an epiphany. "We realized, 'Oh, this is what it feels like,'" he explains. "No label, no nothing. Just the two of us in the basement writing and answering to nobody but ourselves. Music should be fun. It should be an adventure where you're working your way up. When all of a sudden it's like, 'Bang!,' and suddenly you have all these crazy obligations you didn't know you'd have, it gets hard."
They intended to name themselves after Wolfhard's pet cat, Audrey. But after discovering the Audreys already existed, they chose to flip the "d" to a "b." The duo recorded the three songs on Soda And Pie at each other's homes. The finished tracks were then sent off to producer R. Andrew Humphrey (who co-produced the Calpurnia EP) for remixing and some keyboards. The process of rebooting as a band was that simple. 
And it got better. The world's first glimpse at the Aubreys' aesthetic was "Getting Better (Otherwise)," which ended up on the soundtrack to director Floria Sigismondi's film The Turning. Wolfhard says the opportunity came as they were extracting themselves from Calpurnia, and the track was a riff from a voice memo recording he made a long while ago.
"Floria reached out to us and said that her husband, Lawrence Rothman, was putting together a companion piece [soundtrack] for the movie and [asked if] we had a song we could put on it," Wolfhard says. "I went through my old voice memos and discovered it and thought, 'Oh, this one's pretty cool. It matches the tone of the movie.' We flew to L.A. one weekend, workshopped with Lawrence and his brother Eve and recorded it at his house. It was a very fun, short-notice thing to do."
The game plan for the Aubreys is one of low expectations. That's certainly not a dis: The three tracks on Soda And Pie aren't flukes. The band's entire existence is based solely on the two's friendship. You see, it's all down to the practice space and their headspace. If Wolfhard is away (The hit show Strange Things is filming its next season soon), there's no pressure. When the two of them are together, they're only answering to themselves and not the demands of the industry. Calpurnia fans will be pleased to know the Aubreys have some plans they're still cooking up.
"We're just working our way up," Wolfhard says, gleefully. "We're releasing music on our own accord. We'll play DIY shows when we're free. We're working our way up to playing bigger shows if people will have us. At the end of the year, we're planning on recording an LP. 2021 will be bigger for us. But we're going to keep it real fun and light right now."
"Keeping it light" involves some things. Wolfhard says he and Craig are working on alter egos to put out into the public. "The Aubreys run our Instagram account. There will be a backstory with alter egos, almost alternate reality versions of ourselves," he adds. "As we go along in this journey, the Aubreys will prevail."
Like Slipknot without the masks?
"Or Insane Clown Posse," Wolfhard quips back. "Juggalos, baby…"