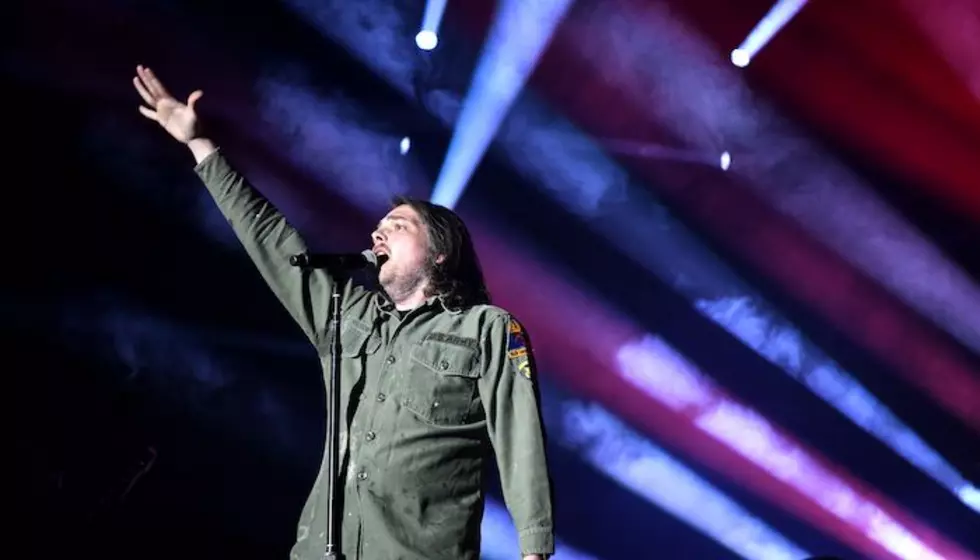 Gerard Way is helping us beat boredom with a new coloring book
[Photo by: Mark Beemer]
Gerard Way just won't slow down. Apart from releasing four new solo tracks and participating in sci-fi interviews, he has now partnered with a number of artists for The Quarantine Coloring Book.
The idea spawned from Sara Taylor of Youth Code. You may remember she helped out a bit on vocals during the My Chemical Romance reunion show. It is sure to keep us busy during the coronavirus pandemic. 
It's Gerard Way's birthday and somehow, he's still looking out for us. Way and Taylor have teamed up and made a constantly-updating coloring book to help pass the time while in quarantine. Either that or for those still working to be able to get their minds off the dark times we're going through. 
The official website says a new page will be uploaded every day. 
Hi! The Quarantine Coloring Book is a collection of 100% free downloadable coloring pages created by some pretty amazing people. A new page will be released every day for the foreseeable future and we hope it brings everyone some joy and, perhaps, a bit of relief from the current state of affairs in the world. We would like to thank everyone that has participated so far.
Way announced the coloring book on social media in a lengthy post. He thanks healthcare workers and emergency personal and details how the coloring book came about and what to expect. Another exciting bit is that Gerard Way will be adding a page to the coloring book as well. 
Hey everyone! Having a great birthday so far, thank you for all the birthday wishes. So, we wanted to do something special today for everyone in quarantine or stuck at home, also for people that can't stay home but want something to get their mind off things when they get home from work. Healthcare workers and essential personnel we love you!
My friend Sara Taylor @seriouscreep from Youth Code came up with this amazing idea and I really wanted to help her with it. It's called The Quarantine Coloring Book, and it's a completely free collection of coloring pages for you to print out and color, or color digitally if you prefer. What we did is ask a bunch of artists we are close with to generously donate a coloring page to the project.
The idea is to keep it going as long as we can. So far we have a bunch of really cool art by really cool artists. And we are still actively reaching out to people. It's hosted on a website, thequarantinecoloringbook.com, where you can download the single images, or a pdf collection when we have a bunch of them. I'm going to put a link in my linktree too, right in my bio. I will be creating a coloring image myself at some point, and I'm really excited about it.
So that's it, we also have an official instagram, @thequarantinecoloringbook, where we will be uploading the images, as well as finished colored pieces by you. Give it a follow if you like, and I think you can just submit your finished colored pieces to the Insta, or possibly right on the site. We can't wait to see all of your finished coloring pieces, and hope this provides you with even a small sense of distraction of relief in these uncertain times. Use the hashtags #TQCB or #thequarantinecoloringbook so we can easily find the pieces to be potentially featured on the official feed.
This is the cover of the coloring book, provided generously by one of my favorite artists Paul Rentler @prentler. He created an original image for the book and its spectacular. We worked together at Young Animal— he did the YA logo and did 4 variant covers for our main books. And I've just been a fan for a long time.
Happy coloring!
Taylor also promoted the book saying "A few weeks ago, @gerardway and I were discussing how much it sucks to be stuck inside during this pandemic and came up with the wonderful idea to start a project rooted in creativity for everyone."
The Quarantine Coloring Book website can be found here. Hopefully this will help shine a light of creativity and happiness in these dark times. Don't forget to use the hashtags so your coloring can be given the recognition it deserves!
Tell us how excited you are about Gerard Way's new coloring book in the comments below!
[envira-gallery id="195007"]