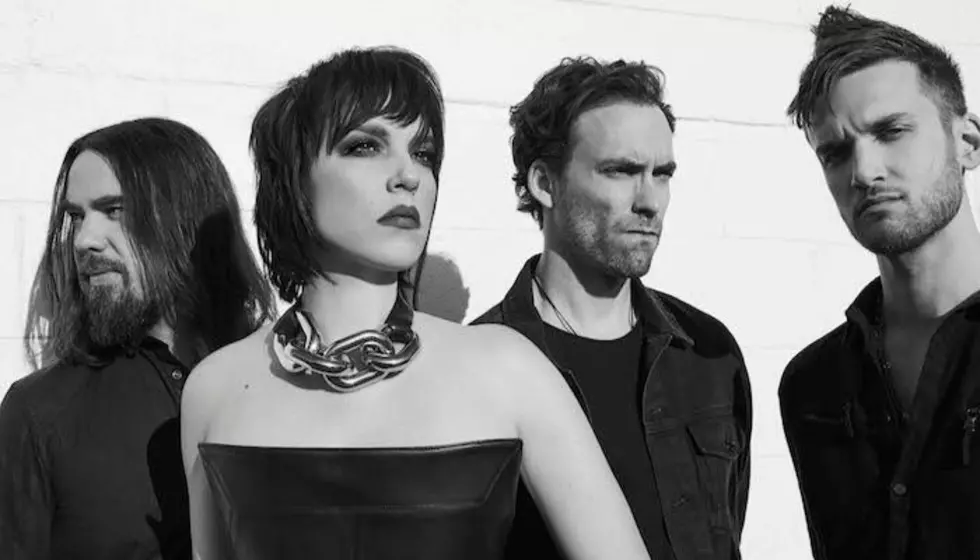 Halestorm's Lzzy Hale talks all female-fronted tour, state of rock music
[Photo by: Halestorm/Jimmy Fontaine]
Lzzy Hale is sharing her thoughts on how #MeToo and Time's Up affected the music industry, and the importance of Halestorm's all female-fronted hard rock tour with In This Moment.
Plus, the frontwoman reflects on the current state of rock music.
"I just think that the movement starts where people are brave enough to speak up. I think that it will continue to be a ripple effect," she tells Consequence of Sound about movements like #MeToo and Time's Up.
"As far my position on that, I mean I am a part of the rock world, and I talk about sex, and sex, drugs and rock n' roll is very much alive in our world. Thankfully, we've never been in any situations where we can get called out on anything like that," the singer continues. "But, it's interesting, I don't think it's that the rock industry hasn't been affected by it. I just think it's gonna take a second for all of that to start coming out."
Hale also notes that she's seen a change on Halestorm shows with more females than males buying tickets.
"And so what we're seeing firsthand, right in front of our eyes, that this heavy music is genderless. It's really neat to see that live and in person right now," the musician points out.
The importance of an all female-fronted rock tour
Halestorm are currently on the second leg of their all female-fronted hard rock tour with In This Moment. The bands are also getting back on the road this fall with support from New Years Day.
"We didn't realize just how important this tour was not just for us but for all of these girls. The fact that it's successful—what an amazing thing to be a part of," Hale tells CoS.
She mentions how she heard many times that a hard rock band with a female singer was a hard sell, but the tour has proven how well it can work. "The beautiful thing is to be an example to a lot of these young girls who are struggling with that right now," the singer says.
Hale on the state of rock music
Hale also discussed the current state of rock music, and how pop and hip-hop are dominating the charts.
"I think that's one of the beautiful things about this genre is that everyone who's in it isn't in it to make a million bucks and be popular, because that's not always our M.O," she reflects. "We're always chasing after what gets us excited, and we're just trying to move the needle within our own club. It is a reason why I'm so proud of this genre, and it is a reason why I never attempted to do anything crazy like, 'Let's go for a pop deal' or do something like that."
"Obviously, there's been a lot of talk these last couple of years because of Gene Simmons saying something about rock being dead," she continues. "For heaven's sake, we're still touring. If it was dead, we'd be over."
You can check out the complete list Halestorm tour dates below.
Summer U.S. tour dates:
08/21 – Reno, NV @ Grand Sierra Resort ++
08/23 – San Francisco, CA @ The Warfield ++
08/24 – Funner, CA @ Harrah's Resort SoCal Events Center ++
08/25 – Las Vegas, NV @ Fremont Street *
Fall U.K. tour dates:
09/19 – Dublin @ The Academy
09/20 – Belfast @ The Limelight
09/22 – Sheffield @ O2 Academy
09/23 – Glasgow @ O2 Academy
09/24 – Birmingham @ O2 Academy
09/26 – Manchester @ O2 Apollo
09/28 – London @ O2 Academy Brixton
09/29 – Bristol @ O2 Academy
Fall U.S. tour dates:
11/16 – Norfolk, VA @ Constant Convocation Center ++
11/17 – Camden, NJ @ BB&T Pavilion ++
11/20 – Evansville, IN @ Old National Events Plaza ++
11/21 – Ft. Wayne, IN @ Allen County ExpoCenter ++
11/23 – Syracuse, NY @ Nicholas J. Pirro Convention Center ++
11/24 – New York, NY @ Hammerstein Ballroom ++
11/26 – Cleveland, OH @ Masonic Auditorium ++
12/01 – Broomfield, CO @ 1stBank Center ++
12/02 – Park City, KS @ Hartman Arena ++
12/04 – Springfield, MO @ Shrine Mosque ++
12/05 – Lexington, KY @ Rupp Arena ++
12/07 – Hammond, IN @ Horsehose Casino ++
12/08 – Minneapolis, MN – The Armory ++
12/11 – San Antonio, TX @ Aztec Theater ++
12/12 – Dallas, TX @ South Side Ballroom ++
12/14 – Orlando, FL @ Amway Arena ++
12/16 – St. Petersburg, FL @ Mahaffey Theater ++
All Dates with In This Moment except *
Dates with Special Guests New Years Day and Stitched Up Heart +
Dates with Special Guests New Years Day ++
Watch more: Halestorm on 19 years of the band—"It hasn't gotten old"