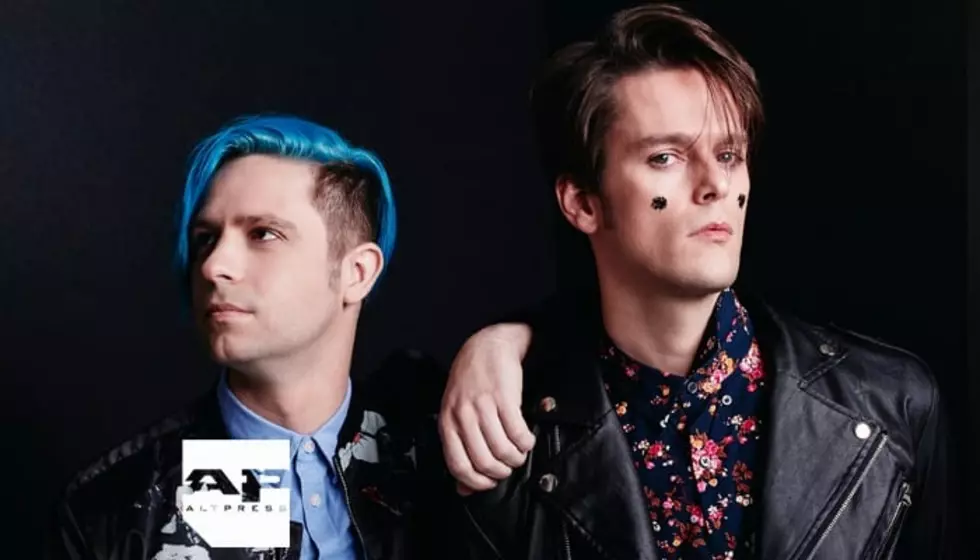 Do iDKHOW have enough songs to do a headline tour, anyway?
[Photo by: Jonathan Weiner]
I DONT KNOW HOW BUT THEY FOUND ME begin their first headlining tour in Salt Lake City today, and we're stoked. Things are looking sweet for the dynamic duo of bassist Dallon Weekes and drummer Ryan Seaman. Their single "Choke" broke into the Top 20 on the Alternative Songs chart and several nights of the tour already sold out.
There's one catch though: While iDKHOW delivered the perfect 1981 Extended Play, they still have yet to deliver a full-length. That doesn't matter too much in the marketplace: Artists drop new stand-alone tracks on a whim all the time, without the need of a proper 10-track album release. But it does make a difference if you're headlining a tour, with the promise of an hour-long set to give to your fans.
"We do have an hour-long set," Weekes tells AP. "It could be longer because we have a few more songs in our arsenal. We've got a few tricks hiding up our sleeves, but we want to save those for that one sweet day when the record comes out."
Granted, there are a couple of songs in the iDKHOW repertoire that haven't been given a proper release. Ground-floor fans have embraced such early tracks as "Nobody Likes The Opening Band" and "Modern Day Cain," released on the net years prior to the EP. (Since it's not December, picking tracks from Weekes' Xmas Jambs EP isn't particularly appropriate.) But Weekes is up for the challenge, pulling out some of his fave songs from his previous band the Brobecks, as well as an interesting choice for a cover.
"Ryan and I will always be a part of that band, and we will always be haunted by the ghost of the Brobecks," he says. "No matter how far we get into this, we'll always play some Brobecks songs."
He does admit that in this age of devices that can replicate and upload new songs before the finished record comes out, the internet has a way of tainting the first-listen surprise.
"I don't know if that's my age or my generational point of view speaking, but I do think [live unfinished versions of songs] spoil the surprise a little bit," Weekes shares. "We would do more new stuff if we didn't think those songs would be leaked online. You either don't get to develop something properly, or then you do something cool live after an album's been released and think, 'Wow, I wish this was on the album.'" [Laughs.]
There will be some surprises: Weekes reveals to AP that he's pretty excited that he and Seaman will be covering "Debra," the slow-jam classic by Beck that appeared on his 1999 album, Midnite Vultures. The original version finds Beck hitting some over-the-top falsetto vocal. When asked if he's ready to pull that off every night, Weekes responds with a confident "Oh, yeah! I've loved [that song] forever. No one in the crowd is going to know this song. It's a self-indulgent moment in the set, but it's something I've always wanted to do."
Prior to embarking on this tour, Weekes had been collecting song ideas and demoing them in the hopes he'll take all of his sound files and "run them through big, fancy equipment or start from scratch if we need to" when the duo have been greenlit to do the record. What could Weekes tell us about the record? That would be what it's not going to be titled.
"We were all joking one night, and it was going to be semi-self-titled, but the band name just keeps going: I Dont Know How But They Found Me, Face Down In The Gutter, Out Back, In An Alley. It was going to be that for about 10 minutes."
The duo's latest release, 1981 Extended Play, is available now. iDKHOW are on tour in the U.S. now with dates below and tickets here.
Dates:
04/25 – Salt Lake City, UT @ In The Venue
04/28 – Phoenix, AZ @ Big Surf Water Park (ALT 93.3 radio fest)
04/29 – Houston, TX @ House of Blues (Bronze Peacock)
04/30 – Dallas, TX @ House of Blues (Cambridge Room)
05/02 – Orlando, FL @ The Abbey
05/03 – Atlanta, GA @ Shaky Knees (festival)
05/04 – Carrboro, NC @ Cat's Cradle
05/06 – Washington, DC @ Union Stage
05/07 – Pittsburgh, PA @ Rex Theatre
05/08 – Toronto, ON @ Opera House/Canadian Music Week
05/10 – Rochester, NY @ Montage Music Hall
05/11 – Hartford, CT @ Webster Theatre
05/12 – New York, NY @ Bowery Ballroom
05/13 – Philadelphia, PA @ Union Transfer
05/15 – Chicago, IL @ Lincoln Hall
05/16 – St. Louis, MO @ Delmar Hall
05/17 – Madison, WI @ The Majestic
05/18 – Minneapolis, MN @ Fine Line Cafe
06/16 – Manchester, TN @ Bonnaroo Music And Arts Festival*
* Festival date