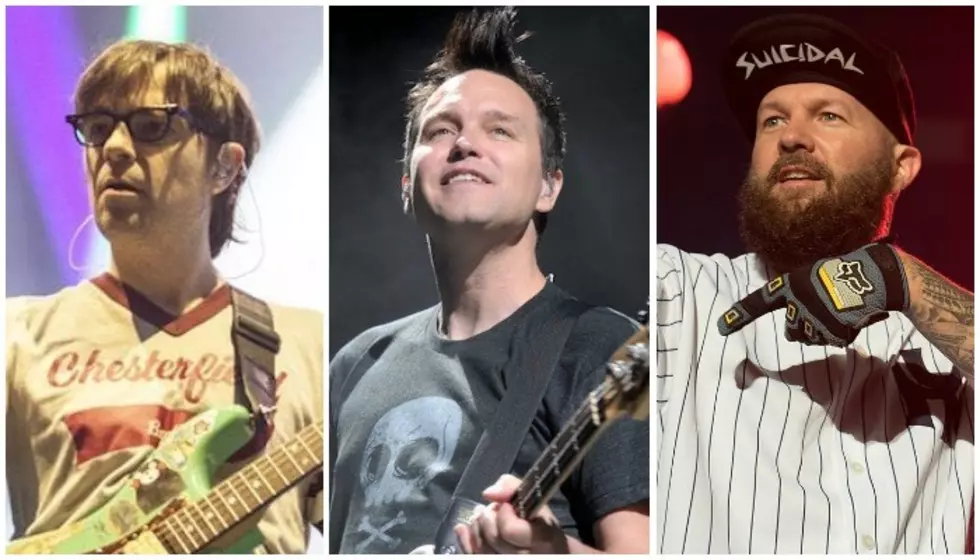 Inkcarceration Festival is officially canceling its 2020 event
[Photos by: Weezer/Ryan Bakerink, blink-182/Brennan Schnell (Wikimedia Commons), Limp Bizkit/Frank Schwichtenberg (Wikimedia Commons)]
Inkcarceration Festival is officially canceling its 2020 event due to the ongoing COVID-19 coronavirus pandemic.
The festival was set to run July 10-12 at the Historic Ohio State Reformatory in Mansfield, Ohio, but they're revealing dates for next year's event right now.
The festival's lineup included headliners Limp Bizkit, Weezer and blink-182. It also included Papa Roach, Halestorm, Mastodon, Underoath, Hollywood Undead, Steel Panther, Falling in Reverse, Candlebox, Badflower, Atreyu and more.
New Politics
All That Remains
We Came As Romans
the Devil Wears Prada
Emmure
Attila
Stick To Your Guns
New Years Day
Escape The Fate
Now, they're unfortunately making the necessary announcement that the event is off this year.
The organizers provided a statement which you can read below.
"It is with extremely sad hearts that we must announce the cancellation of Inkcarceration Festival 2020. We're sure this doesn't come as a major surprise given the number of festivals and concerts our industry has already lost and will continue to lose this year.
Let us be clear, this is heartbreaking for us. Ohio is our home and this festival means so much to us and we know it means a lot to you, as well. We held out as long as we could and worked extremely hard to find a way to make Inkcarceration happen this year - including exploring the possibility of a fall festival - but with the uncertainty of COVID-19, we must put the safety of fans, workers, and bands first and follow the advice of health officials.
Rest assured that festivals WILL come back and Inkcarceration isn't going anywhere. Mark your calendars for our return on July 16, 17 & 18 in 2021! We will be getting to work right away to provide you all with the best Inkcarceration Festival yet. Thanks for your support and we can't wait to see you all at a much-needed INK family meeting next July!"
Ticket refund options can be found here and are being emailed to ticket holders on Monday, May 4 at noon EST.
This year's event was set to feature 40 bands on two outdoor stages, 60 tattoo artists and plenty more. Last year, the festival ended up tripling their attendance drawing 45,000 fans from nearly all 50 states and all across the globe.
What do you think of Inkcarceration Festival canceling this year's event? Let us know your thoughts in the comments below.
[envira-gallery id="217198"]