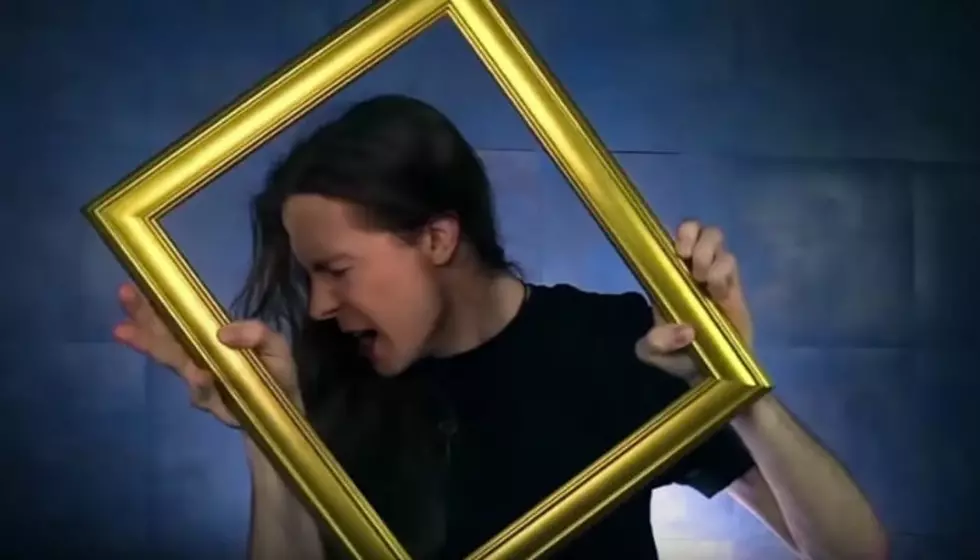 Threatin frontman finally admits to fanbase-faking stunt, details future plans
[Screenshot via YouTube]
Back in November, Threatin made headlines after successfully booking a European tour on the basis of a faked fanbase by using a fake publicist, booking agent and label.
While it might sound like a Hard Times article, it was indeed true. Now, frontman Jered "Threatin" Eames is opening up for the first time and admitting to the stunt.
In mid-November, the internet learned of Threatin after they were accused of faking their fanbase in order to score a European tour that absolutely no one was attending.
The frontman posed as the booking agent and promoter to score the band gigs. He then used fake show footage that was edited to make it look like they were playing in front of large crowds, bought YouTube views, event RSVPs and Facebook likes to put the band's page at 38,000 likes, and lied about ticket sales to venue owners.
The venues, backing band and internet began to catch on. Eames made his "official statement" as things began to crumble, implying it was all meant to play out exactly as it did:
"What is Fake News? I turned an empty room into an international headline. If you are reading this, you are part of the illusion."
Now, Eames conducted his first interview post-fallout, admitting to Rolling Stone, "There was no way that I was going to get enough attention being a rock artist in 2018 unless I did something to get people to pay attention."
Eames continues with admitting to all the faking he's done, revealing "It's a publicity stunt, but the music is very real."
The frontman was raised in Moberly, Missouri and began playing guitar around age 10. He admits he got into metal through his dad's collection of Metallica and Black Sabbath.
Rolling Stone also spoke with Eames' brother Scott, who was in death-metal band Saetith with Jered in high school. Scott's comments on his brother point to the viral attention grab as being nothing new.
"We'd go offstage, I'd go back to being Scott, but he wouldn't go back to being Jered," Scott says. "He'd show up to family events like he was playing a show—jacket and sunglasses and the walk. It got to the point where most of us were rolling our eyes."
After a health scare that caused him to cough up blood, Jered and his then-girlfriend, now wife Kelsey set off for bigger things in Los Angeles. While she worked an office job, he slaved over his music, playing every instrument.
He shelled out money for Greg Calbi, an engineer who worked with John Lennon and Bruce Springsteen, to master his mixes. He then turned to marketing, developing an alter ego like Marilyn Manson or David Bowie and adapting the "devious"-sounding name Threatin.
Then, he began crafting the fake everything: record label, publicist and booking agency. Once created, he released his debut Breaking The World Aug. 25, 2017.
They headed to Europe with Kelsey tagging along to film, but the hoax came to a half after six gigs.
Venues began catching on, and then Prunera and Davis left mid-tour. Davis spoke out about his experience, claiming that he and the other Threatin backing band members had "no idea" of the true nature of the tour.
Soon after, Eames' musical background began to surface, and then Threatin bassist spoke out about the faked following.
Eames reflects on the backlash the backing band gave him, not showing much remorse: "Do I feel bad that they feel bad?" he says. "Yes, I wish they would've looked at this from a media standpoint."
Scott discovered the viral story back home in Moberly, learning of his brother's whereabouts after not speaking for six years. He expressed hope for a Saetith reunion at some point, but Jered isn't so sure unless it benefits a documentary Kelsey and he are working on.
"If it served the story and it would be more interesting for there to be a reconciliation, then I'd consider it," he says. "Other than that, I have no interest."
Eames ends the interview by telling Rolling Stone he has more stunts planned: "Fake news," he says, "is easy to manufacture."
[envira-gallery id="194728"]