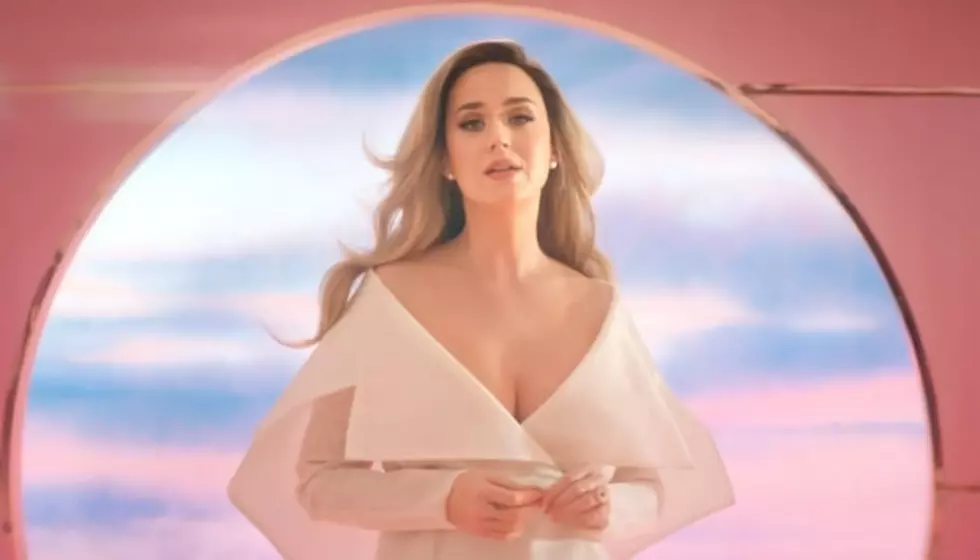 Katy Perry reveals pregnancy in "Never Worn White" music video
[Photo via YouTube]
Katy Perry is officially pregnant with her first child. The singer/songwriter officially confirmed the news on social media, but her most recent music video "Never Worn White" got everyone talking.
Perry says her and Orlando Bloom are "very excited" about the news.
Katy Perry took the stage on Warped Tour back in 2008 and recently on American Idol, she showed she was still a mosh pit expert.
Well, with the pregnancy new, we hope she avoids the circle pit for a little while. 
Katy Perry first teased her new baby bump on Instagram
Next, she officially launched the music video for "Never Worn White" where we get a good look at that bump, but Perry still hadn't officially confirmed that it wasn't just a prop.
Well, she then took to Instagram Live to share the wonderful news of her first child. Perry also announced that she's working on her next album that should also arrive this summer, along with the baby. 
""There's a lot that will be happening this summer," Perry says. "Not only will I be giving birth, literally, but also figuratively to something you guys have been waiting for."
"So let's call it a double whammy, a two fore," Perry continued. "I'm excited, we're excited and we're happy — and it's probably the longest secret I've ever had to keep. I knew I would tell you in the best way, which is through a piece of music because that's how I speak to you. I had to reveal it at some point, because it was getting pretty obvious."
She continued talking about her cravings including dried mango and hot sauce (no not together).
Watch some of the footage of the live video below. 
Perry even inserted a bit of humor about the situation on Twitter, joking about how she no longer has to suck in. 
This child will be Katy Perry's first and Orlando Bloom's second. We hope the baby is happy and healthy. Congratulations you two!
More Katy Perry
One recent contestant on American Idol showed he was extra excited to see Perry while auditioning and the two were constantly discussing mosh pits while he started his own one-person-pit.
In the clip, the contestant, Hunter Gibson, starts off by shouting out seeing Perry at Warped Tour. From there, it gets even better as he discusses his awkward nickname, "The Comeback," which he explains by showing his best one-man mosh moves.
"You were the first to mosh on American Idol," Perry says.
Gibson then starts showing off his vocal skills, singing a rendition of the All American Rejects' track "Swing Swing."
Towards the end, Perry starts singing along with him and when he's done, the judges ask who the song was by. Instead of giving a straight forward answer, "The Comeback" instead revisits the weird dance moves he deems moshing.
Ultimately, he gets a no from the judges but Perry gives him some props by saying the style he's trying for is making a comeback, but it isn't suited for American Idol.
He takes the rejection very well and argues for his vocal style being appropriate for what he's doing. We can't deny that he's right about that, even if his performance was pretty awkward. At the end of it Gibson is mostly happy to have rose the energy in the room and captured the attention of Perry.
The All-American Rejects caught wind of the performance Sunday night, tweeting "We heard Swing, Swing is getting sung on @AmericanIdol tonight!? Thanks for singing along @katyperry , we are coming for you next @lionelrichie."
And Perry wasn't the only one to get a shout. The band responded to a Twitter user "apologizing" for the rendition, writing, "We like to think of it as our "Happy Birthday to you…". Just because he didn't sing it well tonight, doesn't mean you won't hear it at @Applebees every night anyway."
[envira-gallery id="194483"]