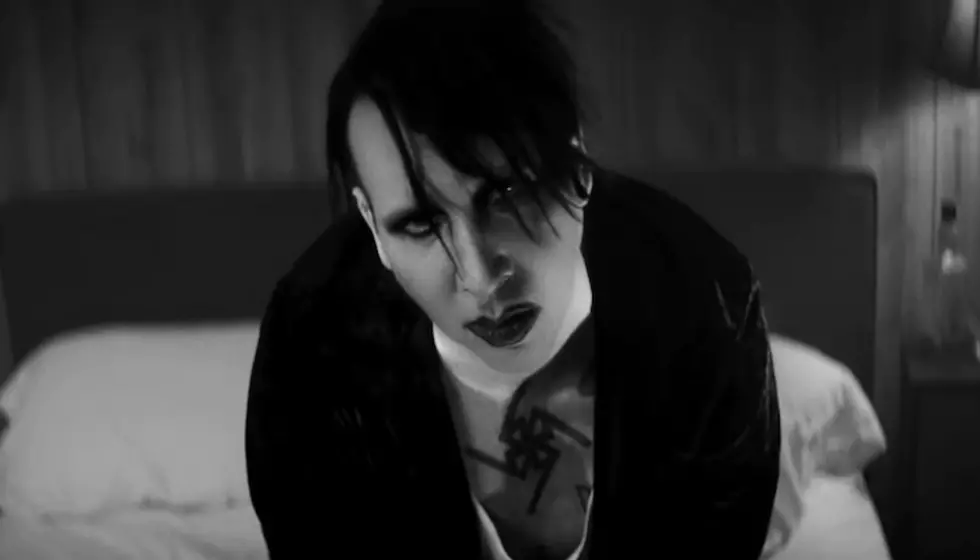 Marilyn Manson wants to record a "Somewhere Over The Rainbow" cover
[Photo via YouTube]
Marilyn Manson is expected to be releasing his eleventh album soon enough but he's apparently working on putting together a cover of "Somewhere Over The Rainbow" right now.
In an interview with Apple Music's Zane Low, Brandi Carlile says Manson has been texting her about doing a cover of the famous Judy Garland track.
Carlile caught up with Lowe from her home to chat about what she's been up to lately when the Manson reveal came out.
"Marilyn Manson wants to record 'Somewhere Over The Rainbow' with me. He's been texting me about it," she says during the interview. "I did a show where I did all of Blue, by Joni Mitchell, at Disney Hall in LA. He came, and he cried so hard. He had all his makeup down his face, and turns out he's the biggest Joni Mitchell fan on the face of the planet."
It may seem like a strange song for Manson to be covering, but his recent music is suggesting a stylistic change for the shock rocker.
The follow up to 2017's Heaven Upside Down is seeing him collaborate with country artist Shooter Jennings. The record has been teased since March 2019 and according to Manson it's finished and waiting for release.
He also ended up telling Revolver that the album is unlike anything he's done before. 
"I'm in a mode in life where I wanted to tell stories with this record, and it's sort of like a wax museum of my thoughts, a study of the chamber of horrors in my head," Manson said.
"All the romance and hope you can have in the world, here in the End Times where it can be a different kind of apocalypse for each person listening to the record. I tried to paint it with words, and Shooter with sounds, so you can see and hear all of your longing, your passion and despair. That's sort of a dramatic explanation of it. But it is full of drama. I wouldn't compare it to any of my other records, but you hear a bit of everything. It's like I've focused everything into one spot, finally."
Jennings recently confirmed the album is complete with a post over on his Instagram account.
 

View this post on Instagram

 
Manson also confirmed the news in the comments of his post.
The pair initially linked up in 2016 for Jennings' cover version of "Cat People (Putting Out Fire)" for his Countach (For Giorgio) LP, a covers collection featuring songs by electronic-music pioneer Giorgio Moroder. They also delivered a fantastic cover of the Doors' song "The End" late last year which you can listen to below. He's also given a cover of "God's Gonna Cut You Down" which is a classic folk song that's been covered by the likes of Johnny Cash, Elvis Presley and more. 
Are you excited to hear what a cover of "Somewhere Over The Rainbow" will sound like by Marilyn Manson and Brandi Carlile? Let us know in the comments below.
[envira-gallery id="217198"]