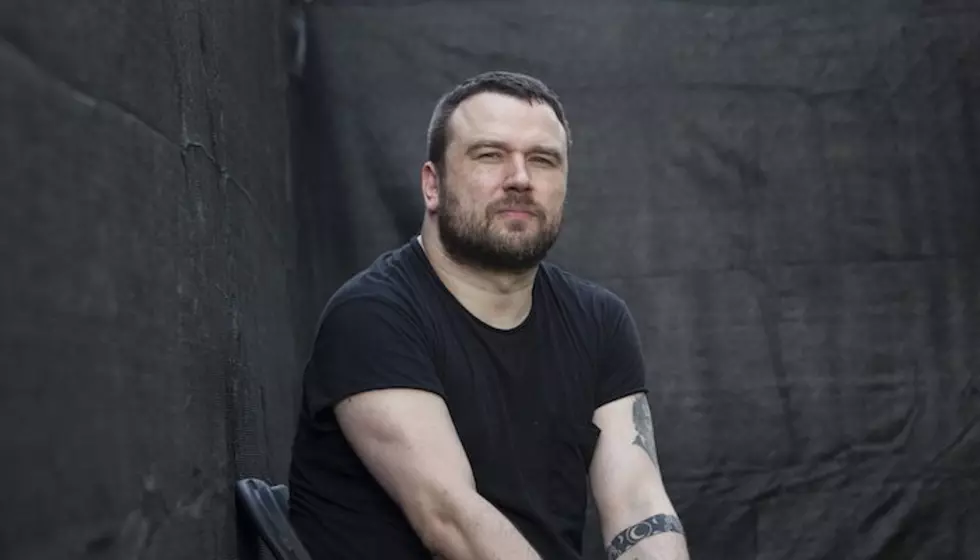 Max Bemis reveals Say Anything song he thought would be more popular
[Photo by: Ryan Bakerink]
It's been nearly a year since Say Anything released their final album, Oliver Appropriate, which also marked the sequel to 2004's ...Is A Real Boy. With no plans to tour around the January 2019 release, that's not to say we'll never hear anything on the band again thanks to frontman Max Bemis and his occasional Twitter reply.
Bemis recently wrapped up a solo tour alongside wife Sherri DuPree-Bemis playing his own material and theirs under Perma. Now, the musician has participated in an impromptu Q&A on his own Twitter page, giving another look into the world of Say Anything.
"What's a Say Anything song you thought would be more popular than it is?," Twitter user jdhendrixs asks.
Bemis replies with a track circa 2012, writing, "I was very happy with 'Overbiter' when I wrote it and now I actually get the shivers as soon as it comes."
"Overbiter" was released with Say Anything's fifth full-length, Anarchy, My Dear in 2012. The track rounded out a trio of singles pushed during the album cycle with "Burn A Miracle" and "Say Anything" marking the other two.
Unlike their self-titled track and "Burn A Miracle," "Overbiter" didn't receive the music video treatment, but you can check out the song below.
The band played the single on their 2012 Say Anarchy fall tour with Bemis recruiting Sherri to help with vocals. But it disappeared from the setlist following the run.
In addition to revealing which song he had high hopes for, Bemis also reflected on the 10-page letter he shared regarding the band's future more than a year ago.
"I rarely recognize social media shit, but I will point out when I was fucked up and bipolar I lost like 3,000 followers and now that I'm relatively normal I am climbing again," Bemis begins. "This is the opposite of how the rest of my career has worked."
A fan responded, asking, "If you don't mind me asking, when we're [sic] you fucked up and bipolar?"
"My last episode was about two years ago- before that it had been ten years. So I lost it, Say Anything broke up. A lot of that is the letter I wrote at the time but there's a whole other aspect I plan on addressing at some point. It's in the comics though ( :"
Bemis had also touched on his future endeavors in that initial letter announcing Say Anything's end, revealing plans for more comics.
"READ MY WRITING. Say Anything is a writer's band," he pleads. "So catch up on my comics and know there is more coming. A LOT coming, and not just comics. I'm going to dive in headfirst, just as hard as I did with music, but it's got to be safe and healthy from now on."
The frontman released his first comic in 2013 with Polarity. In 2016, he started working with Marvel Comics, joining artist Michael Walsh for five issues of X-Men: Worst X-Man Ever, which first released in January that year. That same year, he followed it with five issues of Foolkiller with artist Dalibor Talajic.
In 2017, Bemis began working on the Marvel Legacy reboot of Moon Knight with artist Jacen Burrows, beginning with issue #188, releasing his most recent work on issue #200 in October 2018. Following that drop, Bemis worked with Dennis "Hopeless" Hallum and artist Ale Garza on Infinity Wars: Arachknight #1.
You can see all of Bemis' Marvel comics here.
More on Say Anything
In August 2018, Max Bemis revealed Say Anything were calling it quits (sort of) following, Oliver Appropriate, which is a sequel to 2004's …Is A Real Boy. Bemis wrote a lengthy statement on the forthcoming album, the future of the band, and more.
Bemis' "A Goodbye Summation" was a 10-page document explaining how the album came together, the story he wanted to tell and why Say Anything aren't exactly breaking up.
Sherri also shared some words on Bemis' plans and state of mind.
"Max is doing great. We're all loving on him and supporting him through this whirlwind of change and a huge career shift," she explains. "I'm here to let you know, the narrative doesn't stop here. It's just the beginning. So stay tuned. And you (like me) will always be pleasantly surprised."
In his statement, Bemis shares his struggles with drug and alcohol abuse, PTSD and anxiety attacks. He continues to say that, although he can't actually quit Say Anything, he's "done being a touring musician." So, this is just the end of "the first era of Say Anything."
"I need a break. We'll return one day to play festivals and scoff at our career. But I want to say goodbye," he writes. "Say Anything is retiring in the sense that Jay-Z did. It's not an indefinite hiatus or a breakup because that's impossible."
That said, the Oliver Appropriate release wouldn't be followed by a tour. Later in the statement, Bemis also shares some heartfelt words about Say Anything and the support he received throughout the years.
"If you're a fan and you're reading this, I finally came to love my own band. I mean that.
So that must mean something to you, and closing this chapter is my ultimate way of thanking you and saying 'I know you wouldn't want me to be in pain anymore'," the musician writes. "So if you guys are like my kids, I'm doing this for you, too. And
I couldn't have done this, since I was 15, without you."
"Say Anything will probably make music again, and I'm not claiming this is our actual last record, but it may be," he continues. "Who knows. That's up to me and my family."
You can read more of Bemis' statement here.
What do you think is the most underrated Say Anything song? Let us know in the comments below.
[envira-gallery id="185694"]