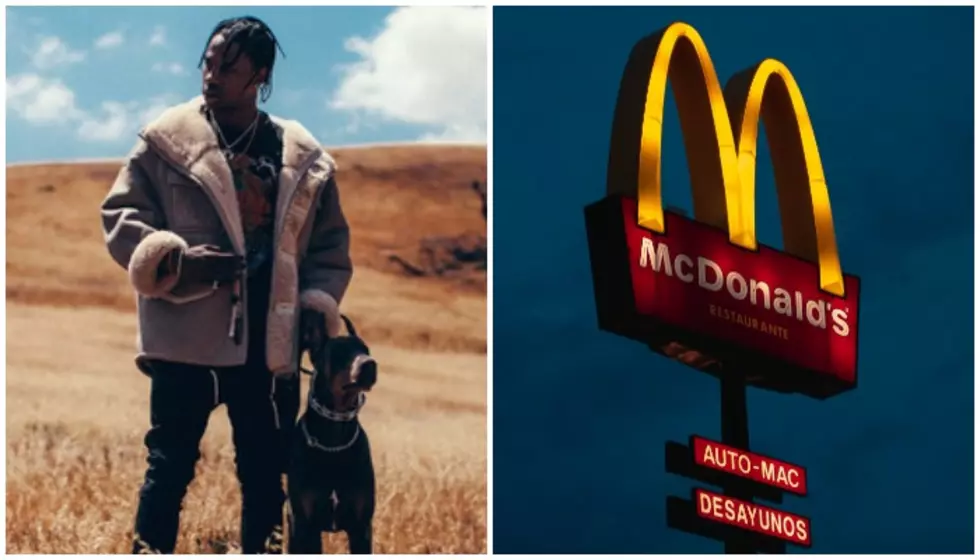 There's only one way to get McDonald's Travis Scott meal amid shortage
[Photos via Travis Scott/Spotify, McDonalds/Carlos Macías via UnSplash]
Travis Scott's latest collab with McDonald's is proving to be widely successful.
Fans are so eager to get their hands on his "go-to" meal, however, that the fast-food chain is facing a major ingredient shortage. Now, McDonald's is making changes to how fans can order the popular meal.
Earlier this month, McDonald's launched the "Travis Scott Meal." For $6, customers can try Scott's "go-to" order at the fast-food chain – a quarter pounder with cheese, bacon and lettuce, medium fries with BBQ sauce and a Sprite.
Since its launch on Sept. 8, the Travis Scott meal has racked in some big sales numbers for McDonald's. Scott was even fined after a massive crowd gathered at a California McDonald's he visited. However, the meal has been in such high demand that the fast-food chain is running out of ingredients.
In a statement, McDonald's reveals that various locations have temporarily sold out of some key ingredients for the Travis Scott meal. Due to this, some fans may not be able to try the popular meal for a while.
"It's been so lit, some of our restaurants have temporarily sold out of some of the ingredients in the meal," the franchise says. "We're working closely with our suppliers, distributors, and franchisees to resupply impacted restaurants as quickly as possible. Stay tuned and don't worry, we've got more surprises from Cactus Jack coming soon."
Despite this setback, McDonald's has no plans to end their collab with the Astroworld rapper early. Instead, there are simply changing the way fans can order the meal. Starting Sept. 22, the only way fans can get the Travis Scott meal is exclusively through the McDonald's app.
As the franchise works to keep up with supply and demand, sources suggest that more locations may sell out of ingredients in the next few days if the hype continues. This could lead to certain locations substituting ingredients or not allowing fans to order the meal altogether.
Scott's collab with McDonald's is expected to run until Oct. 4. Along with his "go-to" meal, he has also launched not one, but TWO, exclusively merch lines inspired by the golden arches franchise.
The merch line includes various clothing items with McDonald's iconic logo including t-shirts, hats and even Ronald McDonald slippers. As well, the line also includes the massive $90 chicken nugget body pillow the internet has been sharing their opinions on.
However, the merch line has been so popular that it has reportedly completely sold out. Scott's online store is currently password protected and fans need to sign up via email to have first access to updates and the possible restocking of items.
Have you tried the Travis Scott meal? Let us know in the comments below.