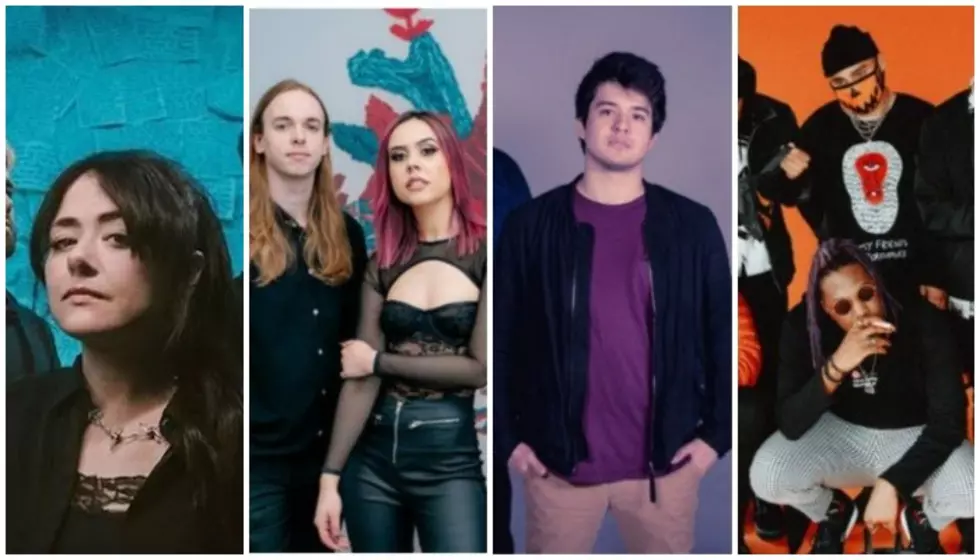 10 modern emo bands who will instantly remind you of the 2000s
[Photos by: Dream State/Gareth Bull, Yours Truly/Spotify, Tiny Kingdoms/Spotify, Magnolia Park/Spotify]
It's easy to look back at 2000s emo music with a sense of longing. After all, it boasted artists and sounds that have long since dissipated...
That's not really the case, though, is it? While we can still stream music by our favorite bands of the time, new artists are constantly developing reminiscent styles. So, though it may no longer be in the mainstream spotlight, the emo scene is better off than ever.
Read on for 10 modern artists you only wish you could've heard during your 2000s emo phase.
Another One Down!
Another One Down! debuted a decade out from 2005, but that didn't stop them from capturing the essence of the time perfectly. The Rhode Island-based outfit pair melodic pop-punk hooks with hard-hitting, emotionally vulnerable lyrics. No doubt, they would have made a valuable addition to your iPod alongside early Mayday Parade and Every Avenue.
Magnolia Park
This is one of those distinctly modern acts we only wish we'd had to soundtrack our early emo phases. Orlando, Florida's Magnolia Park have been putting their unique hip-hop spin on the genre since 2018. Give their collab with Kellin Quinn, "Love Me," a spin and just try telling us that they're not totally Warped Tour-reminiscent.
Forever Starts Today
No lie, we're a little salty about the disproportionate lack of women fronting bands in the 2000s scene. Forever Starts Today really drive home exactly what we were missing. Hailing from Austin, Texas, the high-energy pop-punk band got their start with their Limitless EP in 2016. If only we'd gotten to write their rousing lyrics on our shoes back when it was still vaguely acceptable to do so...
Those Without
Those Without are a hard-hitting powerhouse all around. In a scene saturated with rough edges, though, it's their underlying vulnerability that sets this Swedish pop-punk outfit apart from the crowd since their debut in 2018. They'll get your heart racing and then wrench it in a way that only leaves you wanting more. Safe to say, any emo teenager would love the ride.
Oceandvst
There's no understating the value of a high-energy, angst-laden anthem... And that's just what Oceandvst have excelled at since their 2017 inception. The Greek band throw emotion around with fervent intensity and still manage to keep it grounded in relatability. Though markedly pop-accented, their dark undertones provide a striking contrast that could easily stand with the likes of Circa Survive on a brooding 2000s emo playlist.
Young Culture
Young Culture exist in that sweet spot of emo sentimentality we all came to revere in 2000s pop punk. However, the Albany-based trio first debuted on the scene in 2016 with their You EP, which notably featured a collaboration with State Champs' Derek DiScanio on "Bedroom Floor." Since then, they've carried their catchy, cathartic energy through an extensive discography. Their debut self-titled record just dropped this past October.
Yours Truly
Yours Truly have gained rapid traction following their debut in 2017. That's for good reason. The Australian powerhouse dish out a refreshingly unique, albeit vaguely nostalgic, serving of upbeat relatability. They're one of those bands who make you want to learn every line of their songs just so you can sing along and project your feelings at the top of your lungs.
Dream State
Despite debuting in 2015, Dream State's sound is particularly reminiscent of the eclecticism widely present in the 2000s alternative scene. Unrestrained in every aspect, the U.K. outfit are sure to get your heart thumping and your mind reeling. It's a shame that we never got to see their anthemic energy surge across a Warped Tour crowd.
Catholic Guilt
Melbourne's Catholic Guilt boast that kind of far-reaching experimentalism that marked the 2000s scene. Laying down a foundation of pop-punk riffs and emotional vulnerability, the band then sprinkle in a dash of folk rock for a totally unique sound. While it doesn't align 100% with anything we've heard before, we can only imagine how much our 2000s selves would've loved to hear them alongside softer bands such as This Providence and Something Corporate.
Tiny Kingdoms
No list of 2000s emo-reminiscent bands will ever be complete without the mention of Tiny Kingdoms. Don't pull up this group expecting something dark and despondent, though. They reflect the era in a warm light, comparable to Motion City Soundtrack and Jack's Mannequin. We definitely could have used their sunny flavor during our darker days, but alas, they didn't hit the scene until 2015.
Which modern bands do you wish could have soundtracked your 2000s emo phase? Let us know in the comments!