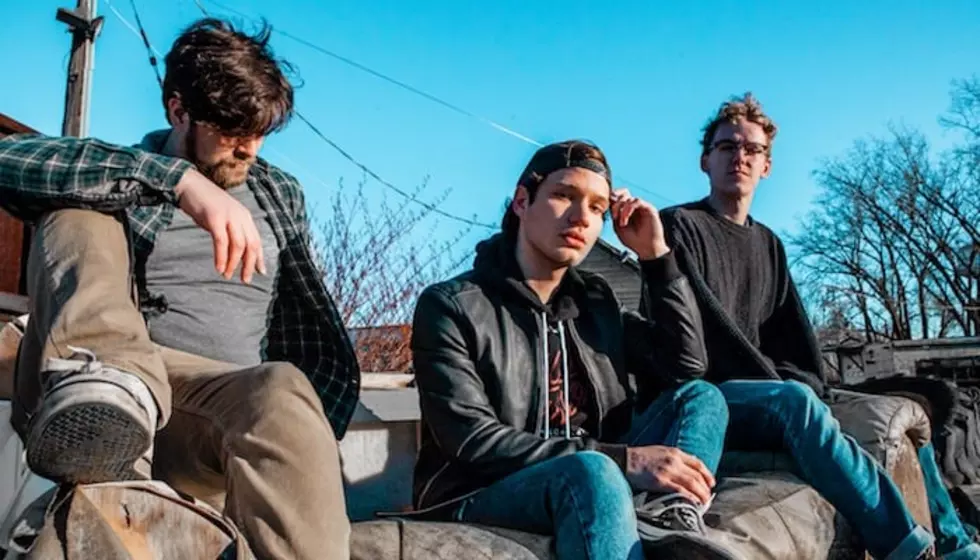 Never Loved say 'Goddamn' to love in new single—listen
[Photo by: William Fredette]
Never Loved are working through an exhausting love story, teaming up with AP to debut their new single, "Goddamn."
Along with an animated graphic of a rolling eye that matches the subject matter perfectly, the trio dive into the hills and valleys of a modern relationship through jamming guitar and gritty vocals.
Following the release of "Dead Inside" in November, "Goddamn" is the second song off the band's upcoming self-titled EP. Produced by Matt Squire (Panic! At The Disco, the Maine, All Time Low), the four-track collection marks their debut release with Equal Vision Records.
Lead vocalist Camm Knopp says the song describes how a relationship can be like a wild roller coaster.
"'Goddamn' is a song that reflects on how the up-and-down, all-around wild sides of a relationship can drive you borderline crazy," Knopp explains. "Some days you and your significant other can be on the exact same page or even to the exact letter, but then other days, it's almost like you're both on a different planet."
Knopp says sometimes love can have you reeling, leaving only one phrase in your mind.
"In this instance, I'd never know what to expect with us, and when it turned out to be one of those frustrating days, I'd catch myself thinking 'Goddamn.'"
Check out the new Never Loved single below.
Never Loved drops March 15, and preorders are available now. You can check out the EP art and full tracklisting below.
1. Dead Inside
2. Charged
3. Gone
4. Goddamn
The band will be hitting the road with In Her Own Words and Boys Of Fall in March. You can grab tickets here, and check out dates below.
Dates:
03/15 – Los Angeles, CA @ The Hi Hat*
03/16 – Anaheim, CA @ Chain Reaction*
03/18 – Tempe, AZ @ 51 West*
03/19 – Henderson, NV @ Eagle Aerie Hall*
03/20 – Cupertino, CA @ The X Bar*
03/21 – Fresno, CA @ Strummer's Bar & Grill*
03/22 – Orangevale, CA @ The Boardwalk*
04/01 – Albany, NY @ The Low Beat^
04/03 – Scranton, PA @ Stage West^
04/04 – West Haven, CT @ The Cave^
04/05 – Manchester, NH @ Bungalow Bar & Grill^
04/06 – Brooklyn, NY @ Kingsland^
04/07 – Amityville, NY @ Revolution Music Hall^
04/09 – Philadelphia, PA @ Trocadero Balcony^
04/10 – Columbus, OH @ Donatos^
04/11 – Cleveland, OH @ Mahall's^
04/12 – Madison, WI @ The Annex^
04/13 – Chicago, IL @ Cobra Lounge^
04/14 – Indianapolis, IN @ Irving Theater
* with In Her Own Words
^ with Boys Of Fall